European Moving Day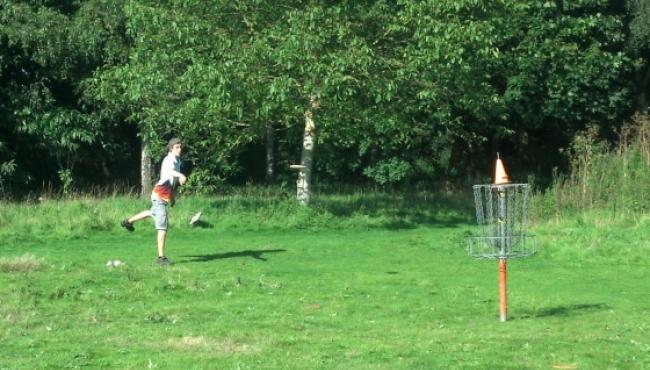 Denmark's Karl Johan Nybo had the hot round of the day at the European Championships with a 55 (-11) to move into second place behind Simon Lizotte of Germany. Lizotte made great drives but struggled with his midrange game during round three but he was still able to post a 58 (-8) for a tournament total of -28 to hold onto a five throw lead over Nybo who is at -23 going into the final 18 holes tomorrow. Oscar Stenfelt of Sweden and Arttu Sikanen of Finland will round out the lead group at -21 and -20 respectively. The title of European Champion looks to be young Simon Lizotte's to win or lose as he has led the event wire to wire thus far.
Ragna Bydge of Sweden made a bold statement when she posted the best round of the day by six throws in the Open women's division with a 68 (+2) to extend her lead to eight throws over teammate Angelica Frantz who carded a 75 (+17) on the day. Bygde sits at +9 for the tournament with Frantz at +17 and Camilla Jernberg at +18.
The four way tie at the top of the Masters division was broken but it is still a very tight race as Sweden's, Robert Busazy grabs the lead with a 61 (-5) to lead Switzerland's Stephan Müller 63 (-3) by a single throw. Buzasy sits at -9, Müller at -7, Jonas Grunden at -6, and Mats Strömgren and Peter Bygde at -5 going into the final round tomorrow.
Britain's, Derek Robins saw his six throw lead reduced to four when Finlands, Marko Timonen shot an impressive 63 (-3) on the day. Robins is at -2 and Timonen at +2, while the next closest competitor is at +14 so it looks to be a two man race for the Grandmasters title.
Markku Tohni of Finland had his best round of the tournament with a 74 (+8) to extend his lead to six throws over Benjamin Schneider of Switzerland in the Senior Grandmasters division. Tohni is at +30 while Schneider sits back at +36 with only 18 holes remaining.
Germany's Sven Rippel posted the low round of the day for the second straight day with a 59 (-7) to grab the lead in the Junior Boys under 19 division. Kaj Larsson of Sweden carded an even par 66 to drop back into second place at -9, four throws off the lead.
The tournament format will once again see divisional groupings by score with tee times for the final round. Sweden currently leads the Nations Cup team standings with Scandinavian neighbor Finland on their heels. The weather could not have been better today and another beautiful day is expected for tomorrow's final 18 hole round at the 2578 meter, par 66 Essex University course.
Be sure to check PDGA.com tomorrow for final round coverage of the European Disc Golf Championship from Colchester, United Kingdom.