MinnesOregon
MinnesOregon
Two Worlds apart, but ever so close
Wednesday, July 16, 2014 - 14:45
More than 1000 PDGA members will soon be heading to Minnesota and/or Oregon for the PDGA Amateur or Professional World Disc Golf Championships. They're heading to some of the best areas in the country, not only for disc golf but for exploring and places to live. It's no surprise to those who live there that their states and cities rank near the top of several "Best of" categories. Here are some of the factors and variables that have helped support the development of disc golf in both states.
The Minneapolis, MN parks system ranked best in the U.S. with Portland, OR tied for third in the Trust for Public Land report ranking U.S. urban greenspace, released May 29th. "The trust looked at how many residents could reach a park quickly by foot, median park size, the percentage of total city area dedicated to parks, per capita spending, and the number of playgrounds available per 10,000 city residents."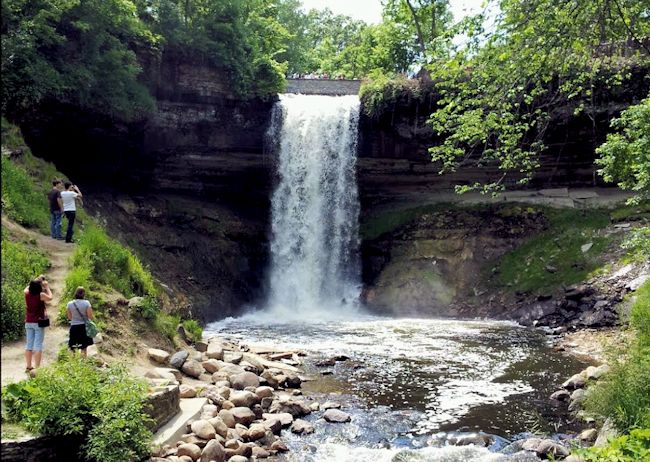 What's interesting about this little nugget of data, "While second-ranking New York registered 97 percent of its residents within a 10-minute walk of a park, its low median park size - 1.1 acres compared with Minneapolis' 7.1-acres - took points from its score." is even 7.1 acres is too small for an 18-hole disc golf course.
Minneapolis had such a well developed park system that when disc golf arrived, there just wasn't space for championship disc golf. They were one of the early big cities to have a few courses around 1980 where at least one was pay-for-play. But, they didn't gain much traction and were removed or the baskets were relocated outside of Minneapolis. Around the turn of the millennium, a free 18-hole course got squeezed into a neighborhood park. It also didn't last for more than few years, partly due to being a bit too close to neighborhood housing.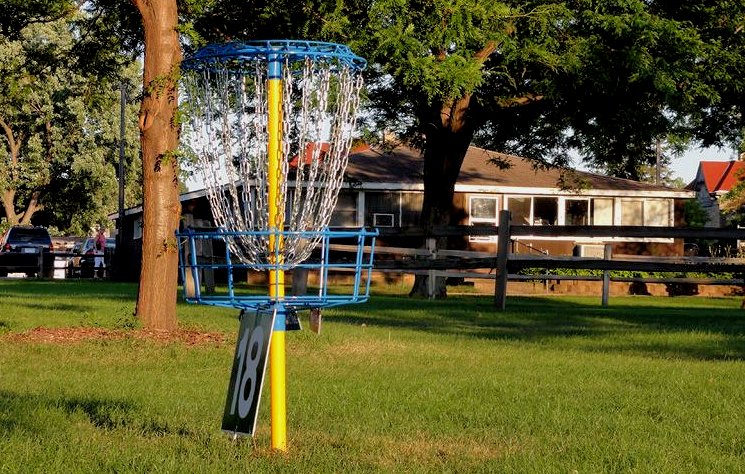 Two Minneapolis 18-hole courses opened in the past few years that share the same track with golf courses run by the park system along with a free 9-hole beginner course. Northern city park systems must support a wider array of sports over the changing seasons. Disc golf goes 365/16/7 in Minnesota with winter leagues in daytime as seen below on the Minneapolis short course and hardy throwers who play weekly at night under sometimes brutal winter conditions.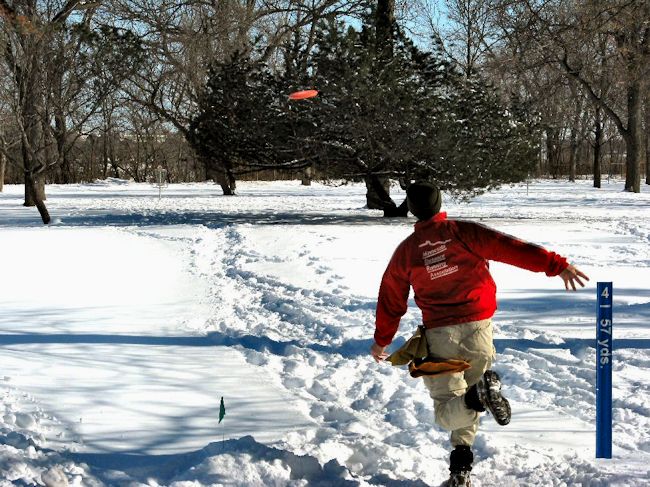 We applaud the tenacity of the Minneapolis park system who has tried to find the right setup to support disc golf over a span of 35 years. Despite the challenges faced by Minneapolis, their leadership and the general dedication of resources towards park systems in the state of Minnesota deserve some credit for the explosion of disc golf courses in the Twin Cities suburbs and throughout that state where more undeveloped park space was available.
As it turns out, of the eight courses being played during Am Worlds, none are in the tri-cities of Minneapolis, St. Paul or Bloomington. However, at least the finals will be at Como Park in St. Paul which also hosted the Pro Worlds finals in 2001. Here are photos from The Valley DGC in Inver Grove Hgts., one of the anchor courses for Am Worlds, currently recording its 25th year.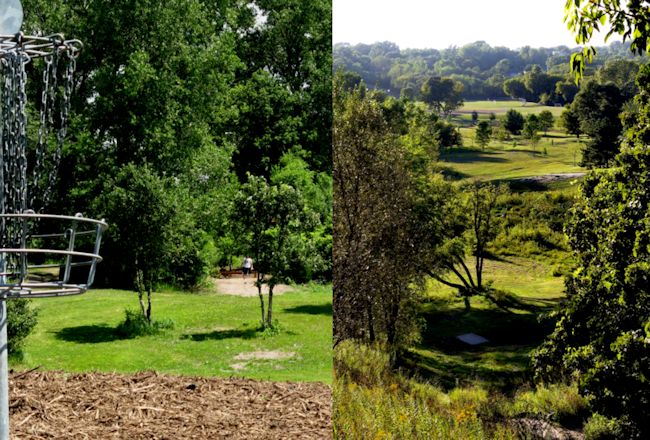 Looking at the course locations being used for the Pro Worlds in Portland, they have a similar space challenge where only one of its six Championship courses are being used. Pier Park, shown below, is located in the Portland city limits.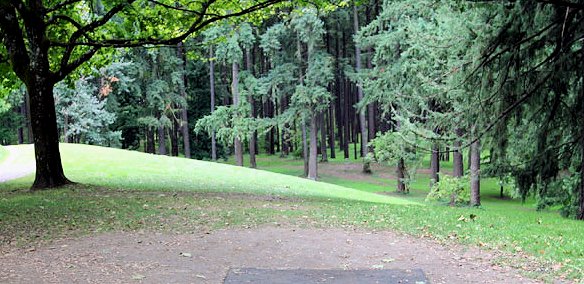 This broad support for the parks in both locations has resulted in fifteen 18+ hole courses viewed as good or better within 50 miles of the Am Worlds host hotel and sixteen 18+ hole courses within 50 miles of the Pro Worlds host hotel. Another disc golf connection between the two locations is the University of Minnesota disc golf team edging the University of Oregon for 4th place in their first year at the National Collegiate Championships and University of Oregon winning the title in 2011.
The next related report is the ACSM American Fitness Index® Data Report which measures the health and community fitness status of the 50 largest metropolitan areas. For 2014, Minneapolis came in second and Portland third, another testament to the citizens and public resources being directed toward health and fitness. Some nuggets from the report - Parkland as percentage of city land area: MSP 14.6%, PDX 16.2% Avg 10.6% and Golf Courses per 100K: MSP 1.8, PDX 1.2, Avg 0.9. Disc golf might not be considered the most aerobic fitness activity. But most would consider it an energetic outdoor walk in the park that keeps you moving for a few hours.
Going beyond the outstanding park systems is WalletHub's 2014's Best and Worst States for Summer Road Trips where Oregon ranked #1 and Minnesota #3. Whether flying in or driving to Worlds, both states have excellent scenery, parks and attractions of interest to highway explorers. The report ranks states on Driving & Accommodation Costs, Traffic Conditions & Safety, Weather Conditions and Fun & Scenic Attractions. Neither Oregon nor Minnesota topped a category but were solid in all four. Oregon was 2nd for Fun & Scenic Attractions and Minnesota 3rd for Traffic Conditions & Safety. Views like this should not be surprising in a state with the slogan "Land of 10,000 Lakes".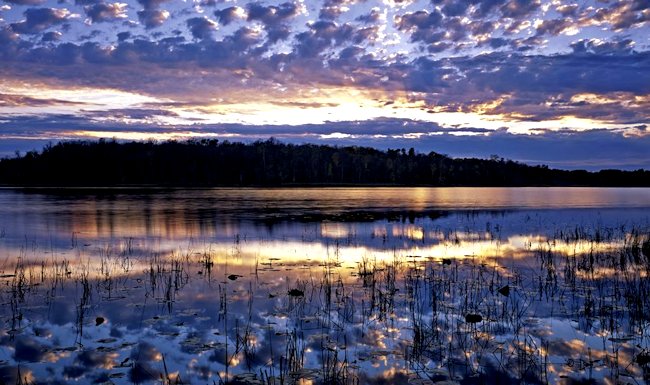 You can't miss the Columbia River as you fly into Portland. It flows near the Blue Lake disc course being used extensively during the Worlds week including the finals. The Columbia Gorge Region continuing east is well worth the roadtrip.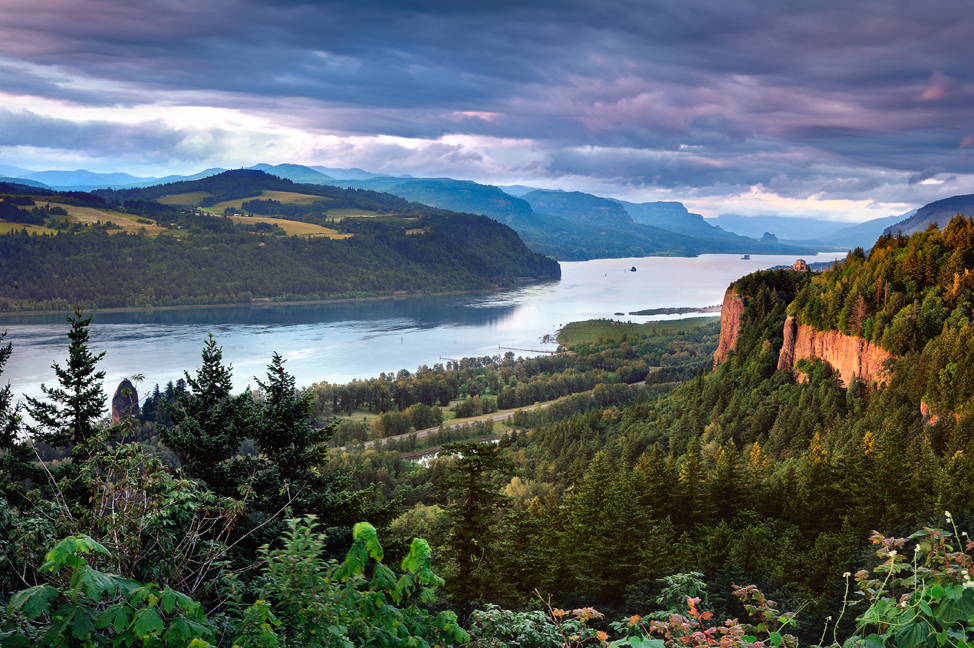 In addition to raising the excitement for your upcoming adventure, what about eventually coming to stay? The Forbes report on the 10 Best Cities for Job Seekers lists Minneapolis 8th. Business Week ranks Minneapolis 12th, St. Paul 10th and Portland 5th for livability. CNN Travel ranks Portland first and Minneapolis second as the most bike friendly cities providing an inexpensive way to get to our courses. Also from CNN Travel, Portland ranks as the best town for beer after your rounds. Minneapolis ranks 2nd and Portland 3rd for the Best Music Scenes outside Nashville, NYC & LA compiled by Livability.com.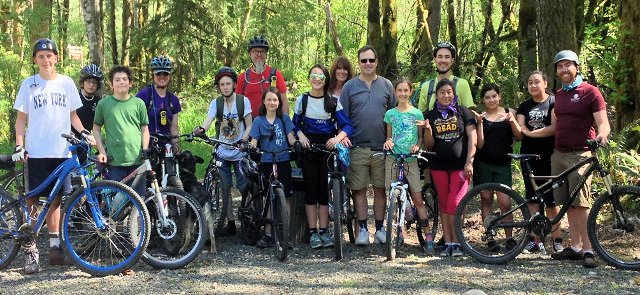 So for those heading toward the Twin Cities or Portland, those cities and their states have set the table for a great Worlds experience going beyond what your Worlds hosts have up their sleeves to challenge and entertain you at our annual disc golf championships. Consider coming to watch and cheer on your family, friends and disc golf stars. If not this year, MinneaPortlandians will leave out the "welcome tees" for your enjoyable disc golf adventure down the road.
Photo Cedits: Jesse McEachran (1), Steve West (2), Chuck Kennedy (3 & 4), Bullseye Disc Golf (5), Minnesota Tourism (6), Bala from Seattle, USA (7), Oregon Tourism (8)