Let's Get More Spectators - Part 2
Let's Get More Spectators - Part 2
Value of Watching
Wednesday, September 9, 2015 - 12:18
The current number of spectators at most events and even online watchers (when live coverage is provided) is barely enough to appeal to many potential sponsors except those who already back our disc golf family because they sponsor players or provide gear for tournaments. Current widespread thinking appears to be that to get any spectators at all, access should be free. 
How about considering the opposite approach and actually charge a reasonable fee to watch the event? What do promoters have to lose at this point? The players are still going to enter. TDs can still let their volunteers and media people in free.
Increase the Perceived Value of Watching
Promoters and videographers are currently getting very little from their spectators and viewers. Wouldn't getting $125 from 25 people paying $5 each still be better in terms of building long term value than getting nothing from 100 viewers? If not now, then when should promoters and videographers start to establish value in the experience of watching disc golf either live or online? It's unlikely that some magic moment will arrive when it suddenly makes sense to go from zero to $30 to attend the Worlds Finals. Why shouldn't promoters and videographers at least try to establish some value now?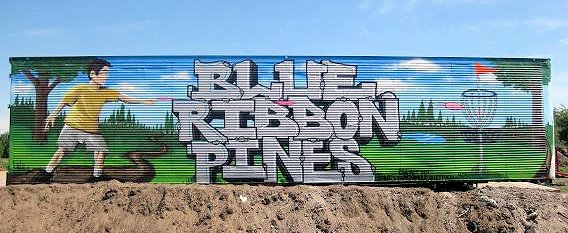 There are many business examples where interest and popularity can increase when the price to watch, buy or participate is set higher than the general market. Consider Apple products, for example. Or closer to home, consider successful pay-to-play courses. The original logic was that they couldn't survive in market areas where there were decent free courses. Blue Ribbon Pines in Minnesota is a successful pay-to-play example. It's up to an hour drive from many quality Twin Cities courses that are free to play, and those free courses are located in the heart of where most the disc golfers live. Yet Blue Ribbon Pines maintains a steady flow of business.
Many competition disc golfers have developed perhaps unrealistic expectations that they should get equivalent value and more for their entry fees in player packs, CTPs and payout. This has subtly minimized the value in many players' minds for the actual playing experience provided by the TD and hosts. Rather than just lament this side-effect, how about capitalizing on this player expectation and applying it to entice more spectators?
Harold Duvall, Innova Champion Discs co-owner says, "For many years at the Championship, we have tried to generate more spectator interest by charging $25 for a full event access pass which includes a tournament disc signed by the winner." Why not expand this USDGC practice where the cost to watch in-person includes a disc or some other item, especially if produced by a tournament sponsor? It would be similar to bat day, hat, or bobble-head giveaway promotions you might see at other major pro sporting events.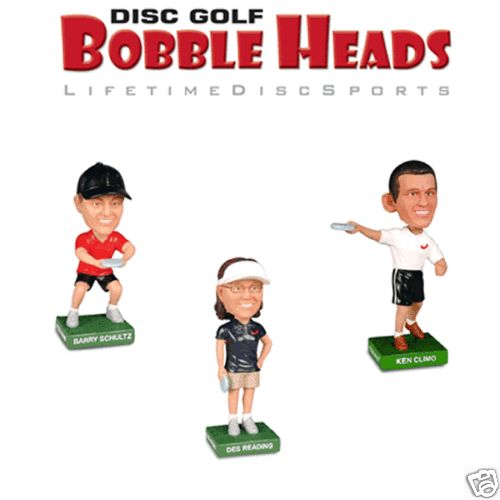 For example, maybe live online video providers like DiscGolfPlanetTV and SmashBoxxTV might provide password access coverage only to those who have bought a ticket in advance for $25 that includes a disc, possibly a special disc, another useful product from a sponsor, or maybe just a $25 gift certificate towards purchases made from your website or another online partner. Video teams are already making the effort to provide coverage regardless of the number of online viewers. Seems like it would be more practical to derive at least some value from your production even if the number of paying viewers ends up quite a bit lower than the free watchers.
In the case of videographers, who provide beautiful, nicely edited tournament videos free on YouTube, "Why free?" We know you're doing your part to help promote the sport. That's been great. On the other hand, continuing to provide quality content for free devalues the experience of watching disc golf live in person or online. Consider a compromise. Continue to provide free coverage in the early rounds. Then, figure out a mechanism to charge for watching the last round and/or Finals using some of the ideas suggested above. This combo approach can continue to help grow the sport in general and also increase the value for watching our best players close out the event.
The 2015 European Open tried an idea along these lines by selling rounds for up to 144 spectators on "The Beast" Championship course. For 20 Euros (~$22), the spectator gets a disc (helping showcase a sponsor) and one round on Friday or Saturday evening after the competition rounds. This idea could be duplicated by events where significant effort is made by the host team to set up a temporary championship course.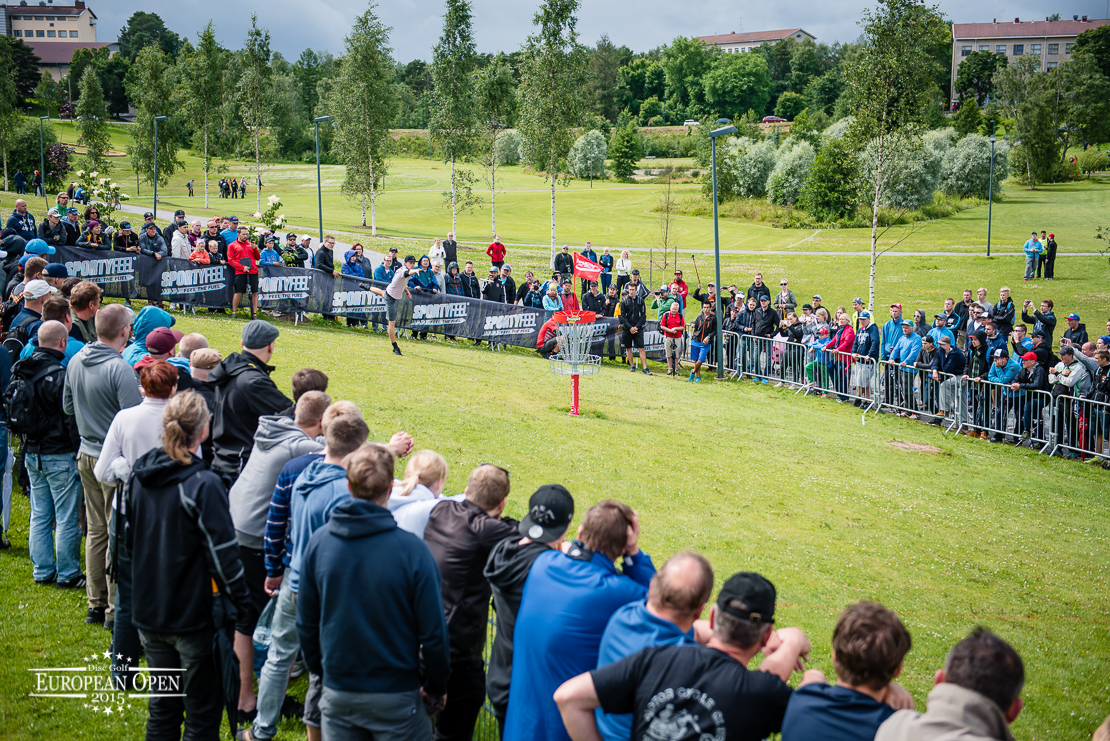 And lastly for this section, one of the easiest and least off-putting ways to generate some additional income from spectators, not the players, is to charge a fee for Finals parking (versus a per-person ticket fee) in locations where that option is legally available. That worked well on private land at Highbridge for the Pro Worlds Finals in 2007 and public land at Lemon Lake in 2010 and 2013. Potential spectators like getting a deal when the per-car fee is split among passengers.
Next up in Part 3, Emotional Connection with Rivalries, we look at ways to create a stronger emotional connection between potential spectators and our players to build interest in watching events.
Comments
I thought that David Feldberg's comment about making baskets smaller was interesting;
in that the difficulty would draw people's attention.
Interesting yes worth it? I dont really know if it would be worth it. most pros can still park their disc next to the basket fairly easily. I think using courses that are not pre built and permanent would be a good way to do it. completely new and fresh not allow the players to play the temp course til tournament time adds to the challenge.
Why smaller baskets?
Who wants to see people miss putts?
I don't get how that will increase spectators.
The idea is that the pros would adjust,
and it would look more amazing to a spectator.
Having attended a few Major events over several years, I believe the Pay to Spectate, and Pay to Park ideas would both work. I have attended PDGA Pro Worlds in Kalamazoo, Lemon Lake, and Pittsburgh, PDGA Am Worlds in KZoo this year, USADGC this year in Milford, Mich. and the Men's USDGC in Rock Hill several times.
Some had pay to park, and some didn't. USDGC charges $25 for VIP parking, and other amenities, that prove well worth the money. (The golf cart rides after a hot 12 hour day certainly are nice.)
The pay to park at some event, however are not strictly for viewing the tournament. Sometimes it was a general fee just to enter the park. (USADGC)
USDGC offers spectators a chance to play the Famed Winthrop Gold Course in tourney configuration on Sunday following Championship. This is a great idea.....we did it, and have great memories, plus gives a different perspective on what it takes to play at an Elite Level.
I honestly think disc golf will continue to grow in popularity and spectatorship. I really don't think charging a nominal fee ($5) to watch the Semi Finals and Final Nine would keep anybody away.
It wouldn't keep me away, and I pay my PDGA annual 50 bucks, plus the 50 to be a USDGC Partner every year. Pay to watch will help increase purses, which will attract more potential Pro Level players.
I believe charging 25 bucks to spectate an event is a little steep. However, if that price includes a special stamped disc, I am all in...
As I stated in a previous post, making targets smaller is ludicrous. Is watching players miss putts exciting? Nope. Is watching aces exciting (on ESPN or live)? Yup. Making the game more difficult and less exciting is contrary to everything we have learned.
As most folks know, traditional golf (played with a little white ball) is on the decline. Why? It's expensive, takes a lot of time and is hard to play. At the PGA summit a few years ago, Jack Nicklaus proposed making the hole larger to make putting easier. Many people in the crowd laughed but Jack interrupted the laughter stating, "I'm serious." He went on to explain that he designed a short course next to one of his homes with larger holes and that his friends love playing it. The issues with traditional golf are the inherent strengths of disc golf. More challenging does not always equate to more exciting.
I agree on all counts, Catamount. I may have even come up to Pittsburgh to pay to spectate if I could get a sweet disc as a memento.