Blaine Kinkel wins US Amateur Disc Golf Championship
Blaine Kinkel wins US Amateur Disc Golf Championship
Sunday, June 14, 2009 - 21:09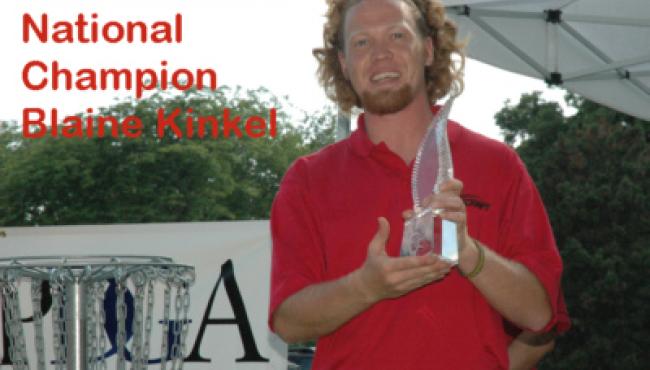 The 2009 United States Amateur Disc Golf Championship is in the books and the new amateur national champion is Blaine Kinkel of Charleston, South Carolina.
---
Blaine Kinkel led the United States Amateur Disc Golf Championship from wire to wire, jumping out to a fairly large lead by posting tournament low rounds on the first two days. He entered the final round on Sunday with a -12 total and three throw lead over Taylor Cimala (-9) and an eight throw lead over Tony Mitchell in third place but the victory would not come easy. Both Kinkel and Cimala struggled early on while Jamie Mosier and Tony Mitchell slowly closed the gap. At one point in the round Kinkel and Cimala were tied for the lead with Mosier and Mitchell just a few throws off the pace. Just when it looked like the tournament would come down to the wire Kinkel pulled away from the others in his group finishing at 64 (+2) on the day for a  tournament total of 176 (-10). Cimala never got on track and finished with a 66 (+4) in the final round to fall back to eighth place with a 181 (-5) total. Jamie Mosier and Tony Mitchell both posted respectable final rounds of 60 (-2) to close the gap but it would not be enough. Little did the lead group know that Brad Frase who started the round with a -2 tournament total was throwing a round low 55 (-7) to close the gap. Kinkel putted out on hole 18 in front of an appreciative gallery but he wasn't quite sure if it was enough. After totaling their cards at tournament central, it was official. Blaine Kinkel was the 2009 Amateur National Champion with a very slim one throw victory over Brad Frase.
Beautiful crystal trophies were presented to the top 15 players while the top 18 finishers each received one of the cool custom tee signs that were created for the event by artist extraordinaire, Marnie White. Kinkel was presented with a Discraft Chainstar basket and an invitation to compete in the 09 USDGC for the victory, while the top fifty finishers received merchandise vouchers.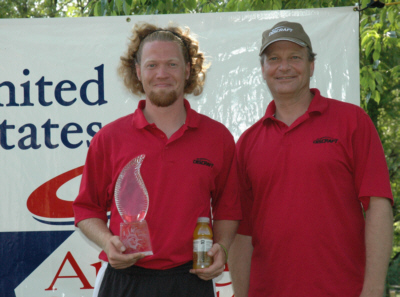 Champion Blaine Kinkel with USADGC tournament director Philip Shelton
Tournament Director Philip Shelton did an outstanding job managing his highly qualified staff which included starter Mark Ellis and scoring director Todd White to name just a few. Disc Golf clubs from all over Michigan contributed to making this PDGA major a tremendous success. Jim Kenner, Pad Timmons, Brian Sullivan, Mike Wagner and several other Discraft employees were on hand all weekend to provide additional tournament staffing and support.
The Toboggan course is one of the top courses in the world and has proven to be the perfect venue for the USADGC. Special thanks goes out to presenting sponsor Discraft, as well as Vitamin Water and all of the other tournament sponsors for the wonderful support. If you are an amateur disc golfer, start practicing now because the 2010 US Amateur Disc Golf Championship is only one year away!
---
Links: