Global Wrap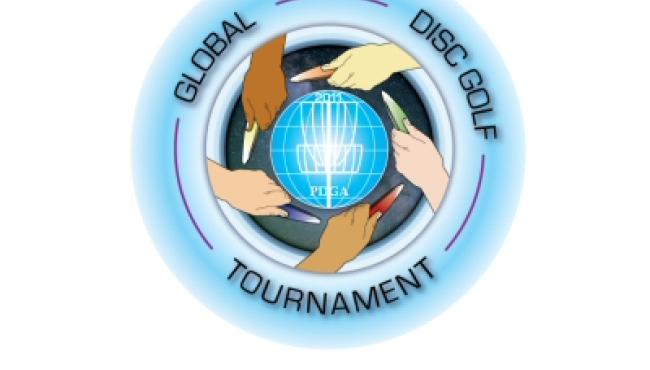 Nine Global Champs. How and where they did it.
Fifteen sites. 619 players. 9 Champions. The first ever PDGA Global Disc Golf Tournament is in the books. Nikko Locastro was top rated and, not surprisingly, takes down top honors in the Open division with a 1060 average rating over three rounds on one of his home courses, Endicott Park in St. Louis. Kazuo Shirai, playing in the Michinoku Open, Japan, threw down the gauntlet for Nikko by averaging 1050 in his first two rounds before Nikko even got started due to the 14-hour time zone difference. Nikko answered by averaging 1065 in his first two rounds. Shirai, at 62 years old by the way, gave it a shot in R3 still shooting over his 989 rating. But it wasn't enough to catch Nikko as he later "coasted" to the title with his "worst" round at "only" 1050. Here's Nikko at Worlds.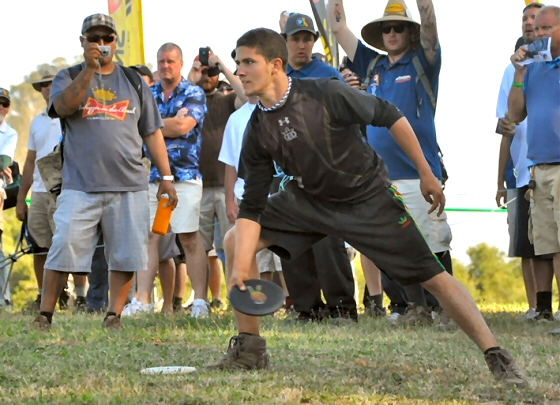 Sarah and Sara took down the Open and Advanced Women's Global titles playing the Steady Ed course at the IDGC in Appling, Georgia. World Champ in 2010, Sarah Stanhope shot the best opening round of everyone playing at the IDGC with a 1002, passing the 2-round averages of the top four Japanese women pros shown left to right: Sachiko Sato, Yuki Fukuhara, Hiroko Kanaya, Kayoko Jitsuhiro who eventually ended up 2nd, 3rd, 4th, and 11th in the Global standings.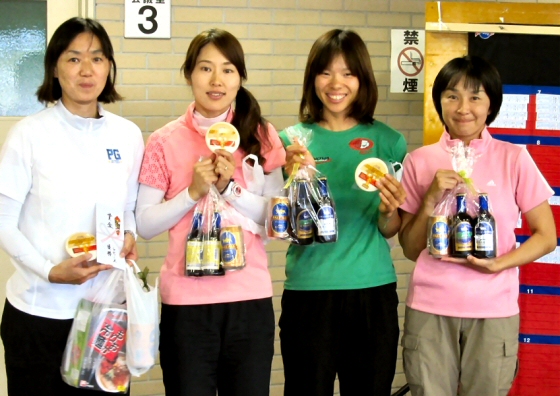 Sara Nicholson, PDGA Membership Manager literally playing in her backyard, shot a solid 20 points above her rating to post a 2-round score for other women to chase. And chase Wendy Boutin did at Maple Hill in Massachusetts where they decided to play all three rounds on Sunday. Wendy surged ahead after just one round at the time Sara had just finished her three. While the field at the IDGC played some fun doubles Sunday afternoon, Sara waited to see if Wendy, who was playing well above her rating, could hang in there. Wendy came down to earth (back to her rating) finishing fourth and Sara Nicholson won the Advanced Women's title. Sarah Stanhope led wire-to-wire for the Open Women's title. Here they are at the IDGC waiting for the global scores to come in.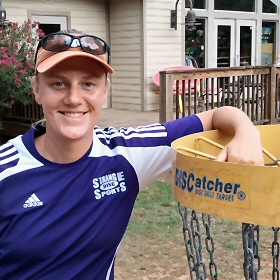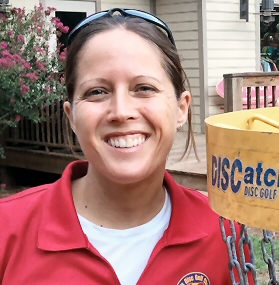 Top rated George Smith won the Master Pro division but not without a scare from Dennis Young playing well above his rating on the tricked out Boyd Hill course in Rock Hill, SC. Young led Smith after two rounds on Saturday. It must have fired up Smith who threw a 1029 at 65 rating points higher than Young in R3 to take the title. Marco Lehousse, playing across the pond in the British Open at the University of Essex in Colchester, England, played just enough above his rating to nip Young by a few points and take 2nd.
Top rated David Greenwell was comfortably in the Grandmaster lead after two rounds on his Charlie Vettiner course in Louisville. Just down the road 90 miles away, Jim Ferrara averaged 20 points above his rating after two rounds on the revitalized Mt. Airy Forest course in Cincinnati. Greenwell is a tough closer after decades of experience and multiple World titles. But he didn't get to face down Ferrara on Sunday. Both had to really just play the course. Every pro parrots this phrase on occasion, but it's hard not to pay attention to the players jockeying for position in your group, especially coming down the stretch.
At the global level there's no psyching your opponent. No match play. No one-upping. No laying up. It's flat out play your best against your course from hole one thru eighteen. Ferrara played Mt. Airy about five shots better than his average and Vettiner got a slight edge on Greenwell. So Ferrara pulls the mild upset by about two throws to take the Grandmaster global title. Steve Simpson also playing in Louisville won the Sr. Grandmaster title unopposed. Here's Jim Ferrara launching down the signature 15 (formerly 2) at Mt. Airy Forest.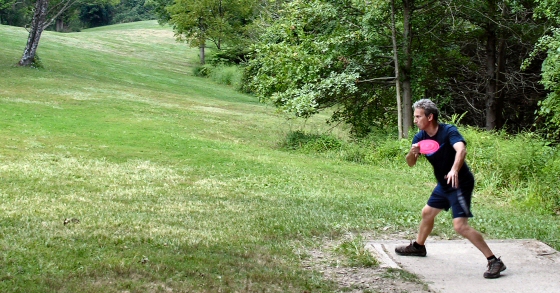 The battle for the Advanced crown turned into a face-to-face battle in St. Louis with Christopher Gore (5th), Aaron Walther (3rd) and eventual Global Champion, Jim Misuraca duking it out for three rounds together. James LeBaube playing the Turkey Lake T2 course in Orlando had the hot hand in the third round shooting 1023 but it wasn't enough to catch Misuraca who had the second hottest hand at 1019 to hold the lead and win.
Also playing in Orlando, second seed Tony L. Pert won the Intermediate Global title with a 969 average rating for the three rounds. He led throughout after jumping out with a 984 in R1. Looks like the Global could just be his tune-up for his next challenge in Advanced at the PDGA Championship. Paul Czaplicki at Rock Hill and Derek Green at St. Louis finished 2nd and 3rd with solid 965 and 960 averages in the largest Intermediate field ever with 217 players, about 1/3 of all global players.
While Mark Janssen and Walt Guttinger thought they were fighting for the Advanced Master title after they were tied at the top after two rounds in Orlando, Gregg Wootten played two solid rounds in Cincinnati to stay close behind. On Sunday while Janssen and Guttinger faced each other down, Wootten shot the best round of all Advanced Masters to slip past Janssen by one throw and take the Global title with a 985 final round. Here's your Advanced Master Champ, Gregg Wootten: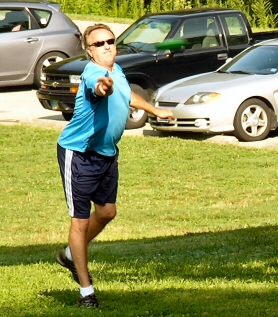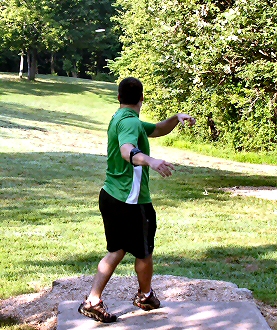 There's lots more about this first ever global event you may have missed. But you can catch much of that in the seven archived shows broadcast on DiscGolfPlanet.tv our exclusive media partner. The shows are essentially a disc golf version of a sports talk type show covering action in remote locations while it's happening with some video tours of those sites and field reports to hopefully keep it interesting. We want to thank our sponsors Innova Discs, Vibram, DGA and Clash/Billy Crump for their help with the player packs and fundraising discs.
We have much more statistical and financial information to sift thru to provide a report to the PDGA office and new Board with our successes and areas we could do better for future events. This event first and foremost indicated the global format seems to work well in terms of the scoring and ratings operations that are core to making it work and work fairly from a competition standpoint. In fact, it worked so well it seemed like most never even thought much about it, a reaction sort of like "ho-hum just another fun global event," even though we believe this is the first time in history an outdoor sport has done this.
Thank you to everyone who participated - players, TD and staffers. I've appreciated your feedback as you think of ideas to make it better in 2012. Thanks to Innova and DGU for allowing 33 more players to qualify for the USDGC (including me as a Qualifier TD). So I'll see some of you there as we try to shoot above our rating on the tough Winthrop Gold course.
Here are links to the Global information. This Global Leaderboard link will change once we post the Final Standings to include the payouts and shift the DNFs to the bottom of each division (not automated yet).
Global Payouts & Initial 30 USDGC Qualifiers
Global Fields, Environment, Site Information
(Photo credits: John Borelli, Atsu Kawasaki, Jason Allind, Adam Jones)