PDGA Global Disc Golf Tournament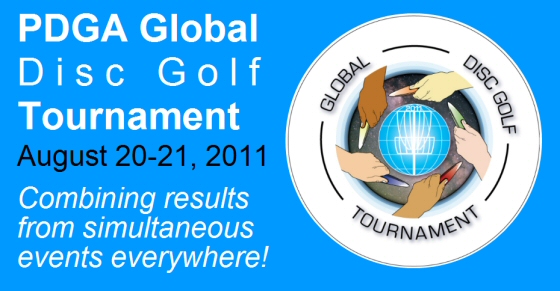 The top 30 players among all divisions, who exceed their rating by the most in the global competition and have not yet qualified, will receive invites to compete in the 2011 USDGC.
Contact Chuck Kennedy if you would like details on participating. It would be great to have sites within a few hundred miles of our PDGA members who would like to play in this historic first time global event. Check the map below to see where events are already lining up to participate.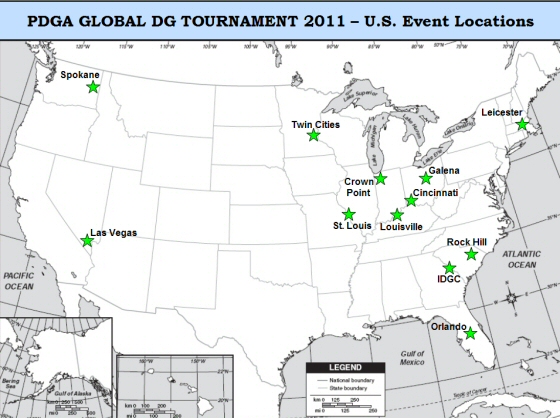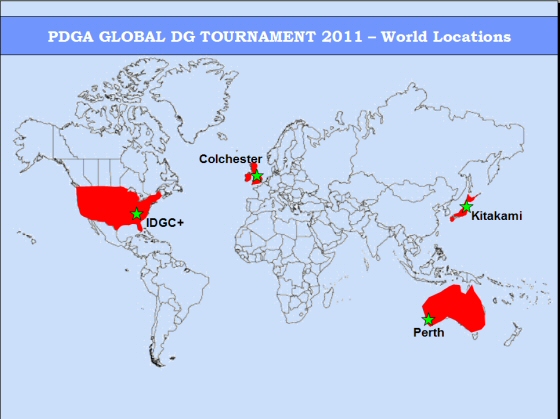 Event Locations (in the order added)
Players compete with other players in their division playing in many events around the world on the weekend of August 20-21 at the same time they are competing face-to-face in their local event.
For all Pro divisions, $25 of your entry fee goes toward the global purse in your division and the rest goes to your local purse. All local added cash goes into the local purse. You have a chance to cash both locally and globally if you do well.
Global pro division payouts will be to the top 33% in each division with checks mailed to U.S. winners from the PDGA signup service. Those who cash at events outside North America will be paid in appropriate currency in method to be determined based on the country.
For the four global Am divisions offered: Advanced Men & Women, Advanced Master Men and Intermediate Men, $15 of your entry fee goes to your global purse. Much of that $15 will go toward a nice player pack which at this point includes two golf discs plus DVD. Most of your payout chances will be from your local purse.
The round ratings earned by each player in three 18-hole rounds on the same course will be added together to produce each player's global point score to determine global standings and prizes in the division they entered.
Global first place ties will be broken by going to decimal values for tied players' round ratings. But players tied for first or any other position will receive equal payout.
Click on the city link in the table above to find details about the event currently listed that's closest to you.