GBO Opening Day Brings Surprising Weather, Unpredictable Scores
GBO Opening Day Brings Surprising Weather, Unpredictable Scores
McBeth, Pierce Lead Heading Into Round 2
Thursday, April 27, 2017 - 23:05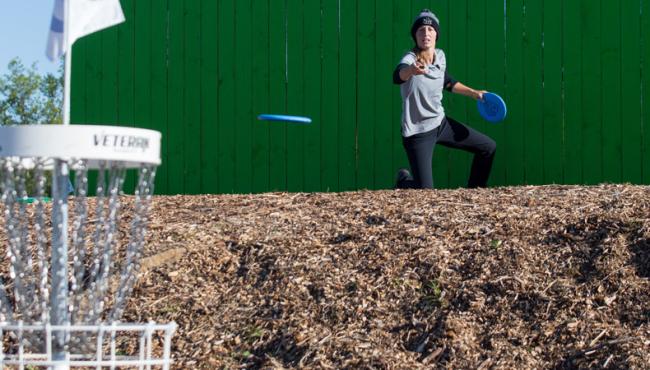 Round 1 of the 2017 Glass Blown Open (GBO) was full of surprises. Courses touted as "gold level" or "championship" are often torn to shreds when the big guns show up, but the Eagle Disc Golf Course in Olpe lived up to its reputation despite uncharacteristically calm course conditions. The standard (forecasted, even) wind and rain that a spring day in Kansas typically sees remained mostly unseen throughout the day.
With a majority of the world's top players now having taken on the Eagle DGC (in more than fair conditions, mind you) Olpe's pride and joy has now joined the ranks of some of the most renowned courses on the planet. A list that features courses like California's DeLaveaga DGC, Oregon's Riverbend DGC, Georgia's W.R. Jackson Memorial DGC, and Sweden's Järva Discgolfpark.  
What these legendary layouts all have in common is something that is far too rare in the sport as it stands currently; the difficulty of finishing under par. A score of even par (60) was all that was needed this afternoon to produce a 1000-rated round. Of the 152 men in the Open division, only 57 managed a score of 60 or lower. Of the 28 in the Open Women's division, only one pulled it off; Texas's Paige Pierce #29190.
The women took to the tee early this morning facing temperatures in the upper 30s to start the round but were blessed by the only lasting period of sunshine of the day, complimented by little to virtually no wind for much of the round. A calm and composed Pierce took advantage of the situation and quickly pulled away from the field with powerful drives, precision approaches, and lights-out putting.
It is absolutely gorgeous out here. Sunny and now pretty warm, minimal wind. Olpe has never looked better! #discgolf #GBOmoment #GBO2017 pic.twitter.com/qDNvj0Nux6

— PDGA Live Scoring (@pdgalive) April 27, 2017
Through the front nine and well beyond, Pierce managed to stay bogey-free, picking up birdies where ever possible. With five holes remaining, her then score of six under par was just plain mind-boggling. It was holes 17 & 18 where she finally proved to be human, finishing with back-to-back bogeys for a 1020-rated round of 56 (-4), a score bested by only 16 of the 152 men in the Open division.
Another Texan, Lisa Fajkus #32654 finished the round five off the lead at 61, playing a similarly clean round of golf that resulted in two birdies and three bogeys. She will join Pierce on the lead card tomorrow morning with Pennslyvania's Hannah Leatherman #45396 one stroke behind at 62, and Arizona's Catrina Allen #44184 at 65.
As the Open division scores were coming in, it became clear that the Eagle DGC was undoubtedly an unpredictable beast, wreaking havoc on some while showing mercy to others. For every well-known name that turned in a less-than-favorable score there was someone getting their first taste of the limelight.
For the first time in a very long time, we have two men with PDGA Player Ratings under 1000 that have crested the top 10. Texas's 984-rated Landon Knight #47662 is part of a six-way tie for 5th place and Canada's own Zachary Newhouse #30259, also 984-rated, shot one better to finish at 53, meaning he is tied for 3rd place with JohnE McCray #9852!
. @Paul_McBeth finishes the round with a drop-in birdie on 18 to end at 10 under par. #GBO2017 #GBOmoment #discgolf pic.twitter.com/xnVBI6UHLY

— PDGA Live Scoring (@pdgalive) April 27, 2017
Newhouse and McCray will be joined by none other than Nate Sexton #18824 and Paul McBeth #27523, both of which played the way we've come to expect. Sexton's bogey-free, eight under par (52) was bested only by McBeth, who also went bogey-free with an additional two birdies to finish with a 1079-rated 10 under par (50), AKA the course record.  
Round 2 sees the pros return to a much more familiar course and one that has been used for nearly every Glass Blown Open in years past and for the 2016 Pro Worlds as well. That course is Jones East Park, a par 59 that measures in at 7710 feet after slight modifications have shortened the course for the 2017 iteration of the GBO.
Tomorrow is forecasted to be the best weather the GBO has to offer this year, with a high of 71 degrees and only a 20% chance of precipitation. But, come on now, this is the Midwest in late April. Rain followed by snow followed by a tornado followed by a double rainbow would surprise virtually no one. So, as usual, we'll just keep our fingers crossed, hope for the best, and prepare for the worst.
Round 2 tee times are posted. Tune in tomorrow and follow along for another exciting day of world-class disc golf here at the 2017 Glass Blown Open!