Former USWDGC Champs Leading After Round 1
Former USWDGC Champs Leading After Round 1
Friday, September 25, 2015 - 23:26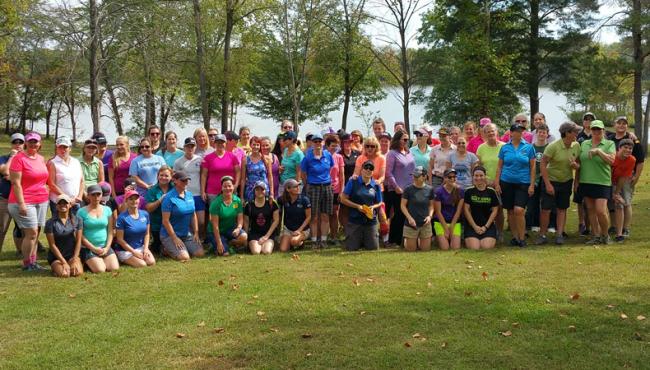 The 2015 United States Women's Disc Golf Championships got off to a great start this afternoon at the Gordon Holton Memorial DGC. Gordon Holton is housed within the amazing Delaware State Park (Delaware, Ohio), home to dense woodlands, expansive meadows, and a shimmering 1,300-acre reservoir that comes into play several times throughout the course. Once home to the Delaware Indians, this 1,686-acre recreational area offers camping, swimming, boating, fishing, wildlife viewing, and of course, disc golf.
Depending on the division, either 19 or 26 of the 27 holes that make up the course were played by the women today. One particular group played all 27 holes, but we'll get to that later.
To make a long story short, all of the pro divisions (FPO, FPM, FPG) as well as the Advanced Women's division (FA1) played 26 holes, with the rest of the divisions playing 19. Within those, some played the short tees while some played the long tees. Essentially, there were four layouts being played on the same course at the same time. They'll all return to Gordon Holton for the final round on Sunday morning, with all divisions playing the just the 19 hole layout to end the tournament.
By the time the round ended, two previous USWDGC champions had emerged as the Open division leaders, both tied at three under par: 2010/2011 winner Val Jenkins #17495 and 2012 winner Catrina Allen #44184. A three-way tie for 3rd place sits right behind them, all of whom are three strokes back: 2013 winner Sarah Hokom #34563, Hannah Leatherman #45396, and Michelle Frazer #24356.
Sarah Hokom with her patented forehand on course hole 3. Looks good from here. Should have a putt. #USWDGC pic.twitter.com/kQNvoyewqS

— PDGA Live Scoring (@pdgalive) September 25, 2015
In 6th place is none other than the current and 3X Women's Pro Worlds Champion Paige Pierce #29190, one stroke away from being part of the group of ladies tied for 3rd place. But, do you remember when I mentioned that one group played all 27 holes? Well, Pierce was part of that group. Pierce, Erin Oakley #17643, and Jennifer Sawyer #43670 unknowingly played a hole that was not part of the tournament course.
The group realized their error immediately after they finished the hole, and they knew they'd all have to add two strokes to their final score at the end of the round. Despite the penalty, Pierce is still well within range, all without ever having practiced any of the tournament courses, having just arrived to Ohio from a vacation in Florida.
All 72 ladies will be playing two rounds tomorrow at the beautiful Alum Creek Park. It's a course that's very similar to Gordon Holton, featuring water hazards, wooded fairways, and a good mixture of long and short holes. With only one round to follow on Sunday, the two rounds at Alum Creek will make or break some of the women's chances at finishing high up in the ranks.
We'll have live scoring for several of the division lead cards going on pdgalive.com tomorrow, complimented by updates, pictures, and videos via @pdgalive on Twitter and @pdga on Instagram. High-resolution pictures from Round 1 are available for downloading and/or viewing on the PDGA Flickr page, and Round 1 video coverage from Prodigy Disc is already in the works. And last but not least, every hole score from all 72 women competing in the 2015 USWDGC are available for viewing on pdgalive.com./apps/tournament/live2/?TournID=19583&RoundID=9921
See you tomorrow for Rounds 2 and 3 of the 2015 United States Women's Disc Golf Championships!