Fingers Crossed – GBO Pining for Final Round Meteorological Miracle
Fingers Crossed – GBO Pining for Final Round Meteorological Miracle
Saturday, April 29, 2017 - 08:26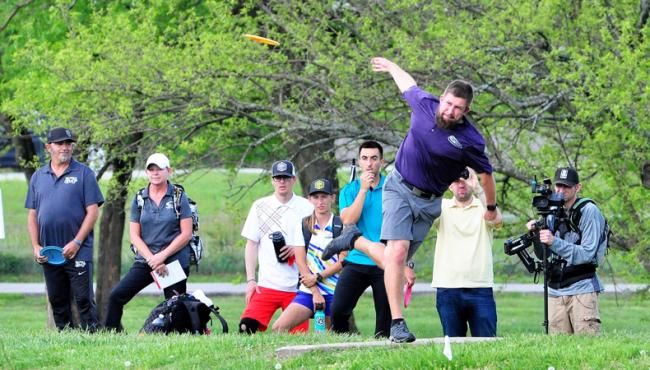 The 2017 Glass Blown Open competitors, staff, and spectators alike couldn't have asked for a much better experience than the one had today at Jones East Park. Blessed by sunny, 70-degree weather with minimal wind, a massive gallery crowded the park to watch the best disc golfers in the world crush drives and smash chains on "moving day".
After an incredible opening round at the Eagle Disc Golf Course in Olpe on Thursday, Open Women's division leader Paige Pierce went into round 2 six strokes ahead of her closest competition. With a nearly perfect and extremely impressive record already in the books for 2017, Pierce's six-stroke cushion was considered by many to be more than enough to all but seal the deal for the weekend, despite having 36 more holes to go.
Six strokes, however, may as well be no lead in golf. It's a sport designed for dramatic scoring swings and its design held true this morning. It took a mere 10 holes before Pierce's lead shifted from six to zero, mostly due to flawless play by Hannah Leatherman complimented by several uncharacteristic mistakes by Pierce.
Leatherman began chipping away at the lead early in the round, quickly gaining four on Pierce in the first four holes alone where Pierce carded a bogey on holes 1 and 3, followed by a double bogey on hole 4. Pierce stopped the bleeding with birdies on holes 7 and 10, revitalizing her status as the overall leader, now four or more ahead of the field.
A birdie by Leatherman against a bogey by Pierce on the 17th once again reduced Pierce's lead to just two, and a three-putt on the 18th to finish with a double bogey against Leatherman's par meant that the final round would begin on Saturday morning with a tie at the top of the leaderboard.
Leatherman and Pierce will be joined by Lisa Fajkus and Jennifer Allen on the lead card for their final round, scheduled to tee at 8:30 am CDT on the massive layout of the Emporia Country Club course.
The men of the Open division began and ended the round with a cluster of players all easily capable of eventually emerging as the GBO champion. Even after Paul McBeth tied the course record at the Eagle DGC during the opening round in Olpe, doing so only gave him a two-stroke cushion over his friend and touring partner, Nate Sexton.
McBeth's round score of 10 under par (50) and Sexton's eight under par (52) were closely tailed by a slew of the world's best, including a two-way tie for 3rd place at seven under (53), a six-way tie for 5th place at six under (54), a six-way tie at five under par (55), and so on. Their rounds at Jones East this afternoon resulted with both McBeth and Sexton remaining in 1st and 2nd place respectively, still two strokes apart.
Zachary Newhouse and JohnE McCray joined them on the lead card this afternoon, but have since been replaced by Ricky Wysocki and Simon Lizotte for their final round on Saturday at Emporia Country Club, scheduled for 3:00 pm CDT.
The near-perfect conditions celebrated by all parties involved at the GBO today are unfortunately forecasted to not make an appearance, at all, for the final round. The weather that's being called for is anxiety-inducing, at best. Emporia has already begun to experience a drastic decrease in temperature and that trend will only continue as the high for tomorrow is currently predicted to be just 48 degrees.
But wait, there's more! The steady 20 mph wind will mean the wind chill factor brings the temperature closer to 40 degrees and there's also the 100% chance of rain (literally) to consider as far as just how mentally and physically challenging the final round will be.
Rain or shine, the show must go on. But lightning, that's a different story. When it comes to safety, the PDGA does not mess around. For now, all we can do is cross our fingers one last time and hope we get through the final round of the Glass Blown Open with as few meteorological hurdles as possible. If there's one city and one disc golf event that has earned a get-out-bad-weather-free pass, it's the city of Emporia and it's the Glass Blown Open.