Farewell Tim!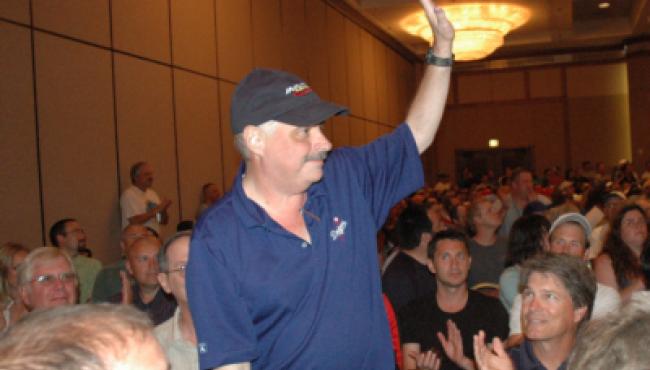 It is with great sadness that the PDGA must announce the passing of a member and great friend, Tim Selinske, #2206.
Tim passed away in the early morning hours of August 14th after a long battle with Langerhans' Cell Histiocytosis.  He had been under going treatment for the last 8 months when his condition took a turn for the worse earlier this week.
PDGA members were delighted to see Tim just a short few weeks ago at the Disc Golf World Championships in Kansas City. Tim was one of only two people to have competed in every world championships and he was not going to let illness get in the way of seeing his extended disc family and participating in the tournament. Tim courageously started the tournament and completed two holes before retiring with his patented smile.
Tim was a loving and dedicated family man.  Engaging, warm, lovable, affable, friendly, loving, smiling, affirming, funny, fun loving and kind are some of the words that best describe him.  I think this is so because most of his energy went into making other people happy or feel good about themselves.  Almost everyone liked Tim because he was so quick to give a smile and encouragement to them.  
Before joining Innova, Tim worked at Wham-0, who's motto was; "Our business is fun".  This really suited Tim.  Playing Frisbee games and the Frisbee family really suited Tim. Tim was all about having fun with others.  When Wham-0 was bought out by Kransco, it stopped being fun for Tim.  He was eager to join the Innova venture at that point and they were delighted to have him.
As the voice and face of Innova over the years, Tim's affability gave Innova a warm friendly persona that will be very difficult to replace.  The Frisbee family will miss him.  Disc Golf will miss him.  We were all richer for having known him.  We will all be poorer for his passing.
Services for Tim Selinske will be held Saturday August 22 at 11:00am at Covina Methodist Church, 437 West San Bernadino Rd., Covina, CA 91723.
---
Memorial Pages:
http://www.innovadiscs.com/tim.html
http://www.valleyoflife.com/timselinske/