Vibram Open-Day 1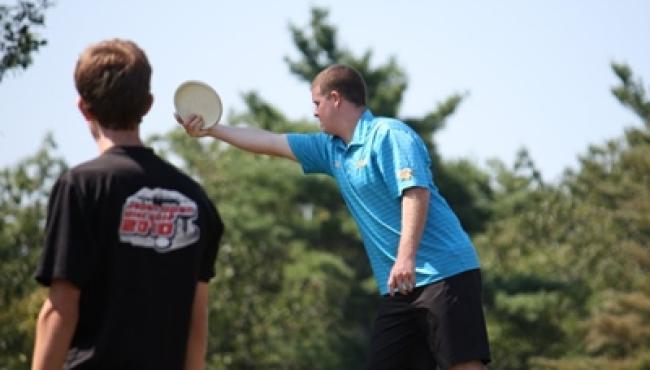 Doss leads $50,000 Vibram Open after first day
By P.J. Harmer
Reigning World Champion Nate Doss shot a 7-under-par 53 to lead after Friday's opening day of the fourth annual Vibram Open at the Maple Hill Disc Golf Course in Leicester, Mass.
Doss had eight birdies and one bogey during his round, giving him the lead in his second trip to the Vibram.
"I'm definitely happy. I'd have to go back to last year, but I don't think I had a 53 last year. I'm really happy," Doss said. "Pretty much everything felt good. I made two putts from about 45 feet for birdies in big moments. That helped with the confidence. That was the story of the day. Make the putts and feed off of it."
Defending champion Nikko Locastro had two rough holes – a double-bogey on No. 12 and a bogey on No. 18 – but still finished a stroke back after shooting a 54. Locastro was especially strong on the front nine, shooting 4 under.
"I had solid play on the front nine and drained some putts," Locastro said. "I ran into the 6 on No. 12 and a circle 5 on No. 18. I played great other than two holes and it ruined my round."
Geoff Bennett overcame a rough beginning – when he went out of bounds three times in the opening nine holes – to recover and finish with a 54.
Dave Feldberg, the reigning National Tour champion almost saw his round evaporate after a double-bogey 6 on the 770-foot 12th hole. He said he didn't let it get to him, however, as he birdied the final six holes to finish with a 56 and remain in contention.
"It's a weird course," Feldberg said. "You can't win it on one day, but you can lose it on one day."
Will Schusterick, Bradley Williams and Richard Wysocki each shot 55 and are two strokes behind. Paul Ulibarri shot a 56.
Williams said his key was "being calm. I was focusing on breathing and flushing out negative thoughts and focusing on the positive."
Sarah Stanhope shot a 6-over-par 66 to lead the women's tournament by one stroke over Sarah Hokum and Catrina Allen.
Stanhope, who shoots predominantly sidearm, said her form was strong during Friday's round.
"This is an accuracy driven course, so I can hold my own against the youngsters," she said.
Still, Stanhope said there's much room for improvement.
"All of my risk-reward situations failed," she said. "I tried to go for it on No. 1 and it went out of bounds. On No. 16, I tried to cut through the out of bounds. (The disc) hit something and went out of bounds.
"Even though I am the leader, it didn't feel like a good round," Stanhope continued. "I am not too upset. Every round you look back at things you could have done better. It wouldn't help looking back at only the good shots."
Play resumes at 7:20 a.m. Saturday at Maple Hill. The men's leaders tee off at 12:50 p.m. and the women's leaders go off at 1:50 p.m.
For full scores and tee times go to: Vibram Scores

For the Vibram Open web page go to: Vibram Open