DiscGolfer Magazine On its Way!
The Professional Disc Golf Association is pleased to announce that the first issue of DiscGolfer, the official publication of the PDGA
, was delivered to the post office in Fulton, Missouri on Monday, March 23. The publication will be wending its way to U.S. members via standard mail. Standard mail (formerly known as third class or bulk mail) delivers to most households in 10-14 days. However, some issues go through the system as quickly as five days or as slowly as 24 days.
The issues are mailed in a protective plastic cover, which helps to keep the issues intact, and more likely to be delivered. We updated the PDGA address list with the United States Postal Service's database before labeling them. This is important because these issues will not be forwarded if a member has failed to keep the PDGA and/or the USPS updated with a change of address. Please remember that it is each member's responsibility to keep the PDGA informed of an address changes. You may do this by e-mailing your new address and other contact information to [email protected].
If you have not moved and still have not received your issue by April 16, please e-mail the PDGA office at [email protected].  If you have renewed your membership or joined in the last two weeks or so, your issue is likely going out with the supplemental mailing of about 700 members on March 30.  The DiscGolfer staff hopes you'll enjoy this first issue, and as always, are eager for your constructive feedback and suggestions.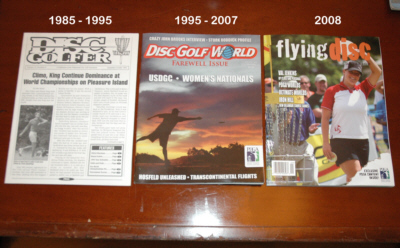 ---
If you are not a member of the PDGA but would like to receive DiscGolfer Magazine:
If you are interested in advertising in DiscGolfer Magazine: