Disc Golf Walking Benefits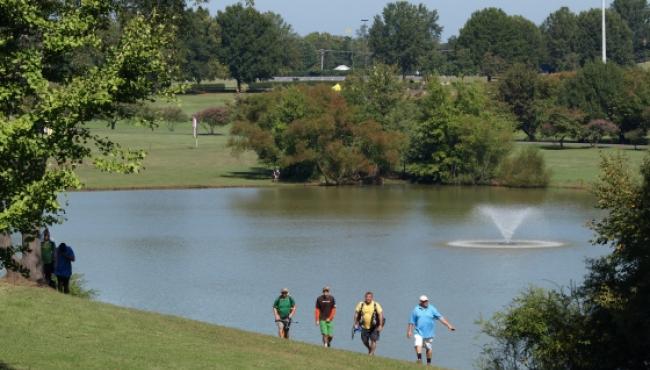 by Justin Menickelli, Ph.D.
With support from the PDGA, my colleagues and I conducted the first nation-wide research study to examine disc golf and walking benefits.  Our primary objective was to determine how much people walk while playing a round of disc golf.  We clipped pedometers on 228 men and 112 women playing disc golf on 15 different courses.  We discovered that every time a person ventures outside to play disc golf, they walk an average of about 5,613 steps (almost three miles) per 18-hole round.  We were also interested if gender, age, score or playing format (singles or doubles) impacted the average number of steps folks walked while playing.  
We ran some fancy-schmancy statistical analyses on the data we collected and discovered that women walked about 69 fewer steps per hole than men (controlling for all other variables).  On an 18-hole course, that amounts to about one-half of a mile.  Because men typically take longer strides, we hypothesized the exact opposite.  Perhaps women spent more time in the fairway and less time wandering around, even if it took them a few more strokes to complete the hole.  Score also proved to be a variable that had an influence on steps.
Each additional throw a person took resulted in just over three additional steps per hole (controlling for all other variables).  Missed your twenty foot birdie putt?  At least you are getting more exercise.  As is the case in nearly every sport, the more skilled you are the less the physical workload.  Neither age nor playing format had a significant effect on the number of steps walked.  We hypothesized that people playing doubles would walk more.  Well, we were dead wrong. 
Perhaps just as important is what we did not investigate.  We did not take elevation change into account (walking up hill is undoubtedly more strenuous than walking on a flat surface), or examine how much time people spent in their target heart rate zone while playing.  Future studies might investigate these factors.
This study's findings suggested that playing disc golf is a great way to be physically active and that both gender and score may have a significant effect on the amount of physical activity people get while playing.  Of course, disc golf is about more than simply walking.  For many people, playing disc golf can be enjoyable, exciting, challenging and competitive.  Need an excuse to get out and play more disc golf?  It is just plain-good exercise. 
We must extend a very special thank you to Brian Graham, Jon Lyksett, Chris Tuten, Des Reading, Jay Reading, David Barney, Chris Page, David Shope, Chris Cooper, all of the people that agreed to participate in the study and the friendly folks from the PDGA.  
Dr.  Justin Menickelli (#31347) is an Associate Professor of Health, Physical Education and Recreation at Western Carolina University located in the Smoky Mountains of North Carolina. When not playing disc golf, he enjoys spending time with his wife Kristin, their two boys Aidan (age 5) and Noah (age 3), and daughter Addison (7 months).