Current 2012 POY/ROY Standings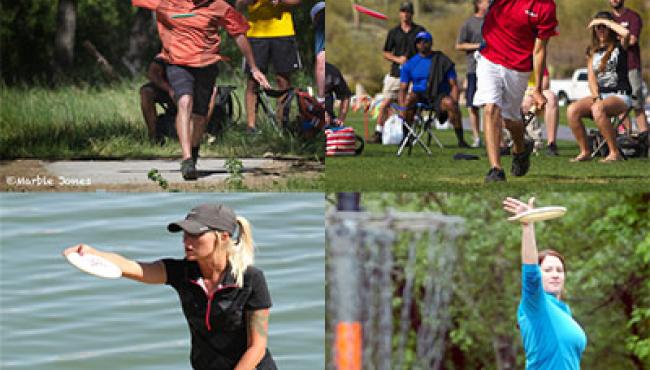 The current 2012 PDGA Player of the Year/Rookie of the Year calculations for Men and Women in North America are displayed below. 
The calculations are based on the tournament data available through the September 2012 Ratings Update including all bonus points except for the 2012 calendar year player rating bonus points.  Players must be current PDGA members to be included in the calculations. 
Those players highlighted in green are eligible for 2012 Rookie of the Year.
2012 POY/ROY - Men (as of 9/18 Ratings Update)
| Points | PDGA # | First Name | Last Name | City | State |
| --- | --- | --- | --- | --- | --- |
| 253 | 12626 | David | Feldberg | Portland | OR |
| 246 | 27523 | Paul | McBeth | Palm Harbor | FL |
| 229 | 29064 | Will | Schusterick | Nashville | TN |
| 201.5 | 38008 | Richard | Wysocki | Fort Mill | SC |
| 184.5 | 24341 | Cale | Leiviska | Saint Paul | MN |
| 114 | 31644 | Bradley | Williams | Austin | TX |
| 108 | 11794 | Nathan | Doss | Capitola | CA |
| 100 | 12989 | Brian | Schweberger | Tarboro | NC |
| 91 | 20300 | Michael | Johansen | Denver | NC |
| 83 | 27171 | Paul | Ulibarri | Phoenix | AZ |
| 64 | 10628 | Steve | Brinster | Warwick | NY |
| 59 | 16058 | Tyler | Horne | Columbus | OH |
| 56 | 9852 | JohnE | McCray | Brandon | FL |
| 53 | 11534 | Nikko | Locastro | Winfield | MO |
| 52 | 11674 | Eric | McCabe | Emporia | KS |
| 47 | 7495 | Avery | Jenkins | Capitola | CA |
| 46.5 | 25168 | Devan | Owens | Owasso | OK |
| 46 | 33705 | Jeremy | Koling | Charlotte | NC |
| 43 | 5557 | Mike | Moser | Wilmington | DE |
| 42 | 24962 | Geoff | Bennett | Canton | MI |
| 42 | 47407 | Cameron | Colglazier | Mobile | AL |
| 41.5 | 4666 | Steven | Rico | Sylmar | CA |
| 41 | 15857 | Gregg | Barsby | Grass Valley | CA |
| 40 | 17583 | Dixon | Jowers | Tomball | TX |
| 35 | 25596 | Kyle | Crabtree | Fife | WA |
| 31 | 7992 | Brad | Schick | Westerville | OH |
| 31 | 26269 | Tim | Skellenger | Portland | OR |
| 31 | 39152 | Jon | Perry | Grand Rapids | MI |
| 30 | 28965 | Derek | Billings | Orangevale | CA |
| 28 | 18330 | Matt | Orum | Mobile | AL |
| 25 | 26416 | Philo | Brathwaite | Tujunga | CA |
| 23 | 26100 | Adam | Olsen | Cedar Rapids | IA |
| 23 | 33661 | Jeff | Faes | San Francisco | CA |
| 22 | 4297 | Kenneth | Climo | Clearwater | FL |
| 22 | 13610 | Keith | Warren | Stevens Point | WI |
| 19 | 24437 | David | Wiggins Jr | High Point | NC |
| 18 | 29879 | Ziggy | Bierekoven | Bloomfield | MI |
| 15 | 3351 | Jim | Oates | Orangevale | CA |
| 15 | 13007 | Josh | Childs | Harlem | GA |
| 15 | 18824 | Nathan | Sexton | Corvallis | OR |
| 15 | 19996 | John | Anderson | Puyallup | WA |
| 15 | 33504 | Dan | Hastings | Rochester | NY |
| 15 | 34237 | Adam | Hunt | Tulsa | OK |
| 15 | 40992 | Tom | Brenton | Brooklyn Park | MN |
| 14 | 34344 | Paul | Oman | Evansville | IN |
| 13 | 13864 | Garrett | Gurthie | Newberry | FL |
| 13 | 18693 | Tanner | Duncan | Des Moines | IA |
| 11 | 29264 | Miles | Seaborn | Benbrook | TX |
| 10 | 9160 | Chris | Alden | St. Thomas | ON |
| 10 | 12228 | Kirk | Haggadone | Battle Creek | MI |
| 10 | 12468 | Justin | McLuen | Urbandale | IA |
| 10 | 17948 | Scotty | Burtard | Sheboygan | WI |
| 10 | 18464 | Chris | Heeren | Janesville | WI |
| 10 | 21683 | Jere | Eshelman | Penn Valley | CA |
| 10 | 25987 | Erik | Smith | Woodbridge | VA |
| 10 | 26228 | Dana | Vicich | Ottawa | IL |
| 10 | 27984 | Christian | Dietrich | Helena | MT |
| 10 | 29248 | Kyle | Pinkman | St Cloud | MN |
| 10 | 29922 | Stephen | Miller | Falmouth | VA |
| 10 | 34319 | Robert | Nichols | Northglenn | CO |
| 9 | 10466 | Myles | Harding | Watsonville | CA |
| 9 | 16287 | Devin | Frederick | Hellertown | PA |
| 8 | 29352 | Nate | Krahn | Blue Bell | PA |
| 8 | 34933 | Terry | Gallops | Raleigh | NC |
| 7 | 14609 | Micah | Dorius | San Diego | CA |
| 6 | 10355 | Ray | Johnson | Grass Valley | CA |
| 6 | 12827 | Cameron | Todd | Wingate | NC |
| 6 | 24981 | Tyler | Liebman | Fort Collins | CO |
| 6 | 27480 | Ross | Brandt | Albert Lea | MN |
| 6 | 35837 | James | Crawford | Midland | MI |
| 5 | 2777 | Rod | Fritz | Sterling | IL |
| 5 | 3087 | Bobby | Jones | Rochester | NY |
| 5 | 7350 | Jon | Drummond | Bloomington | MN |
| 5 | 9453 | Kevin | McCoy | Senoia | GA |
| 5 | 10205 | Michael | Stonestreet | Canton | OH |
| 5 | 11047 | Timothy | Walsh | Northbridge | MA |
| 5 | 13971 | William | Sivils | Baldwinsville | NY |
| 5 | 14365 | Mel | Shuman | Evans | GA |
| 5 | 15410 | Matthew | Blakely | Lebanon | OH |
| 5 | 15864 | Jay | Reading | Wimberley | TX |
| 5 | 16126 | Daniel | Stacey | Norman | OK |
| 5 | 16304 | Jason | Light | Gray | TN |
| 5 | 16425 | Chris | Sprague | Rock Island | IL |
| 5 | 16433 | Ryan | Sawyer | Corpus Christi | TX |
| 5 | 17998 | Mitch | Sonderfan | Erie | CO |
| 5 | 18078 | Mike | Schwieger | Appleton | WI |
| 5 | 18133 | Matt | Hall | Ace | TX |
| 5 | 19692 | Grant | Hodges | Chapel Hill | NC |
| 5 | 20353 | Jason | Land | Louisburg | NC |
| 5 | 20629 | Jake | Bowen | Lees Summit | MO |
| 5 | 20671 | Craig | Cutler | West Milford | NJ |
| 5 | 20702 | Jeff | Vacha | Middleburg Heights | OH |
| 5 | 21325 | Matt | Peckham | Rock Hill | SC |
| 5 | 21879 | Justin | Kreutzer | Nashville | TN |
| 5 | 23183 | Arturo | Villarreal | Kansas City | KS |
| 5 | 23717 | Bo | Neill | Shallowater | TX |
| 5 | 23996 | Nathan | Martin | Salina | KS |
| 5 | 24749 | Thaddaeus | Gunther | Homer | AK |
| 5 | 24884 | Joe | Hesting | Prairie Village | KS |
| 5 | 24900 | Brent | Koontz | Fort Wayne | IN |
| 5 | 25005 | Tony | Ganger | Goshen | IN |
| 5 | 25486 | Chris | Cortez | Harlingen | TX |
| 5 | 25560 | Blair | Bose | Ashland City | TN |
| 5 | 25772 | Wally | Moore | Goleta | CA |
| 5 | 26095 | Joey | Kozlowski | Laramie | WY |
| 5 | 27063 | Kevin | Rarick | Nashville | TN |
| 5 | 27936 | John | Murphy | Levittown | PA |
| 5 | 27977 | Ian | Liddell | Woodbridge | VA |
| 5 | 28455 | Nils | Nordgren | Topeka | KS |
| 5 | 28471 | Austin | Streit | Salina | KS |
| 5 | 28550 | Alan | Wagner | Lincoln | NE |
| 5 | 28567 | Patrick | Burke | Ann Arbor | MI |
| 5 | 29690 | James | Cole | Chattanooga | TN |
| 5 | 31536 | Logan | Bowers | Rockvale | TN |
| 5 | 33072 | Michael | Leslie | Spokane | WA |
| 5 | 33698 | Crispin | Carrasco | Wichita | KS |
| 5 | 34491 | Chris | Eads | Fort Smith | AR |
| 5 | 34614 | Tyler | Lemcke | Blacksburg | VA |
| 5 | 35165 | Lester | Sloan | Homewood | IL |
| 5 | 35832 | David | Muntean III | Tallahassee | FL |
| 5 | 36931 | Brian | Cook | Richland | WA |
| 5 | 38258 | Kevin | Bates | Heath | TX |
| 5 | 39062 | Scott | Kile | Ukiah | CA |
| 5 | 40327 | David | Zimmerman | Janesville | WI |
| 5 | 40907 | Gary | Harrison | Tulsa | OK |
| 5 | 41598 | Matthew | Kern | Dale | IN |
| 5 | 41750 | Pete | Ulibarri | Lakeside | AZ |
| 5 | 42214 | Jason | Weldon | Mora | NM |
| 5 | 42894 | Chris | Becker | Eugene | OR |
| 5 | 43138 | Nolan | Tsingine | Flagstaff | AZ |
| 5 | 43300 | Jarrad | Webster | Winona | MN |
| 5 | 47470 | Ryan | Anderson | Bay City | MI |
| 5 | 48952 | Joshua | Flynn | Twin Falls | ID |
| 5 | 52997 | Jimmy | Marino | Oroville | CA |
| 4 | 2607 | Joseph | Mela | Bristol | PA |
| 4 | 16250 | Chris | Meyer | Woodbury | MN |
| 4 | 29024 | Ryan | Herzog | Shelby Township | MI |
| 4 | 32388 | Leif | Swenson | Pacific Grove | CA |
| 3 | 6840 | Barry | Schultz | Rock Hill | SC |
| 3 | 28597 | Shasta | Criss | Aptos | CA |
| 2 | 4010 | Craig | Gangloff | Damascus | MD |
| 2 | 15911 | Bobby | Musick | Whittier | CA |
| 2 | 16831 | Don | Smith | Santa Cruz | CA |
| 2 | 28132 | Brian | Miller | Fort Wayne | IN |
| 2 | 33345 | Scott | Ryther | Saint Paul | MN |
| 2 | 39829 | Kenny | Clark | Lynnwood | WA |
| 1 | 12610 | Jordan | Cowles | Colorado Springs | CO |
| 1 | 33492 | Michael | Peremba | Emeryville | CA |
| 1 | 36898 | Mitchell | Winters | Lansing | MI |
| 1 | 49210 | Jared | Roan | Greenwood Vlg | CO |
2012 POY/ROY - Women (as of 9/18 Ratings Update)
| Points | PDGA # | First Name | Last Name | City | State |
| --- | --- | --- | --- | --- | --- |
| 359 | 44184 | Catrina | Allen | Phoenix | AZ |
| 292 | 17495 | Valarie | Jenkins | Capitola | CA |
| 245 | 34563 | Sarah | Hokom | Caldwell | ID |
| 237 | 29190 | Paige | Pierce | Plano | TX |
| 147 | 31072 | Melynda | Apton | Penfield | NY |
| 124 | 31162 | Liz | Lopez | San Antonio | TX |
| 102 | 15863 | Desiree | Reading | Wimberley | TX |
| 92 | 23068 | Brittany | Blair | Palm Harbor | FL |
| 71 | 30397 | Sarah Stanhope | Cunningham | Greenville | SC |
| 62 | 32917 | Rebecca | Cox | Lebanon | OH |
| 48 | 30499 | Melissa | Martin | Fairview Park | OH |
| 43 | 3090 | Elaine | King | Durham | NC |
| 36 | 29858 | Melody | King | Portland | OR |
| 34 | 16737 | Barrett | White | Forest Park | IL |
| 34 | 33833 | Paige | Bjerkaas | Denver | CO |
| 30 | 50656 | Jessica | Weese | Grass Valley | CA |
| 25 | 27725 | Kristine | King | Santa Cruz | CA |
| 24 | 33754 | Becky | Sonnheim | Haddonfield | NJ |
| 24 | 36076 | Jessie | Westphal | Shoreline | WA |
| 23 | 7879 | Anni | Kreml | Richmond | CA |
| 23 | 22070 | Kathy | Collins | Grass Valley | CA |
| 23 | 31054 | Jackie | DuBrucq | Miami | FL |
| 20 | 38136 | Wendy | Boutin | Brookfield | MA |
| 20 | 44762 | Becky | Huff | Winona | MN |
| 19 | 18835 | Courtney | McCoy | Senoia | GA |
| 18 | 10977 | Susan | Stephens | Dorr | MI |
| 17 | 32654 | Lisa | Fajkus | Round Rock | TX |
| 14 | 4146 | Alison | Wiley | Ankeny | IA |
| 14 | 7646 | Sheila | Kirkham | Albuquerque | NM |
| 14 | 34751 | Melodie | Bailey | Spokane | WA |
| 12 | 17643 | Erin | Oakley | Lansing | MI |
| 12 | 32584 | Ketley | Rarick | Nashville | TN |
| 10 | 6439 | Pam | Reineke | Orlando | FL |
| 10 | 14123 | Karin | Van Duzee | Jacksonville | FL |
| 10 | 18612 | Cory | Hill | Pekin | IL |
| 10 | 25044 | Antara | de Bourbon | Aptos | CA |
| 10 | 26616 | Miranda | Fulton | Wichita | KS |
| 10 | 31068 | Liz | Carr | Muskegon | MI |
| 10 | 40103 | Lauren | Braaksma | Sheboygan | WI |
| 8 | 13815 | Carrie | Berlogar | Aptos | CA |
| 8 | 25238 | Katy | Pinkman | St Cloud | MN |
| 8 | 34371 | Jayne | Snider | Lansing | MI |
| 8 | 38971 | Amanda | Jackson | Saint Joseph | MO |
| 7 | 48745 | Charie | Crick | Linthicum | MD |
| 7 | 48976 | Phikounthong | Phommavong Scoggins | Los Angeles | CA |
| 6 | 29947 | Stephanie | Vincent | Austin | TX |
| 6 | 34364 | Tiffany | Brogdon | Houston | TX |
| 6 | 38569 | Shawna | Buzzingham | Spokane | WA |
| 6 | 41459 | Denise | Cameron | Liverpool | NY |
| 6 | 42227 | Emma Rose | Hanley | Forest Grove | OR |
| 6 | 44704 | Jennifer | Devries | Newport News | VA |
| 6 | 47406 | Rebekah | Kersey | Ballwin | MO |
| 6 | 51277 | Holly | Finley | Cambridge | WI |
| 5 | 3553 | Kimberly | Krajna | Huntsville | AL |
| 5 | 10611 | Ana | Hernandez | Austin | TX |
| 5 | 11957 | Suzette | Simons | Rancho Cucamonga | CA |
| 5 | 16007 | Kelsey | Brakel | Waterford | MI |
| 5 | 22432 | Megan | Burch | Newalla | OK |
| 5 | 24355 | Nicole | Frazer | Morgantown | IN |
| 5 | 25152 | Valerie | Bradley | Pinellas Park | FL |
| 5 | 25762 | Ashley | Hall | Orem | UT |
| 5 | 26232 | Lisa | Harbour | Kalamazoo | MI |
| 5 | 27869 | Rebecca | Frazer | Morgantown | IN |
| 5 | 31014 | Maureen | McErlean | Oakland | NJ |
| 5 | 31041 | Sheila | Teves | Seattle | WA |
| 5 | 32232 | Vanessa | Van de Venter | Reno | NV |
| 5 | 33119 | Leah | Feltenstein | Truckee | CA |
| 5 | 36172 | Kristina | Gold | Austin | TX |
| 5 | 38273 | Lauren | Yurt | Louisville | KY |
| 5 | 40830 | Tiffany | Meisterheim | Lansing | MI |
| 5 | 41810 | Tosha | Burnette | Citrus Heights | CA |
| 5 | 43474 | Elfriede L.F. | Eberly | Enola | PA |
| 5 | 43877 | Teresa | Tafelmeyer | Boise | ID |
| 5 | 45960 | Dayna | Merritt | North Las Vegas | NV |
| 5 | 47521 | Tracy | Gruber | Macungie | PA |
| 5 | 52342 | Dawn | Lenhart | Roseville | CA |
| 5 | 53268 | Carlee | Pruitt | Redmond | WA |
| 4 | 7279 | Amy | Moser | Wilmington | DE |
| 4 | 19542 | Melinda | Ring | Ann Arbor | MI |
| 4 | 27048 | Leanne | Fulton | Vancouver | BC |
| 4 | 37410 | Kimmy | Jones | Anthem | AZ |
| 4 | 39865 | Kristi | Bayer | Tolland | CT |
| 4 | 45899 | Colleen | Thompson | Lemont | IL |
| 4 | 50045 | Christina | Rainey | Nederland | TX |
| 2 | 9519 | Lisa | Warner | Columbus | OH |
| 2 | 25252 | Nicole | Cazares | Houston | TX |
| 2 | 39504 | Zoe | Andyke | Bend | OR |
| 2 | 45396 | Hannah | Leatherman | Souderton | PA |
| 2 | 51529 | Kahlila | Merritt | Webster | TX |
| 1 | 33725 | Kelsey | Wilmerding | Missoula | MT |
The PDGA POY/ROY Points System may be reviewed here: http://www.pdga.com/player-rookie-of-the-year-awards