Climo Shreds Web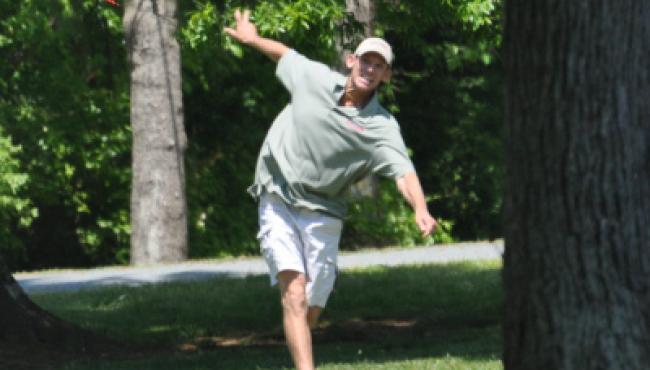 Clash of the Titan: Climo shreds Web
By Todd Harrell
Ken Climo scorched the course and most of the field with his tournament record breaking 56 (-14) at the par 70 Charlotte's Web during round one of the 2010 Carolina Clash.
After the round Climo said he was pleasantly surprised with his performance.
"I didn't expect it to go that well," Climo said. "It was a really, really clean round."
Also in contention are Dave Feldberg with a 59 (-11) and Nikko Locastro, who recorded a 60 (-10).
When asked the key to his stellar round Climo said, "probably just getting off to a really good start."
That he did. Straight out of the gate Climo was smoking, making birdies on the first three holes in route to birdying eight of the front nine.
"Came off the front eight down, which was pretty good. Didn't expect to that good," Climo said.
He might've had a perfect nine if his shot on hole 4 didn't roll off the green and into the OB parking lot. However, he did later save par by sinking his comeback putt.
Hall of Famer Stan McDaniel, who shot an impressive 63 (-7) in the Masters divison, was in awe of Climo's play.
"Shooting fourteen down. Are you kidding me?" he said.
"What do you expect from the champ?" he added.
McDaniel, who designed both Charlotte's Web and Renaissance Gold, said Climo made it look too easy.
"It kind of hurts sometimes when some people tear up your evil course to shreds," kidded McDaniel.
Climo said that practically the whole round he was hitting his lines. Even the trees seemed to be cooperating. He said he only hit a couple of trees that negatively affected a hole. Plus, it didn't hurt that a lot of his putts were around 10 feet.
Feldberg, the world's number one ranked player, got off to a rather slow start, only making birdie on three of the front nine. However, the back nine was a completely different story where he nearly birdied out except for his par on hole 17.
Locastro,the 2009 USDGC champ, was dialing up some of that magic from last fall when he eagled the 580-foot hole 5 after throwing a bomb of a roller that allowed him about a 120-foot throw in. Although he scored bogey on the following hole, he managed six more birdies after that.
2009 Masters world champion Phil Arthur took the lead in the Masters division after 18 holes with a solid 62 (-8). McDaniel trails him by one stroke.
McDaniel said he got off to a really poor start filled with foolish shots, but after he got in the right tournament mindset things starting coming together.
"It's really the best round I've played here in a long time," he said, adding that the last few rounds he's played have been mediocre at best.
Leading the women's field is the Memorial Championship winner Liz Carr, who shot an even 70. Three-peat Worlds champion Valarie Jenkins lurks four throws back.
Not surprisingly, Climo has already made a splash in the standings with a third place finish at the Memorial and he later won the year's second NT, the Sunshine Shootout, in his home state of Florida.
For Saturday Climo said he will try to continue his aggressive, yet controlled play. Making sure he hits that first gap is imperative.
"It's a tough thing to do, but the course demands it," he said.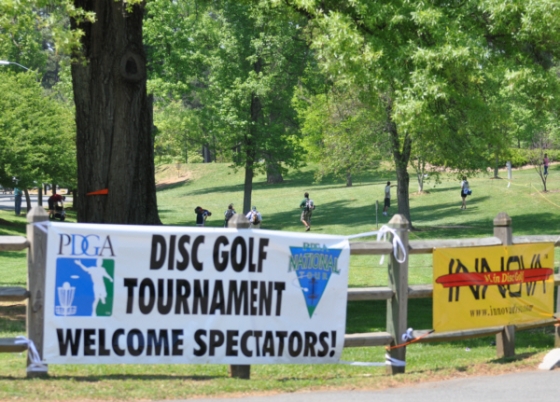 Buzz had been steadily building the last few weeks regarding the top shelf talent that was listed to appear at the tournament. So far there's been no disappointment.
"It's a field we haven't seen in Charlotte in quite a while," said TD Bill Jacobson earlier in the week.
He added that it was probably the biggest tourney to hit the city since the 1997 Worlds.
Fans attending the final rounds will get to see a high octane showdown with all the familiar names and possibly another installment of the Climo, Feldberg battle showcased last week at the Atlanta open. 
---
VIDEO - Friday Video Coverage by Clash Productions