BSN Adds Disc Golf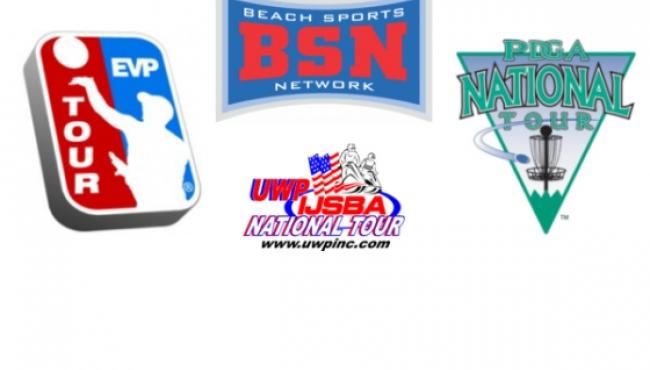 The Beach Sports Network announced today a partnership with the Professional Disc Golf Association that will increase their television presence to 20 shows, as well as expand their future distribution to a dedicated online portal that will stream live events during the year and provide their dedicated community of fans video-on-demand access to past shows. 
"We have been watching the popularity of disc golf grow steadily over the last few years," explained AJ Handler, the Director of UWP-IJSBA National Tour (http://www.uwpinc.com/ - watercross racing). "At the same time, Brian Graham, Executive Director of the PDGA has been attending many of the sports tourism conferences, and it didn't take long to recognize that their events and tour are top-notch. After discussing the concept of partnering with disc golf with our partners, it became clear this was really a no brainer to merge the sports."
The Beach Sports Network will now consist of Handler's UWP-IJSBA Watercross National Tour, beach volleyball's EVP® Tour, and the new addition, PDGA disc golf tour. A total of 20 half-hour shows will be produced for distribution across as many as 23 regional sports networks beginning in April and concluding in October. The EVP and UWP-IJSBA National tours will each produce eight shows, while the PDGA will broadcast four shows that will reach an estimated 60-80 million households per episode.
"The Beach Sports Network is excited to introduce disc golf to our athletes and TV fans.  Many of the BSN host cities would like to include disc golf in their schedule of events," smiled Ross Balling, CEO of the EVP Tour (http://www.evptour.com - beach volleyball). "This is clearly a case of the whole being greater than the sum of its parts.  Television has been our bread and butter for more than a few years now, but with disc golf's experience in live Internet broadcasting, this partnership gives all three of our sports great media leverage.  Our fans too are excited about the increased exposure we will gain from the Internet side." 
The EVP Tour has established the largest national pro-am volleyball attraction in America. The tour travels to twenty key markets across the country from March to October. The EVP will produce eight, 30 minute TV shows that reach over 40 states. Its grassroots efforts assist regional and local athletes. Our local EVP Network Members assist the grassroots efforts by establishing young adult relationships that drives the 50 percent of the participation in our events.
Disc golf too has found a dedicated global audience on the ground, as well as online.  During its first three years of live Internet broadcasting, their shows average 27-35,000 unique viewers from 133-147 nations.  In 2012, disc golf's four anchoring broadcasts served up nearly 12,000,000 minutes of viewing from 443,000 streams, with as many as 26% of those viewers being new to each broadcast.  This type of growth will only be enhanced as the three emerging sports now aggregate their content through one dedicated online portal, which is currently in development. 
"The interesting thing about this relationship is that, just as Ross and AJ were looking for a way to do their events live on the Internet, we were looking for greater exposure on TV," said Brian Graham, Executive Director of the PDGA (http://www.pdga.com - disc golf).  "This is a win-win for all three sports, as all our strengths will definitely complement each other.  The other advantage to joining the Beach Sports Network is that we can now create powerful new combined events that will appeal to sports tourism bureaus throughout the nation." 
The Beach Sports Network will launch their 2013 television broadcast season in April with the airing of disc golf's first national tour event from Arizona, The Memorial.  Things will then really heat up in May, as the beach volleyball and water-cross tours go into full swing, occupying each weekend throughout the month.  Limited sponsorship and advertising opportunities are still available from the Beach Sports Network's TV and Internet broadcast inventories.  For the complete broadcast schedule or for more information about the Beach Sports Network, contact BSN Media Administrator, John Duesler at 215-913-0569 or [email protected].