Barrier Free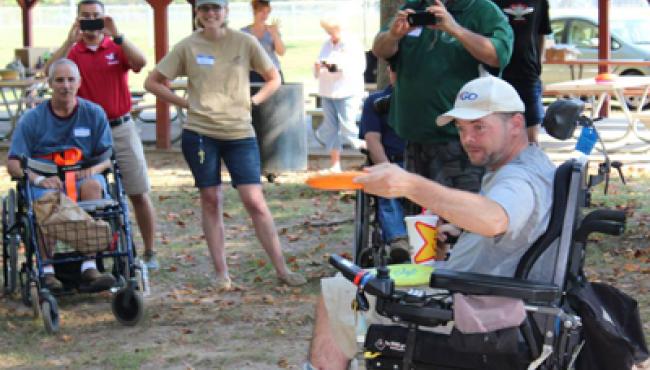 Spotsylvania County Parks and Recreation, Spotsy Disc Golf Club, Hunter Holmes McGuire VA Medical Center, and the Paralyzed Veterans of America Mid Atlantic Chapter collaborated recently to host the first ever Barrier Free Disc Golf Challenge.  
This event was held at Loriella Park in Spotsylvania County on Friday October 4, 2013.  The event included a brief demonstration of "putting" and distance throwing for 10 members of the Paralyzed Veterans of America.  After the members practiced putting and throwing the discs, competition was held in order to determine who could put their newly learned skills to the test.
During the putting competition Jeff East and Tai Cleveland matched skills with hitting 6 of their first 9 attempts.  In a playoff, Jeff hit 4 of his 9 attempts, just edging out Tai, who managed to put 3 of his 9 attempts into the basket.
After putting, the veterans went out and played a temporary four hole course set up on the baseball fields at Loriella Park.  Teeing off on the first hole, the competitors threw three times to see who could throw their discs the farthest.  In the distance competition, Tai Cleveland out threw Daniel Atcherson by less than one foot to win.  After all was said and done on the course though, Daniel ended up beating Tai by one stroke to take home the golf champion trophy.  The competitors and volunteers alike thoroughly enjoyed the day, one learning a new sport, the other sharing a sport they enjoy playing.  For more photos of the event, click here.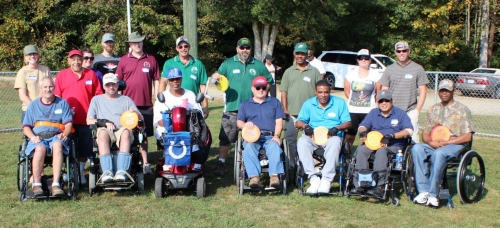 — Jeff Shattuck