Spots Open for 2018 Am Worlds Doubles
Spots Open for 2018 Am Worlds Doubles
Mt. Vernon, Texas, to host first PDGA Major of 2018
Tuesday, March 27, 2018 - 14:36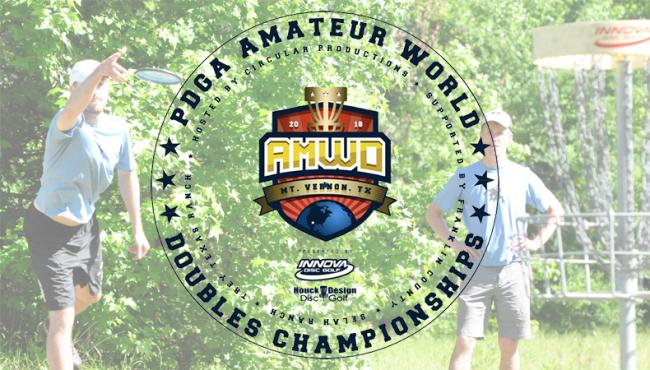 Four championship courses are primed and ready for what is always one of the most challenging and sometimes frustrating events of the year: the 2018 Amateur World Doubles Championship. Now gearing up for it's 28th running, this XM-Tier PDGA Major presented by Innova Champion Discs and HouckDesign pushes doubles teams to the limits as they take on some of the world's most unforgiving courses while playing multiple formats of doubles disc golf, including the dreaded Worst Throw format during the Finals.
Courses
The Amateur teams competing now have less than two weeks to put together a game plan detailing how exactly they plan to handle some of the highest-rated courses in the world. Selah Ranch, home to Selah Ranch Lakeside and Selah Ranch Creekside, offers up as many beautiful views as it does challenging holes. Just a few miles away, Trey Texas Ranch does much of the same with two more championship courses, Trey Deuce and Texas Twist. Any of the four courses being used would be extremely difficult for most doubles teams to put up a good score while playing Best Throw or Best Score. With Alternate Throw and Worst Throw on the schedule, there are certainly some tough times ahead for those that are not properly prepared. 

Selah Ranch
Trey Texas Ranch
Doubles Formats
The 2018 Amateur World Doubles Championships presented by Innova and HouckDesign. plays multiple formats of doubles. The official titles for the formats as seen in the Official Rules of Disc Golf - Appendix B: Doubles and Team Play will be as follows: Best Throw, Best Score, Alternate Throw, and Worst Throw. Replace the word "throw" with "shot" and they might sound more familiar.  During the finals, a combination of those formats will be played, e.g. Holes 1-3; Best Throw, Holes 4-6; Best Score, Holes 7-9; Worst Throw.
If you've ever played a round of Worst Shot (officially titled Worst Throw), you know the pain of having a great drive and then watching in horror as your teammate's disc ricochets deep into the woods, over an out-of-bounds line, and/or into the water. But, have you actually played Worst Shot? The term Worst Shot is very commonly misused. Often time when people refer to Worst Shot they are actually playing Tough Shot. They both play by the same rules except with one very critical difference; in true Worst Shot format, BOTH teammates have to hole out. 
There are even more doubles formats that exist. More information can be found in the Doubles and Team Play section of the Official Rules of Disc Golf.
Spots Are Still Open!
There are still a few slots available for the 2018 Amateur World Doubles Championship, so get your team signed up today! Registration closes on Friday, March 30th!
Register Online via The Disc Golf Scene »