2019 Pro Masters World Championships Final 9 Showdowns - Part Two
2019 Pro Masters World Championships Final 9 Showdowns - Part Two
Feldberg, Convers, McClellan, Greenwell Win World Titles Without Worry
Monday, July 1, 2019 - 17:52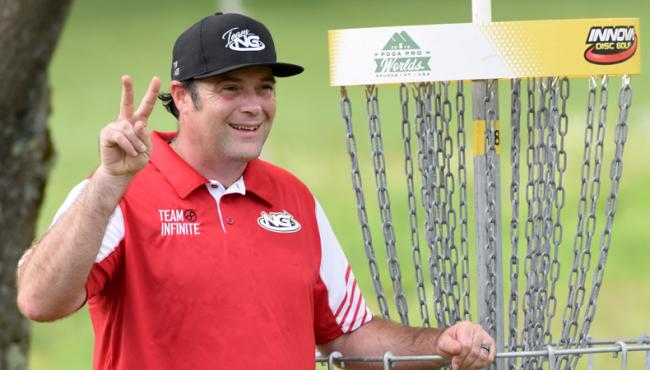 With the finals for the Masters 65+ and Masters Women 40+ divisions already in the books, only four more loops on the Fox Run Meadows final 9 layout were needed at the 2019 PDGA Pro Masters Disc Golf World Championships. The 16 players that remained emerged as the top four from the four largest divisions: Masters 40+, Masters 50+, Masters 55+, and Masters 60+. Despite their differences in age, the divisions all had one thing in common, a name at the top of the leaderboard that had been at or near the top of the leaderboard for most of, if not all of, the 90 holes of golf that had taken place since Tuesday morning.
Masters 40+
The largest division of the event, Masters 40+, where defending champion Dave Feldberg was on a mission to take home the title for the second year in a row, was last to take to tee off for the finals on Saturday. To say the competition was stiff would be an understatement, as he was constantly being pushed and chased by four-time world champion Barry Schultz, 2016 Masters 40+ champion JohnE McCray, newcomer to the Masters 40+ division Steve Rico, not to mention the likes of David Madruga, Ray Johnson, and Ken Tyburski, just to name a few.
Stiff competition aside, it was Feldberg who truly shined throughout the week, leading the event for all but three of the 97 holes. After shooting the only bogey-free round on the opening day, it wasn't until the 17th hole of round two where a bogey by Feldberg against a birdie by McCray moved him into the second place position, one behind McCray. That's how it would remain until the next morning, where McCray took a triple-bogey seven on hole two that put Feldberg back in the lead position.
Over the next 70 holes of disc golf, 79 counting the finals, Feldberg battled against some of the highest-rated players in the sport, and never gave them a moment in the limelight as the sole leader of the world championships. As the 2008 World Champion in the Open division, and as a player with top 10 finishes in the World Championships in the Open division for 14 years in a row (2002-2015), eleven of which were top five finishes, Feldberg is no rookie when it comes to playing under pressure.
Feldberg had a plan for the week, and he stuck to it. "I was scared of the courses," said Feldberg, who had never been to the Smugglers' Notch Disc Golf Center until the Friday before the event started.
"I didn't get a lot of time to practice, but either way I was ho-humming around out there for a lot of the tournament. When I looked at [the courses], I thought 'If you miss you can basically be eliminated in one hole'. I chopped off a lot of shots and conceded holes when I had to, because I knew that if the people that didn't, wouldn't win."
The plan worked. While his closest competitors would all eventually card double and even triple bogeys, multiple times in some cases, he never took anything more than a bogey, and that only happened nine time in 97 holes.
He lit up the final 9 layout, joined by Schultz, McCray, and Madruga, turning in a 5-under par 25. "Once I knew it was me and Barry, that's when I knew I could stretch out my shots a bit and be comfortable," said Feldberg. "I was finally able to throw the drives I wanted to throw because my confidence was up."
Just four holes into the final, Feldberg's lead of three had more than doubled to seven, with only five holes to go. Schultz snagged one stroke back with a birdie on hole five (course hole 14), but it was too little too late. Feldberg went on to toss in a par putt on the last hole to win by seven after having some fun with the crowd by throwing an unnecessary, but fun to watch, spike hyzer over the trees on his approach.
As the back-to-back PDGA Masters 40+ World Champion, his third world championship title overall, and many years left with eligibility in the Masters 40+ division, who knows when the streak will end?
Masters 50+
After an impressive runaway victory in Kansas City during the 2018 PDGA Pro Masters World Championships, Patrick Brown set out to defend his title against a slew of top-tier competitors including the 2016 and 2017 champion, Ron Convers Jr. Unfortunately for Brown, despite staying within arms reach of the lead throughout the entire week, he never did take possession of the top of the leaderboard.
The role of leader would be played the remainder of the week by the soon-to-be 57-year-old Ron Convers, the only player in the division to finish with 1000-rated scores for all five of the 18-hole rounds, an average of 1019. Kevin Babbit was the only player truly within range when the finals began, four strokes back, with four more between himself and Jonathan Baldwin and four more between himself and Brown.
All Convers needed to do was play safe, smart golf, and that he did. He picked up a birdie on the par 4 hole one to kick off the finals and parred out on the eight that remained to tap in for his third world title, four ahead of both Babbit and Baldwin. Baldwin shot a lights-out 5-under par 25, including a clutch upshot and birdie putt on the last hole to tie it up with Babbit for second place.  
Masters 55+
Oklahoma's Mitch McClellen took down the Masters 55+ title but did so without the advantage of a big lead after day one. Both Timothy Jiardini and McClellen finished their opening round on Tuesday tied for second place, as Eric Rainey bested by one them in the rain, no pun intended. McClellen took hold of the reins after round two, his first round on the Brewster Ridge Blue course, finishing four ahead of Rainey after turning in an 8-under par 53.
McClellen added to his lead on Wednesday and Thursday as well as during the semifinals. By the time he turned in the card afer the semis on Saturday mornin he had amassed a lead of seven over both Jiardini and Rainey, who were battling for the second place position all week as McClellen pulled away.
Joined by Jerry Goff for the finals, McClellen didn't give anyone an opportunity to take away something he had been striving to achieve for so long, a world championship title. He was the only player of the group to finish the round bogey-free, carding a 1-under par 59 to tap in for an emotional victory in front of the crowd.
Masters 60+
"I was in shock," said Dave Greenwell, recalling the moment when he found out his opening round in the downpour and gusting wind on Fox Run Meadows left him eight strokes ahead of the rest of the field. That may seem like a comfortable cushion, but with three full preliminary rounds plus a full 18-hole round semifinal plus a nine-hole final, what happens in the first round typically doesn't mean all that much. There's simply too much golf left.
Three-time world champion Gregg Hosfeld was well-aware of that notion and kept calm as he slowly but surely chipped away at Greenwell's lead throughout the week. He narrowed the margin by two after shooting the hot round on Brewster Ridge Blue on Wednesday that included a throw-in eagle on hole 11. He gained another on Greenwell on Thursday and then two more on Friday to bring the gap to just three strokes. However, Greenwell's 1022-rated hot round of an 11-under par 50 during the semifinals on Saturday morning meant he'd be teeing off for the finals with a comfortable lead of six. All he'd have to do was hold off Hosfeld for nine more holes, as the two of them had pulled well ahead of Mike Ward and the defending Masters 60+ champion, Kenny Lee.
Hosfeld put up a good fight during the finals, but for every great drive or great putt, Greenwell was right there with him. As they headed to the last tee, Greenwell was still five ahead. Despite taking a double-bogey to finish after an errant approach that skipped out of bounds behind the green, Greenwell was able to tap in for the win.
Greenwell is now one of just five PDGA members in history that can claim double-digit world titles, as this year was his 10th overall: Masters 40+ (1993, 1998), Masters 50+ (2003, 2004, 2007, 2009), and Masters 60+ (2015-2017).
2019 Pro Masters World Championships