Kansas City Rolls Out Red Carpet For Masters Worlds
Kansas City Rolls Out Red Carpet For Masters Worlds
Fourth time Midwestern outpost has hosted a world championship event
Monday, August 13, 2018 - 10:36
As one of the most historically significant cities for disc golf in the United States, Kansas City is certainly not new to hosting high-level PDGA tournaments. Home to one of the oldest disc golf clubs in country -- the Kansas City Flying Disc Club (KCFDC) -- and having already hosted 11 National Tour events and three world championships (1999 Am Worlds, 2003 Am Worlds, 2009 Pro and Am Worlds), the Paris of the Plains is a trusted source of highly organized staff and world-class courses. Now, with the 2018 PDGA Pro Masters World Championships right around the corner, both the Kansas and Missouri sides of the city are once again primed and ready for another amazing week of intense competition.
Worlds-Class Staff
There is no great tournament without a great tournament staff. To that point, 2018 Masters Worlds is loaded with some of the best of the best, as both the tournament director and his assistant are well on their way to earning the title of "legends" if they haven't already. Tournament Director Scott Reek has been involved with the disc golf scene in Kansas for well over a decade and is also serving his third consecutive term as Kansas' PDGA State Coordinator. 
To serve on the admin side of things in Kansas City is a daunting task at the local level alone. The KCFDC currently has over 400 active members and thousands of previous and/or inactive members in the ol' Rolodex, all of which have 13 different leagues to choose from each and every week. The club holds more weekly leagues than most cities have courses, and that simply isn't possible without a boatload of hard-working men and women behind the scenes.
The number of people working toward building the Kansas City scene, though, fell by one recently, as the KCFDC lost a dear friend. Van Spratford, a longtime volunteer who was called "a calming presence and gracious host," by Jack Lowe (2003 Am Worlds and 2009 Pro and Am Worlds Tournament Director), passed away last week, bringing a solemn opening to an otherwise celebratory event.
Two States, Four Courses
When, not if, someone at Masters Worlds drops the line, "I've a feeling we're not in Kansas anymore," they'd probably be correct. The Kansas City borders start at the eastern edge of Kansas (KCK) and stretch well into the western edge of Missouri (KCMO), partially divided by the Missouri River and partially divided by nothing more than a north/south state road.
For the preliminary rounds (Tuesday-Friday) the field will be split between the two states, with the Pro Masters 40+ and Pro Masters 50+ divisions playing the courses on the Missouri side and the rest playing the courses on the Kansas side. Competitors will be reunited on Saturday, as all divisions will be moved to Waterworks for both the semifinals and finals.
KCK Masters Worlds Courses
Rosedale Park - Kansas City, KS
Rosedale Park has two permanent courses installed, appropriately titled Up Top and Down Under. Up Top was the only course on the property for many years -- Down Under was not installed until 1997 -- and is the only one that will be used for Masters Worlds. Up Top winds along the more open areas of the park, following the edge of a prominent bluff. Because it is more out in the open, and because it is located in Kansas, the wind is almost always a factor.
Heritage Park - Overland Park, KS
Heritage Park is, hands down, one of the most beautiful courses in the Midwest. It has a very special charm to it, as it provides the feeling of playing in the middle of the woods while somehow having perfectly-manicured grass fairways and greens. It was designed and built by none other than Reek, who is fortunate enough to work for the department that runs the park, essentially allowing him to work for disc golf full-time.
"I work for them now just to maintain the courses," Reek said. "It took me three and a half years to build it, and it finally opened in 2015. It's probably the most technical of the four courses being used this week. I'm really excited to see what people think of it."   
KCMO Masters Worlds Courses
Waterworks Park - Kansas City, MO
Waterworks is truly legendary, combining lush greens and steep elevation changes through the entirety of the course. The elevation changes are so severe and come so often that it almost feels out of place in the Midwest; it's as if you are playing on a mountain course in the middle of a city. According to kcparks.org, the park took root in 1931 as a kind of extra-curricular area for employees of the water treatment plant that sits adjacent to it.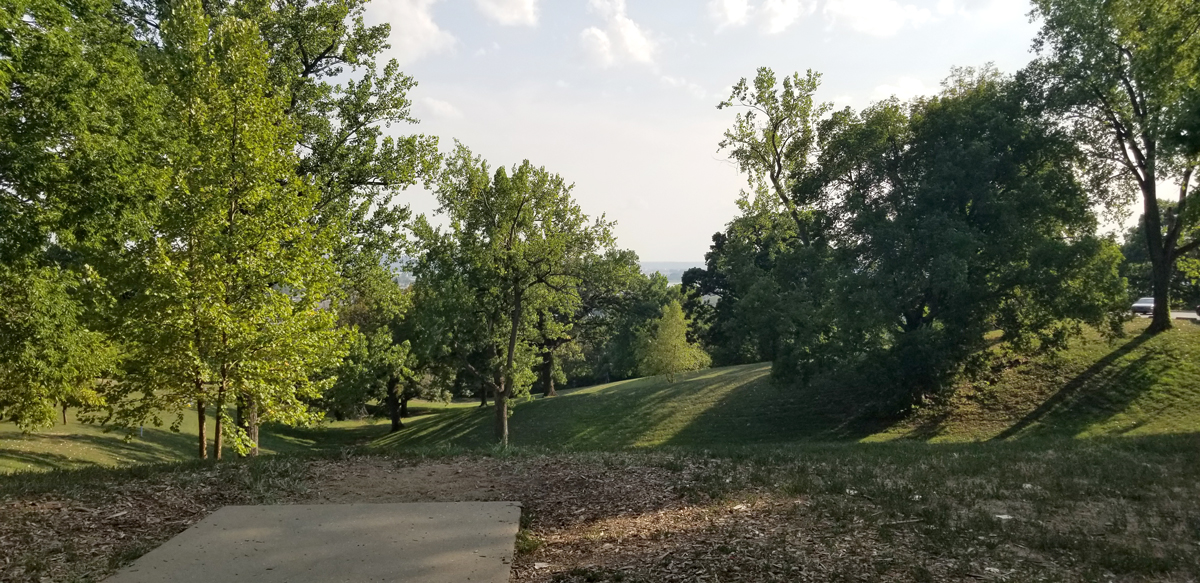 Bad Rock Creek - Liberty, MO
Bad Rock Creek (Stocksdale Park) comes in as the longest, and perhaps most open, course of the four. But with defined rough, elevation changes, several holes with water hazards, and plenty of marked out of bounds areas, the difficulty is still there.
The Competition
Masters Worlds always has a field stacked full of players that combine for more PDGA Majors titles than any article has room for. The top competitors in the Pro Masters 40+ division alone share at least a dozen, and that same scenario follows suit across the board. Players like Barry Schultz (MP40), Ron Convers (MP50), and David Greenwell (MP60) will be looking to add another world title notch to their belts, while Courtney McCoy (FP40), Joe Rovere (MP40), and Patrick Brown (MP50) will be looking to earn their first. After an impressive win at the 2018 Tim Selinske US Masters earlier this year, if JohnE McCray (MP40), wins a second world title as a masters competitor, he would also be the concurrent World and US Masters champion.
Perhaps the most eye-catching story is that of Brown. Many fans of disc golf might be surprised to see his name in the Masters 50+ division, as he is often seen competing in the Open or Masters 40+ division around the country. And no matter which he chooses, he always plays well. At the Field Events competition on Sunday, Brown crushed the competition in the Long Drive contest, smashing a drive to 534 feet (162 meters), easily earning the win for his division while also having the longest throw across all divisions for the day.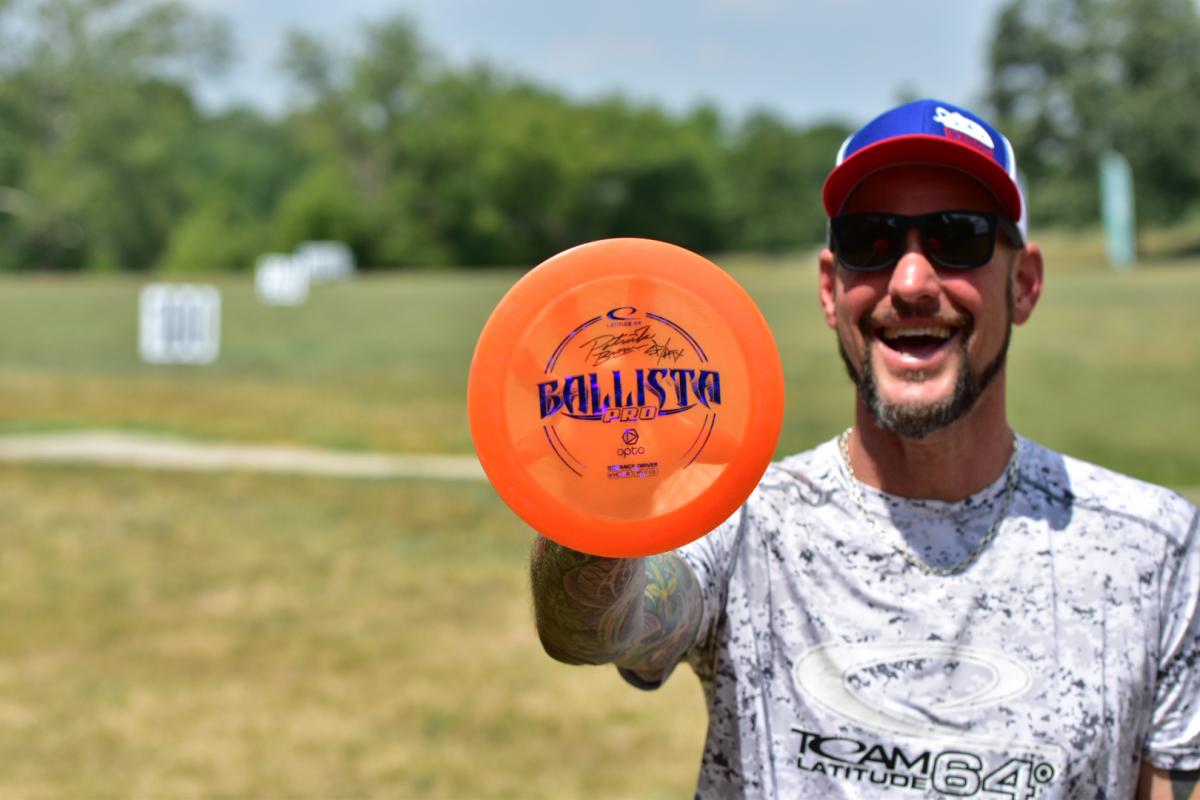 Brown didn't start playing disc golf until 2004 and didn't start playing in professional divisions until 2008, a time when he was already qualified to compete in Masters despite being an up-and-coming name in the Open division. "You can go for years in Cali without a win, without even learning how to win," Brown said. "Actually, a friend of mine, Steve Ganz, at the time would tell me that if I went and played Masters at some of the bigger events I would win them." Eventually, Brown listened.
In 2009 he won his first National Tour event as a Masters player at the "Steady Ed" Memorial Masters Cup in Santa Cruz, and has since picked up more than a dozen more NT wins, countless A-Tier wins, and the title of 2016 Tim Selinske US Masters Champion. This week's tournament will be Brown's first run as a Masters 50+ competitor, playing side-by-side with past champions and Disc Golf Hall of Fame members.
"I thought, if I'm gonna play grandmasters for the first time, it might as well be Worlds," Brown said. "Plus, now my team [Latitude 64] has representation in another division."
The main event begins at 9:00 a.m. Tuesday. Live scores will be up and running throughout the week on pdgalive.com complimented by photos, videos, and updates via the PDGA on Facbook, Twitter (@pdga), and Instagram (@pdga).
2018 Masters World Championships