2018 Birdie Club and Ace Club Logo Contest Winners Announced
2018 Birdie Club and Ace Club Logo Contest Winners Announced
Tuesday, September 5, 2017 - 12:26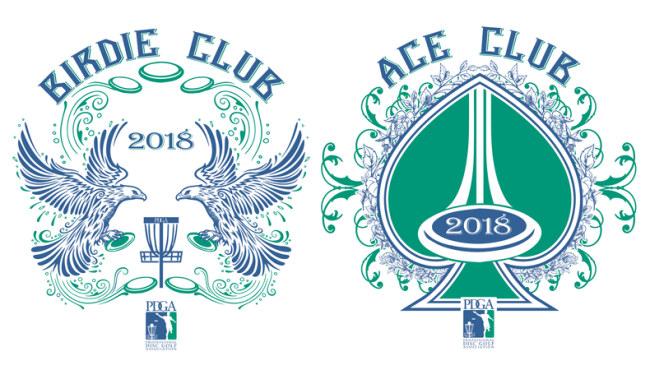 After reviewing dozens of submissions for the 2018 PDGA Ace Club and Birdie Club logo contest, the winning designs have been chosen. Sweeping the contest this year was Tennessee's Jason Scott, designer of both the winning Ace Club logo and Birdie Club logo, displayed in the picture above.
For submitting both of the winning designs, Jason will receive an Ace Club Membership including all the goodies that come with it, plus the goodies from a Birdie Club membership as well. Typically, this would mean simply updating Jason's profile to reflect that he is now an Ace Club member, but it turned out to be a bit more complicated.
When searching for Jason in the database, we found a few different members named Jason Scott, so we reached out to Jason to see which membership number belonged to him. The response we got was quite surprising.
"I do not have a number. The truth is, I've just started playing, maybe three months ago. My son has a heart defect that keeps him from being involved in any kind of contact style sports. A buddy of mine introduced us to disc golf; it's become a great outlet for my son and it allows him to work toward competing. He's 12. I happened across the contest, researching the sport and its history with him. How do I go about getting a number?!"
Jason's 12-year-old son, Aidan Scott, has a condition called aortopathy, defined by a quick search on Google as simply "disease of the aorta". But, as with most medical cases, it is a bit more complex than that.
"It means the aortic valve is bicuspid (2 leaflets) instead of tricuspid (3 leaflets). This defect allows blood to leak backwards (regurgitation)," Jason explained via email.  "Additionally, Aidan has aortic root dilation (now called an aneurysm due to its size). Both defects affect the blood flow through the heart causing additional strain and damage. Third, [Aidan] has a VSD (ventricular septal defect), a hole between the bottom 2 chambers. This hole is covered by a membranous tissue (self-healing), but it looks like it isn't as strong as we thought, which may be contributing to the aortic root dilation."
Only those that have been affected by something similar can truly begin to relate, so we won't pretend that we can. What we can say is that if disc golf has become an outlet for Jason and Aidan as father and son, then there are simply no words to describe how happy we are.
It brings us much joy to announce that Jason and Aidan Scott do now have PDGA memberships, with Jason being #99245 (Ace Club) and Aidan being #99246 (Birdie Club). We wish them the best of luck both on and off the courses, and we thank them and everyone else for submitting their logo contest designs.
Comments
Excellent job PDGA. Good luck Aidan and Jason
Many thanks for the words of encouragement.
We appreciate the support.
Congrats on the beautiful artwork. I wish the entire Scott family the best of luck and welcome to the PDGA Family!