2017 PDGA A-Tier Schedule Released, 2017 Tour Standards and Sanctioning Form Available
2017 PDGA A-Tier Schedule Released, 2017 Tour Standards and Sanctioning Form Available
Tuesday, November 1, 2016 - 10:15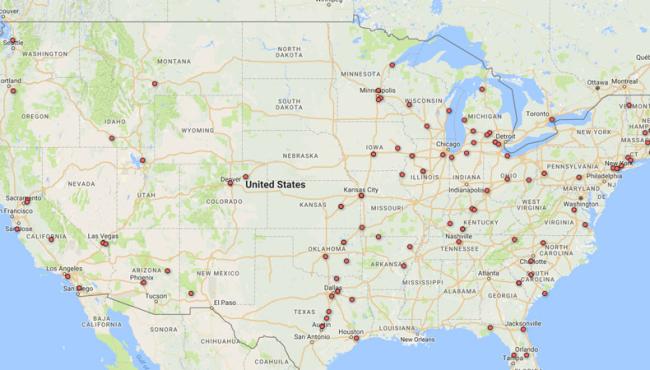 The schedule for the 2017 PDGA Major events, PDGA National Tour events, and PDGA A-Tier events is now available, along with the 2017 PDGA Tour Standards that will go into effect on January 1, 2017.
PDGA State/Provincial Coordinators may now start accepting requests for approval for 2017 events for B-Tier and C-Tier events.
The 2017 PDGA Event Sanctioning Form is now enabled as well, meaning Tournament Directors (TDs) for approved 2017 A, B, & C-Tier events may now begin submitting their sanctioning agreements.
Note: TDs need to be current PDGA members for 2017 and must also be Certified Officials through their event date in order to sanction. In order for an A-Tier event to appear in the upcoming winter issue of DiscGolfer Magazine, the event will need to be fully sanctioned prior to November 15th, 2016.
The PDGA Tour schedule for 2017 consists of 11 PDGA Major events, six PDGA National Tour events, and 95 PDGA A-tier events spread out across the United States and Canada, with two of the PDGA Majors taking place abroad. The 2017 Aussie Open will kick off the disc golf season at the end of January with the return of a PDGA Major to "Down Under". Towards the middle of the season in July, Europe will host the other international PDGA Major event; the 2017 European Open in Nokia/Tampere, Finland.
The PDGA National Tour will begin at the end of February with an event making its first appearance on the National Tour; the 2017 Gentleman's Club Challenge in Las Vegas, Nevada. The National Tour will conclude with the 2017 Hall of Fame Classic at the International Disc Golf Center in Appling, Georgia in mid-October.
The table below displays the scheduled PDGA Majors, National Tour events, and A-tier events for 2017. You can also download the schedule in PDF format.
Download the 2017 Major/NT/A-Tier Schedule PDF »
| Dates | Event Name | # Days | Tier | Class | Location | TD Name |
| --- | --- | --- | --- | --- | --- | --- |
| Jan 26-29 | Aussie Open (DGWT) | 4 | M | Pro/Am | Perth, WA, Australia | Robert Kyle |
| Feb 23-26 | Gentlemen's Club Challenge - MPO/FPO | 4 | NT | Pro | Henderson, NV | Jeff Jacquart |
| Feb 23-26 | Gentlemen's Club Challenge - All Other Divisions | 4 | A | Pro/Am | Henderson, NV | Jeff Jacquart |
| Mar 1-4 | The Memorial Championship (DGPT) | 4 | A | Pro/Am | Scottsdale, AZ | Keith Murray |
| Mar 10-12 | St. Patrick's Classic Amateur State Championships | 3 | A | Amateur | Loomis, CA | Bruce Knisley |
| Mar 11-12 | The Texas Amateur Championship | 2 | A | Amateur | Cedar Hill, TX | Steven Storrie |
| Mar 16-19 | Waco Annual Charity Open (DGPT) | 4 | A | Pro/Am | Waco, TX | Channon Quillen |
| Mar 17-19 | Throw Down the Mountain V | 3 | A/B | Pro/Am | Brooksville, FL | Michael Barnett |
| Mar 17-19 | St. Patrick's Classic | 3 | A | Pro | Orangevale, CA | Jennifer Knisley |
| Mar 24-26 | The Open at Temple | 3 | A | Pro | Temple, TX | Neal Dambra |
| Mar 25-26 | Nick Hyde Memorial - Amateur | 2 | A | Amateur | Rockwall, TX | Matthew Siri |
| Mar 25-26 | The 2017 Open at Tallahassee | 2 | A/B | Pro/Am | Tallahassee, FL | Mario Palmentieri |
| Mar 31-Apr 2 | Nick Hyde Memorial - Pro (DGPT) | 3 | A | Pro | Rockwall, TX | Matthew Siri |
| Mar 31-Apr 2 | Daniel Boe Memorial | 3 | A | Pro/Am | Escondido, CA | Mark Verrochi |
| Apr 1-2 | 2017 Jacksonville Open - Pro | 2 | A | Pro | Jacksonville, FL | Joey Van Duzee |
| Apr 1-2 | Southern Michigan Open | 2 | A | Amateur | Ypsilanti, MI | Michael Michalak |
| Apr 1-2 | Red River Amateur Championship | 2 | A | Amateur | Denison, TX | HB Clark |
| Apr 7-9 | Texas States Disc Golf Championships | 3 | A | Pro/Am | Baytown, TX | Jeremy Richards |
| Apr 8-9 | Mishawaka Meltdown | 2 | A | Pro/Am | Mishawaka, IN | Lawrence D Leonardi |
| Apr 12-15 | National Collegiate Disc Golf Championships | 4 | XM | Pro/Am | S. Augusta, SC | John Baker |
| Apr 13-16 | Jonesboro Open (DGPT) | 4 | B | Pro | Jonesboro, AR | Bradley Pietz |
| Apr 15-16 | The Rumble | 2 | A | Pro/Am | Moline, IL | Chase Roberts |
| Apr 21-23 | The Amateur Championships at Bowling Green | 3 | A | Amateur | Bowling Green, KY | HB Clark |
| Apr 21-23 | Taneycomo Throwdown | 3 | A | Pro/Am | Ridgedale, MO | Mike Porter |
| Apr 27-29 | Glass Blown Open - Pro | 3 | NT | Pro | Emporia, KS | Doug Bjerkaas |
| Apr 27-29 | Glass Blown Open - Amateur | 3 | A | Amateur | Emporia, KS | Doug Bjerkaas |
| Apr 29-30 | The Patriot Memorial at Triad Park | 2 | A | Amateur | Kernersville, NC | Philip Lawrence |
| May 5-7 | Steady Ed Masters Cup - Amateur | 3 | A | Amateur | Santa Cruz, CA | Braden Coolidge |
| May 5-7 | 303 Open | 3 | A | Pro/Am | Federal Heights, CO | Kyle Maute |
| May 6-7 | MOB Shootout | 2 | A | Amateur | Dexter, MI | Michael Michalak |
| May 6-7 | Christie Lake Spring Fling | 2 | A | Pro/Am | Hamilton, ON | Dustin Fournier |
| May 6-7 | The 2017 Illinois Amateur Championships | 2 | A | Amateur | Pekin, IL | Johnnie Harrison |
| May 6-7 | Huk Central | 2 | A | Pro/Am | Central, SC | Bryan Schaupp |
| May 12-14 | Konopiste Open (DGWT) | 3 | A | Pro | Benešov, Czech Republic | BLANK |
| May 12-14 | Amateur World Doubles Championships | 3 | XM | Amateur | Mt. Vernon, TX | Joe Rotan |
| May 19-21 | Steady Ed Masters Cup - Pro | 3 | NT | Pro | Santa Cruz, CA | Braden Coolidge |
| May 20-21 | No Foolin 2017 | 2 | B/A | Pro/Am | Dexter, MI | John Reifschneider |
| May 20-21 | Madisonville Open | 2 | A | Pro/Am | Madisonville, KY | HB Clark |
| May 20-21 | 39th Annual Norman Pro/Am | 2 | A/B | Pro/Am | Norman, OK | Billy Engel |
| May 20-21 | Minnesota Amateur Disc Golf Championships | 2 | A | Amateur | South St. Paul, MN | Tom Marcus |
| May 27-28 | Tulsa Am Jam | 2 | A | Amateur | Tulsa, OK | Jim Geurin |
| May 27-28 | Two Days in May | 2 | A | Pro | Spotsylvania, VA | Bryan Law |
| May 27-28 | Clash at the Canyons | 2 | A | Pro/Am | Lockport, IL | Steve Rachan |
| Jun 2-4 | USADGC | 3 | M | Amateur | Milford, MI | John Minicuci |
| Jun 2-4 | Tennessee State Disc Golf Championships | 3 | A | Pro/Am | Morristown, TN | HB Clark |
| Jun 2-4 | Utah Open (DGPT) | 3 | B | Pro | Marriott Slaterville, UT | Jade Sewell |
| Jun 3-4 | Disc Girls Gone Wild | 2 | A/B | Pro/Am | Laingsburg, MI | Keith Aten |
| Jun 9-11 | 2017 Kansas City Wide Open | 3 | A | Pro | Kansas City, KS | Scott A Reek |
| Jun 9-11 | 2017 Kansas City Wide Open - Performance Flight | 3 | A | Amateur | Kansas City, KS | Scott A Reek |
| Jun 9-11 | Beaver State Fling - Pro | 3 | NT | Pro | Estacada, OR | Jeff Mittl |
| Jun 10-11 | The Beaver State Fling - Amateur | 2 | A | Amateur | Estacada, OR | Jeff Hagerty |
| Jun 10-11 | Mad City Open | 2 | A | Pro/Am | Deforest, WI | Brian Peck |
| Jun 17-18 | Kanawha Valley Regional | 2 | A/B | Pro/Am | Charleston, WV | Steven Koepsel |
| Jun 17-18 | 2017 Great Lakes Open | 2 | A | Pro/Am | Shelby Township, MI | John Minicuci |
| Jun 17-18 | High Plains Challenge | 2 | A | Pro/Am | Fort Morgan, CO | John Bird |
| Jun 17-18 | 33rd Annual Mid-America Open | 2 | A/B | Pro/Am | Columbia, MO | Mark Ehlert |
| Jun 20-24 | PDGA Pro Worlds (MPO/FPO) | 4 | M | Pro | Augusta, GA/N. Augusta, SC | PDGA |
| Jun 24-25 | Delaware Am Championship | 2 | A | Amateur | Newark, DE | Jimi McIlvain |
| Jun 24-25 | Ohio Amateur Championships | 2 | A | Amateur | Port Clinton, OH | Michael Michalak |
| Jun 30 - Jul 2 | Delaware Disc Golf Challenge | 3 | A | Pro | Newark, DE | Jimi McIlvain |
| Jun 30 - Jul 2 | 7th. Annual King of the Hill | 3 | A | Pro/Am | Anchorage, AK | Rick Cramer |
| Jul 7-9 | The Majestic | 3 | A | Pro/Am | East Bethel, MN | Tommy Locke |
| Jul 8-9 | Michigan Amateur Open | 2 | A | Amateur | Holly, MI | Paul Grasso |
| Jul 8-9 | BC Open | 2 | A | Pro/Am | Langley, BC | Eric Vachon |
| Jul 14-16 | Silver Cup XVII Pro Weekend | 3 | A | Pro | Two Rivers, WI | James Van Lanen Jr |
| Jul 15-22 | PDGA Amateur & Junior Worlds | 5 | M | Amateur | Quad Cities, IL/IA | Chase Roberts |
| Jul 20-23 | European Open (DGWT) | 4 | M | Pro/Am | Nokia, Finland | Jukka Teras |
| Jul 22-23 | CCR Open | 2 | A | Pro/Am | Lansing, MI | Matthew Rinker |
| Jul 29-30 | 21st Annual Brent Hambrick Memorial Open | 2 | A | Pro/Am | Westerville, OH | Paul N. Jay |
| Jul 29-30 | 25th Annual Eric C. Yetter Champions' Cup | 2 | A | Pro/Am | Newtown, PA | John Birkrem |
| Jul 29-30 | The Des Moines Challenge | 2 | A | Pro/Am | Des Moines, IA | Jay Greenwood |
| Jul 29-30 | Rocky Mountain Championships | 2 | A/B | Pro/Am | Bozeman, MT | Ron Pannesi |
| Aug 3-6 | Ledgestone Insurance Open (DGPT) | 4 | A | Pro/Am | Eureka, IL | Nate Heinold |
| Aug 4-6 | 2017 Midwest Amateur Championship | 3 | A | Amateur | Kansas City, KS | Scott A Reek |
| Aug 4-6 | Pennsylvania Heritage | 3 | A | Pro | Carlisle, PA | Chas Ford |
| Aug 4-6 | Peterborough Open | 3 | A | Pro/Am | Peterborough, ON | Karl Forbes |
| Aug 12-13 | Twin Falls ClasSIC | 2 | A/B | Pro/Am | Twin Falls, ID | Larry Laub |
| Aug 12-13 | Titan Open | 2 | A | Pro/Am | Cedar Rapids, IA | Matt Schlabach |
| Aug 14-19 | PDGA Pro Masters Worlds | 5 | M | Pro | Grand Rapids, MI | John Norkowski |
| Aug 17-20 | Idlewild Open (DGPT) | 4 | B | Pro | Burlington, KY | Adam Jones |
| Aug 19-20 | Cedar Creek Open | 2 | A | Pro/Am | Fairmont, MN | Trevor Boehne |
| Aug 25-27 | Pittsburgh Flying Disc Open | 3 | NT | Pro | Pittsburgh, PA | Patrick Graziani |
| Aug 26-27 | Lake Superior Open | 2 | A | Pro/Am | Superior, WI | Bryan Lagergren |
| Aug 26-27 | Next Adventure Amateur Championship | 2 | A | Amateur | Fairview, OR | Steve Carson |
| Aug 31-Sep 3 | Vibram Open (DGPT) | 4 | A | Pro | Shrewsbury, MA | Steven Dodge |
| Sep 1-4 | Music City Open | 3 | A/B | Pro/Am | Nashville, TN | Alan Posey |
| Sep 2-3 | End of the Trail SJVC Classic | 2 | A | Pro/Am | Visalia, CA | Chuck Woody |
| Sep 2-3 | Wildcat Springs Keosippi Open | 2 | A | Pro/Am | Hamilton/Keokuk, IA., IL | John Shaw |
| Sep 2-4 | Southeastern Amateur Championship | 3 | A | Amateur | Orlando, FL | Mark Janssen |
| Sep 2-4 | Toronto Island Maple Leaf | 3 | A | Pro/Am | Toronto, ON | David Slater |
| Sep 7-10 | Tim Selinske US Masters | 4 | M | Pro/Am | Des Moines, IA | Justin Mcluen |
| Sep 8-10 | West Coast Disc Golf Amateur Championships | 3 | A | Amateur | La Mirada, CA | Jeff Spohr |
| Sep 9-10 | Greater Hartford Disc Golf Open | 2 | A | Pro/Am | Manchester, CT | Joe Proud |
| Sep 9-10 | Seth Burton Memorial | 2 | A | Pro/Am | Farimont, WV | Joshua Smith |
| Sep 13-16 | Green Mountain Championship (DGPT) | 4 | A/B | Pro/Am | Jeffersonville, VT | Jeff Spring |
| Sep 16-17 | Augusta Disc Golf Classic | 2 | A | Pro/Am | Augusta, GA | Henry H2 Hamilton |
| Sep 16-17 | Charlie Vettiner Open | 2 | A | Pro/Am | Jeffersontown, KY | Jeremy Watts |
| Sep 16-17 | 2017 Outlaws | 2 | A/B | Pro/Am | Round Rock, TX | Laura Coffey |
| Sep 16-17 | The Greater Peoria Open | 2 | A | Pro/Am | Pekin, IL | Johnnie Harrison |
| Sep 21-24 | United States Womens Disc Golf Championships | 4 | M | Pro/Am | Johnson City, TN | Tim Barr |
| Sep 29-Oct 1 | Farragut Open 2017 | 3 | A | Pro/Am | Bay View, ID | James McLaughlin |
| Sep 30-Oct 1 | 12th Annual Four States Open | 2 | A/B | Pro/Am | Joplin, MO | Kevin Carder |
| Sep 30-Oct 1 | Kentucky State Disc Golf Championships | 2 | A | Pro/Am | Bowling Green, KY | HB Clark |
| Sep 30-Oct 1 | "16th Annual Matt ""HOMIE"" Lovasko Fall Celebration" | 2 | A | Pro/Am | Crown Point, IN | Jay Svitko |
| Oct 4-7 | United Sates Disc Golf Championships (DGWT) | 4 | M | Pro | Rock Hill, SC | Jonathan Poole |
| Oct 7-8 | Show Low CRAZE | 2 | A/B | Pro/Am | Show Low, AZ | Manny Duran |
| Oct 13-15 | Hall of Fame Classic (MPO/FPO) | 3 | NT | Pro | Augusta, GA | Zach Shafer |
| Oct 13-15 | Hall of Fame Classic - Other Pro & Amateur Divisions | 3 | A/B | Pro/Am | Augusta, GA | Zach Shafer |
| Oct 14-15 | Warwick Disc Golf Championships | 2 | A | Pro | Warwick, NY | Craig Cutler |
| Oct 20-22 | The Piney Woods Open | 3 | A | Pro/Am | Tyler, TX | Steven Storrie |
| Oct 21-22 | Norcal Series Disc Golf Championships | 2 | A | Pro/Am | TBD, CA | Jennifer Knisley |
| Oct 28-29 | Basket Assassination | 2 | A | Pro/Am | Kalamazoo, MI | Larry Leonardi |
| Oct 28-29 | Oklahoma Open | 2 | A | Pro/Am | Tulsa, OK | Michael Treat |
| Nov 4-5 | 4th Annual Buffalo Run | 2 | A | Pro/Am | McAlester, OK | TJ Goodwin |
| Nov 4-5 | 20th Annual Fall Colors | 2 | A | Pro/Am | Williamsburg, VA | John Roy |