Registration Open for the 2016 Gentlemen's Club Challenge presented by Innova
Registration Open for the 2016 Gentlemen's Club Challenge presented by Innova
Tuesday, December 1, 2015 - 12:54
The 17th Annual Gentlemen's Club Challenge (GCC) presented by Innova Champion Discs, one of the first PDGA A-Tier events of 2016, will boast one of the largest fields and biggest payouts that the disc golf world has ever seen. The 2016 GCC begins on Thursday, February 25th and finishes up three days later on Sunday, February 28th. Taking place on the scenic Wild Horse Golf Club for the first time in GCC history, the Las Vegas Disc Golf Club (LVDGC) is already doing the prep work to accomodate an expected 450-550 registered competitors, including many of the top disc golfers on the planet.
Based on years past, approximately 80% of the participants will be coming in from outside of Nevada, representing over 30 states, Canada, Europe, and Asia. Player participation has doubled in size over the last six years alone, (210 in 2009, 420 in 2015) and the LVDGC is looking forward to hosting an even larger number for 2016.
Goodbye Sunset, Hello Wild Horse
"In order to accommodate more participants and expand our non-profit support, we are trying a new venue in 2016 using a one-weekend format with multiple courses at one location versus our typical two-weekend format, previously limited to the historic Sunset Park DGC," says GCC Tournament Director Jeff Jacquart, Tournament Director.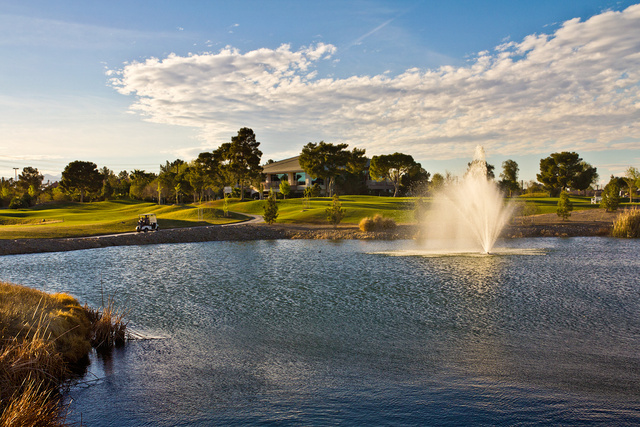 The Wild Horse Golf Club facility, located 10 miles off the Las Vegas strip in Henderson, Nevada, in cooperation with the Par 4 Golf Management staff will offer ample room and support for a number of GCC activities. The 18-hole ball golf course will be transformed into three premier disc golf courses. Each participant will play the three courses at least once, with the top 50% of each division playing a fourth round on Sunday in the finals. There will be roughly 18 individual divisions for the men and women competitors, with fields ranging from the top touring professionals all the way down to beginners and juniors (play limited to Saturday & Sunday for Junior divisions)., "The GCC has become home to one of the largest Masters (40+ years old) and Grandmasters (50+ years old) fields on both the amateur and professional side," says John Ricker Jr. #33680, Co-Tournament Director. At the 2015 GCC, 120+ Masters and Grandmasters competed at Sunset Park and 2016 should bring that number up even higher.
In additional to the chance of being named the 2016 GCC Champion, each player will also have a shot at side-bar challenges, e.g.the longest hole-in-one and various closest-to-the-pin contests, just to name a few. The event will also provide a number of extra-curricular activities such as double-disc court, a nine-hole mini disc golf course, putting contests, a distance competition, an accuracy contest, and numerous ring-of-fire events. The public is welcomed and encouraged to come out and watch as some of the best players in the world take on this brand new venue!.
Disc Golf Rich
The title sponsor, Innova Champion Discs, in addition to their estimated $25,000 merchandise donation will be lending 36 "GCC Special" baskets to the event. The Lee Canyon Resort, which installs a disc golf course on their ski slopes each spring, will be loaning the remaining 18 baskets needed for the temporary courses. The 18-hole courses will average 8,000 feet in length each, with individual hole distances varying from 200 feet to over 750 feet. "Thanks to our ongoing sponsorship support and a great team of volunteers, the 2016 GCC tournament will be an event like southern Nevada has never seen before," says Scott Merritt #27053, Co-Tournament Director.
Based on the 2015 GCC, each player should receive a player's package as part of their entry fees valued at over $150 for the professional players and $250 for the amateur players. A large portion of the player package value is due to the generous donation from the V Theater & Saxe Theater group and their ongoing Las Vegas show ticket sponsorship, valued at well over $50,000 in 2015. The 2015 GCC was one of the richest PDGA-sanctioned events out of the 2,500+ events of the year, with over $37,000 in cash paid to the professional players and an additional $87,000 in prizes and participant packages provided to 420 amateur players, for a total 2015 event value of $120,000. "It is amazing how well all participants are treated," says Nick Mountain #28206, Co-Tournament Director.
Disc Golfing for a Cause
Since 2011, thousands of dollars annually have been donated from the GCC events to various non-profit agencies in southern Nevada, or used to promote the sport of disc golf to junior players through merchandise donations to various schools or other children activities. Through 2015, just under $11,000 in total donations have been given to the Leukemia & Lymphoma Society ($700), numerous schools ($5,050), Boy Scouts of America ($3,750), and the LVDGC Kids Camp ($1,450). The 2016 event will continue to support various non-profit agencies, and we're working to secure information booths at the event for groups such as St. Jude Children's Research Hospital, Throw Pink, and the Clark County School District. Last but not least, the Boy Scouts of America will have fundraising activities and an information booth at the event as well.
Register for the 2016 GCC
Online registration for the 2016 GCC has been open to the public as of on Sunday, December 6th. Bookmark the registration page, sign up, and we'll see you in Vegas!