2014 Tim Selinske United States Masters Championship
Event Info
Dates: April 25th - 27th, 2014
Location: Tulsa, OK
Tournament Director: Michael Treat - 918-639-3959
Assistant Tournament Director: Dough Duff - 918-407-4529
Assistant Tournament Director: Matthew Treat - 918-724-6781
Follow us on Facebook!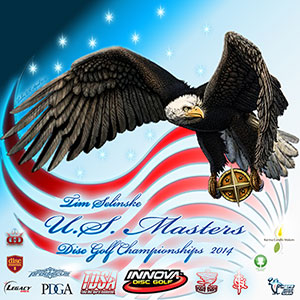 I would like to welcome you to the 2014 Tim Selinske US Masters. On behalf of the Tulsa Disc Sports Association and myself, let me say we are excited to host this prestigious tournament. The dates are April 25th through April 27th 2014.  
My name is Michael Treat, PDGA # 26709, and I feel fortunate to be the Tournament Director for this year's event. We have two Co-TD's, Dough Duff and my oldest son Matthew Treat.  They both have experience and energy and are dedicated to providing the most enjoyable and professional tournament possible. We enjoy the honor of providing what we hope will be a great tribute to Tim Selinske.
Joe Rotan, of Twisted Flyer fame, is our Merchandise Director. Joe's years of experience and industry contacts have proven invaluable. Joe was a personal friend of Tim Selinske and that has made this tournament very personal for him.
Kevin McCoy is a Tulsa native and he is one of the biggest reasons Tulsa disc golf is where it is today. Though he currently resides in Senoia, Georgia, he is helping us put on what we hope will prove to be the best Masters event to date. Kevin brings years of tournament-trail experience and is also our course liaison with the PDGA. I can assure you the courses are fun and challenging. Kevin's reviews are allowing us to set these courses up for you, the Masters Players. We have kept that very important fact in mind throughout our planning process. Kevin too was a personal friend of Tim's. 
Tulsa is fortunate to have a great selection of disc golf courses that are all quality options and offer a variety of challenges. The courses we selected are Hunter Park, Haikey Creek Park, McClure Park and the two courses at Mohawk Park, known as Red Hawk and Black Hawk.  
You will play five rounds. Two rounds Friday and two rounds Saturday with a final round Sunday. We want to show you as much Tulsa Disc golf as we can while keeping the experience enjoyable for everyone.
Our host hotel is the DoubleTree Hotel at Warren Place, located at 61st & Yale in here in Tulsa. This hotel is in a great part of Tulsa. LaFortune Park, with two 18 hole golf courses, sits adjacent to the hotel. Across the street is a wide range of food and general shopping, including a drug store and 24 hour convenience store. They have provided us a great room rate of $89.00 per night so please support our host hotel if possible. There are really nice green spaces that will be reserved for us for putting etc. Make reservations online today or call 800-801-1317 and use code MC4.
Tulsa is in the center of the country and traveling here is relatively easy. We have a very functional airport with on-site car rental. The host hotel offers a free shuttle to and from the airport.
We will have periodic tournament merchandise offerings so please watch for those updates as well. We are partnering with several great companies so expect some really cool stuff.
Please continue to check this page for updates. You will see more and more detailed course information become available over time. An initial schedule of events is posted here as well.
Thank you very much to our sponsors that have helped make the players packs for this trophy-only event one of the biggest and most luxurious in disc golf history! Please utilize their goods and services when at all possible. They are having a tremendous impact on this tournament so please support them.
Thank you for joining in honoring the memory of Tim Selinske, and the best of luck to those competing for the title of 2014 US Master's Champion.
Michael A. Treat
Tournament Director