2014 PDGA Players of the Year and Rookies of the Year
2014 PDGA Players of the Year and Rookies of the Year
Monday, May 11, 2015 - 15:34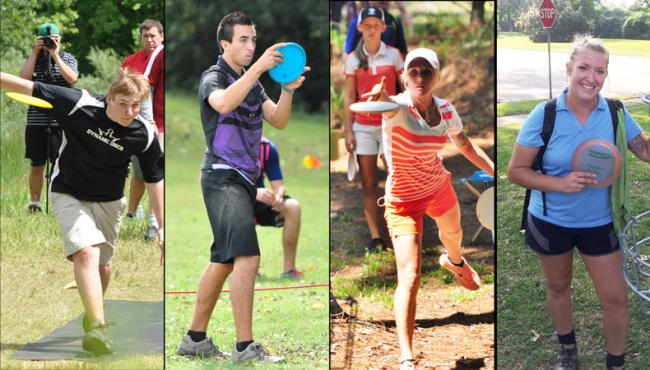 PDGA members competing in the Open and Open Women's divisions are eligible for Player of the Year (POY) and Rookie of the Year (ROY). Throughout the year, players earn POY and ROY points based on what place they finished at B-Tiers, A-Tiers, PDGA National Tour events, and PDGA Majors.  Additionally, bonus points are earned by top ten finishers in categories such as Annual Rating, Total Earnings, Total Wins, Earnings Average, and Winning Average.
After compiling all of the required statistics from all of the 2014 events, we're happy to be able to officially announce the male and female POY and ROY award winners!
2014 Men's Player of the Year
Paul McBeth #27523 – Huntington Beach, CA
If this one comes as a surprise, you haven't been paying attention to disc golf for the last few years. There isn't much an argument to the statement that Paul McBeth is currently the greatest disc golfer in the world. He's the highest rated player in the world (currently 1047), #1 in the PDGA World Rankings, and in 2014 he became a 3X PDGA Professional Disc Golf World Champion, with all three wins coming back-to-back-to-back.
Take a look at the 2014 Year-End World Rankings. In the "Total Pts" column, McBeth is listed as 1.1. That number is essentially his average finish for the year for the tournaments he competed in that are used for the World Rankings algorithm. Think about that for a second. His average finish is one tenth of a point above having a perfect record. Considering the huge field of talented Open division players he faces each week, an average of 1.1 is beyond impressive. Surreal, even. The next best with a Total Points of 4.3 is Nate Doss #11794.
McBeth won four of the eight National Tour events last year, the European Masters, the world championships, and a dozen or so other A-tiers in 2014. He's already racking them up again this year, with multiple A-Tier wins, an NT win, and a PDGA Major win at the 2015 Aussie Open. The question isn't whether or not he will be a 2015 POY contender, it's whether or not anyone can even compete with his seemingly endless domination.
2014 Women's Player of the Year
Catrina is no rookie when it comes to these awards. In fact, since her rookie year in the Open Women's division, she hasn't gone a year without one. In 2011, she took home the Rookie of the Year award followed by a landslide Player of the Year award in 2012. During the 2012 season, Catrina earned an impressive 426 POY/ROY points, a full 100 points more than runner-up Val Jenkins #17495.
She did it again in 2013 with top finishes and wins all over the country, including the title of National Tour Elite Series points champion. With her winging the award again for 2014, Catrina Allen officially has a POY three-peat, a task only accomplished by legendary women disc golfers the likes Vanesssa Chambers #2198, Juliana Korver #7438, Des Reading #15863, and Val Jenkins #17495.
To suggest that Catrina's 2014 season was award-worthy is an understatement, to say the least. For starters, she competed in 40 PDGA sanctioned events in a single year. Of those 40 events, she took home first place 31 times. 31 WINS IN A SINGLE YEAR! Not only is that a record for professional women disc golfers, it's a record for ALL professional disc golfers, male or female! On top of all the A-Tier wins, an NT win, and a Major win at the European Masters, she also added the title of PDGA Professional Women's Disc Golf World Champion to her resume last year.   
2014 Men's Rookie of the Year
Austin Pfaff #46314 - Fredericksburg, VA
Austin Pfaff is one of many rising stars in disc golf, but in 2014 he shined brighter than any other. He racked up eight wins in the Open division out of the 22 events he competed in, and had several impressive finishes at very large tournaments, e.g. 13th place at the Brent Hambrick Memorial Open (2014 PDGA National Tour event) against a top-rated field of nearly 50 other men.
Pfaff excels at every aspect of the game of disc golf. At the young age of just 18, we can only expect to see his name on the leaderboards many more times in the years to come.
2014 Women's Rookie of the Year
Kersey competed in 20 PDGA events in 2014. Of those 20 events, she finished in third place or better at 15 of them, including seven wins. Rebekah put together several 900+ rated rounds over the years and we expect to see her rating continue to rise as she continues to put herself out there against players that will push her game to new heights. We look forward to seeing more of Kersey in 2015 and we wish her the best of luck.
Full results and statistics for the 2014 Player of the Year and 2014 Rookie of the Year can be seen on the POY/ROY page on PDGA.com. Congratulations to Kersey, Pfaff, Allen, and McBeth! We look forward to seeing who will rise to the top during the 2015 season!