When Life Gives You Lemon Lake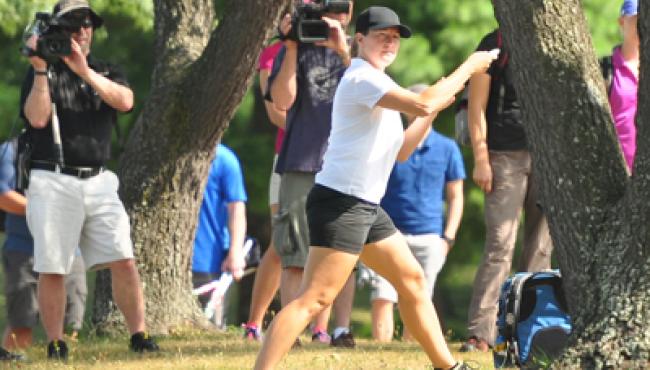 The 2013 PDGA Professional Disc Golf World Championships continued on Thursday, August 8 with a beautiful sunrise on a cool 65 to 70 degree day. Players entered Lemon Lake Park and Hidden Lake Park with determination to make a move. For some, a hunger for the World Champion title still exists; for others it's time to push to even make the cut. Thursday's rounds represented a beginning to the end of the tournament for some players. It was time to make a move if sitting on the cutline bubble, or enter Friday knowing that the end is near.
Friday night holds the cutline to judge which players continue to the semi-finals on Saturday, August 10 or go home. From here on out every mistake is magnified and every throw is critical. Some players who experience the pressure of three straight days of tournament disc golf withstood the test and held their ground. Others slipped on the steep slope leading to Saturday. This cutline represents the goal for the majority of the competitors. 
In the Open Women division Paige Pierce held the lead entering Thursday's action.  This round was going to be a tight one with the race as close as it is. Each competitor on the lead card took turns trading blows and cutting into the lead, and slowly Pierce lost her lead. After the first nine holes of the lead card's round, three-time world champion Valerie Jenkins had cut her five throw deficit into only two throws from first place. She was on fire. 
The battle continued throughout the second half of their round as Jenkins and Pierce began to duel. This battle went on until the very last hole of the round. On that final hole of the first round on Thursday Jenkins tied Pierce at a score of nine under par. Meanwhile on the second card, Catrina Allen assembled a bogey free five under par round that lifted her into third place and gave her yet another shot at grasping the lead.
In their second round of the day Jenkins continued to play lights out and absolutely destroyed the Blue course for the second time that day. This time she assembled a picture perfect bogey free six under par round. Meanwhile, both Allen and Pierce assembled quality rounds as well. Even with the stellar rounds by Pierce and Allen, Jenkins just could not be touched. By the fifth hole Jenkins had the lead and she never looked back.
Currently she holds first place by two throws and heads into tomorrow on a great note of confidence. Her experience in this situation as a three time World Champion may play in her favor down the stretch. For now anything can still happen in this close race. 
Paul McBeth entered the day with a hold on the lead in the Open Men division. He began the day at a solid 33 under par and led his division by a slim one throw margin. He needed to play his absolute best to hold off the field of the world's best that were nipping at his heels. 
He did his job to maintain his lead scoring an amazing 11 under, bogey free round. Meanwhile Nikko Locastro matched his score, earning a second place tie with Dave Feldberg. Feldberg shot an outstanding 51 on the Lemon Lake Gold course to earn this second place spot. His round was the hot round of the day for the Open Men and was nearly matched by Will Schusterick who currently sits tied for fourth after shooting a great 52.
Friday brings the Open Men division back to the Lemon Lake Blue and White courses to end regular competition. The morning round begins on White at 8:30 a. m. and the afternoon on Blue at 1:30 p. m. 
This year the Masters division has also been an incredibly entertaining division. With representation like two-time World Champion Barry Schultz and 12-time Open World Champion and reigning Masters World Champion Ken Climo on the lead card an epic battle is sure to happen. It has most definitely not disappointed.
When the start whistle blew on Thursday Schultz was holding onto a six throw lead over Climo. Although this seemed like a large lead a major swing can easily happen. Climo lit on fire during the first round of the day and began to make his move. He absolutely destroyed the Red course and carded a 47 cutting Schultz's lead to two throws. They then traded blows throughout the entire second round of the day. They seemed to stay right next to one another, not willing to let the other gain any ground. In the end Climo beat Schultz by a single throw and helped cut his deficit to one throw. Not to be counted out, 2011 Masters World Champion Jon Baldwin is nipping at their heels and is capable of surprising everyone with his steady play.
This epic battle continues Friday and it is most definitely one to watch.
In the Masters Women division Barrett White has taken a hold of the lead and sits as the only Masters Woman under par. She has held the lead for the majority of the tournament and has battled to hang on to it. Currently she holds a two throw lead heading into Friday over fellow competitor Anni Kreml.
Another close race that has been shaping up is the Grandmasters division. Heading into today Dean Tannock has had a stronghold on the lead for the Grandmasters. He had steadily beaten his competitors and given himself a comfortable margin leading into the final round on Thursday. Then he struggled while Mike Raley covered ground and closed the gap. When the final scores from Thursday were totaled Raley had taken the lead and left Tannock two back from the lead. This was a surprising turn of events since Tannock had been beating his division with such a comfortable margin. This shows that in the World Championships no lead is safe.
In the Grandmasters Women division Sandy Gast has the lead by seven. Her play today helped her overcome a tie and put a large margin between herself and her closest competitor. Now, all she need to do is hold onto this lead and guarantee her victory in the 2013 World Championships.
 In the senior Grandmasters division Johnny Sias has been putting the hurt down on his division the entire Tournament. He has beaten every player on every round through Thursday and hopes to carry that momentum with him. He currently has an 11 throw lead over his closest competitor. 
The Legends are represented by a group of spry men who have all been active for a lengthy amount of time. In this division Peter Shive grasped the lead in round two and has not let off the gas. He currently has an 11 throw lead in his division. 
Last, but absolutely not least, we have the Senior Legends. In this division Raymond Carr has consistently defeated his division every round. He currently sits ten throws better than his closest competitor. He is also well on track to earn the 2013 World Champion title.
For Fridays Action, check out the course assignments and live scoring schedule to see where all of the competitors will be. Spectators are more than welcome and the only cost is a five dollar parking fee. Be sure to check out the PDGA Tour on Flickr to see photos of the day's action if you can't make it or be sure to check out the live scoring on the PDGA home page and live broadcast on discgolfplanet.tv.