Mixed Shindig on Lemon Lake Blue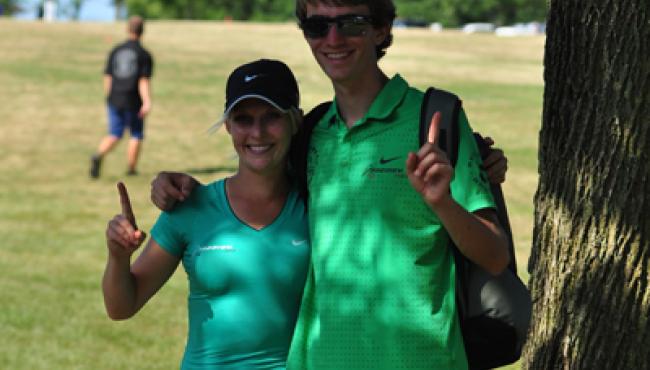 Players were flying high Sunday at the Lemon Lake complex in Crown Point, Ind. as 25 teams gathered to compete in the 2013 PDGA Professional Disc Golf World Championship Mixed Doubles event. Through the long fairways of the Lemon Lake Blue Course they battled through two rounds of difficult disc golf on a beautiful summer day.
When the cards were counted and the results were finalized Catrina Allen and Will Schusterick took the day with a six throw lead over their closest competitors. They entered the day as a favorite to win the event, even with the stout competition present in the field.
The event consisted of two rounds of play with different formats in each round. The first was a modified best shot format that encouraged full team participation. Each team could only use one persons drive on two holes consecutively. After a player's drive has been used twice the other competitor's drive must be used. For the second round it was alternate drive for the format. In other words, player one threw drive on hole one, player two threw drive on hole two, player one threw drive on hole three and it continued until all 18 holes were completed.
Smiles filled every team as they filtered off the Blue Course today and everyone enjoyed the relaxing competitive round. The pressure is building and soon all bets are off. Worlds is the chance for any player to step up, take the stage and earn a title. To check out some pictures of the days action visit the PDGA Tour feed on Flickr.
Tomorrow is practice day, rest day and the players meeting for the competitors. Official 2013 PDGA Professional Disc Golf World Championship individual play begins on Tuesday morning for every player. Round schedules have been posted for all courses and all divisions and the weather looks promising.
Come on out to enjoy the action and witness as our World Champions are crowned.