Ready for the Worlds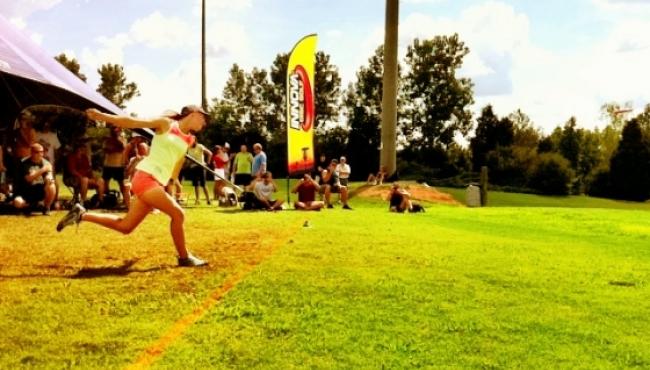 The word of the day in Charlotte, North Carolina is heat. And not just hot, but sizzling. Unfortunately, we're not just talking about the best players, but the humidity and high temperatures that disc golfers and crew are forced to contend with as the 2012 PDGA Worlds begins. On Sunday afternoon, July 15, we found Dave Feldberg taking a short break at the NonStop Disc Golf Tour bus. 
The NonStop Disc Golf Tour began in March, and was organized by one of disc golf's top professionals, Dave Feldberg of Portland, Oregon, bringing together some of the best in the sport, including Cale Leiviska, Nikko Locastro, and Will Schusterick.
The team is running a total of 15 B-tier tournaments across the nation, with a goal of giving back to the sport and its players by teaching local disc golf clubs and players as well as providing entertainment by demonstration their awesome skills. Their events also bring about $20,000 to each community.
Feldberg said that everywhere their tour has been people have been interested in finding more about the sport and it's been an overwhelming success. The 2008 PDGA World Champion also noted that the "humidity here, has been a real kicker," and has negatively affected his distance shots, adding, "If it doesn't improve quickly, I'll have a problem in the Worlds."
Still, he feels that the guys on the tour, including Locastro, Schusterick and Leiviska will do well this year. He also remarked that he believes Ricky Wysocki, the 2011 PDGA Rookie of the Year, may be the "sleeper" considering how well he's been playing and the fact that he's a local; coming from Fort Mill, South Carolina, less than 20 miles south of Charlotte.
Jay Reading seems to be handling the humidity well, though he stressed the importance of dehydration when spending an extended time in extreme weather. Reading, often referred to as "Yeti," is doing a lot of great things for disc golf, and is involved with EDGE, Educational Disc Golf Experience, a program that offers training in an effort to provide schools and other youth programs with a sound program of teaching disc golf fundamentals and allied skills. Reading is obviously passionate about what he does and excitedly noted that he was involved in adding five 9-hole courses to schools recently. 
Jeremy Koling, 2009 PDGA Rookie of the Year, is from Charlotte, and played his very first round of disc golf at the Renaissance Park Disc Golf Course back in 2006. Koling will also have quite an advantage, not only being used to climate here, but having spent a lot of time on the courses that will be used to determine the World Champion.  
The 2011 Women's World Champion, Paige Pierce, said "My goal for this year, in addition to winning a second consecutive title, is to be ranked number one. I would also like to be the number one distance champion." 
Liz Lopez placed third in the 2011 Worlds held in Santa Cruz on the central coast of California. She remarked that "here, the humidity is playing a huge part in my game," adding, "it's really important to have a good grip, but it's difficult when you're constantly sweating. I definitely need my birdie bag." Lopez has been taking notes on each hole to help her when it comes to the main event, and putting a lot more thought into everything she's doing. While she'd love to be crowned Women's World Champion, her biggest goal is to "at least be part of the final four." 
2009 PDGA World Champion Avery Jenkins has been practicing during the "peak heat of the day" in order to get acclimated. While the heat here is expected in North Carolina, it doesn't make it any more pleasant, but Jenkins is ever the professional and keeps to the disc golfers' motto of no whining or complaining. 
2010 PDGA World Champion Eric McCabe feels his week spent here in the heat practicing has helped him quite a bit and he would "love to win another world title" here in Charlotte, while Gregg Barsby from Grass Valley, California took preparing for the heat to a whole new level. 
For a couple of weeks before heading south, Barsby said he "wore sweats and sweatshirts during the summer heat" of the Sierra foothills, and he feels like it has really paid off. He also noted that he "took some time off to relax and not focus every minute on his disc golf game," which can pay off with a calm demeanor during the tough competition. 
Barsby has a few great things in the works as far as helping to push disc golf to the next level. He and many players feel that the sport is right at the edge of moving into the mainstream and it's definitely a very exciting time to be a part of it all. 
While it remains to be seen who will be able to overcome the challenge of the weather and emerge the 2012 World Champion, there is no doubt that these dedicated players will make this an exciting, and an unprecedented event here in Charlotte, North Carolina.
Written by: K.C. Dermody
Photo by: Kelly J Owen