Almost Perfect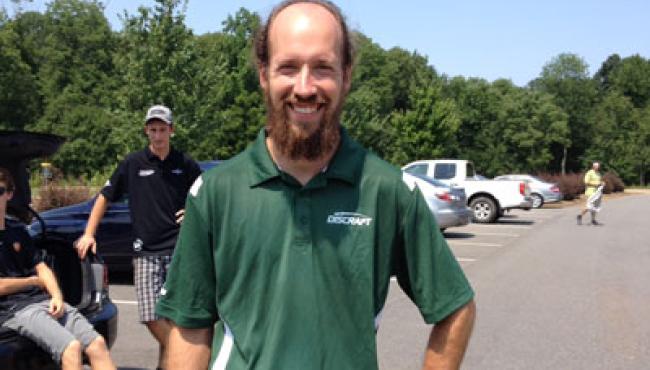 There is little doubt that the 2012 Disc Golf World Championships will be yet another memorable event, with players, family and friends talking about the best moments for years and even decades to come. In the Men's Open division, just one of the pros to become part of that history, Michael Johansen, had an especially remarkable day on Wednesday, July 18, at Bradford Park.
Johansen is from Denver, North Carolina, just 25 miles from Charlotte, and many felt that he was a favorite coming into the competition, according to Billy Crump, commentator and analyst for Disc Golf Planet TV, but it's unlikely that anyone knew just how well he'd really do out there on the course this week. Johansen got off to a slow start, but on Wednesday, he shot "one-off of perfection," and a total of 17-under par by the end of the day.
2009 World Champion Avery Jenkins was so impressed by Johansen that he said it was "the greatest round ever witnessed," according to Crump, and on Facebook he posted: "Just witnessed the ALMOST Perfect Round this morning during the 2012 Disc Golf World Championships at Bradford #DiscGolf Course…" 
For one of the best disc golf pros in the world to make that kind of statement is rare, and says a lot about Johansen's skills, but despite many believing that he's got the World Championship title in the bag, there is a long way to go before it's over and it's certainly not over yet.
Ricky Wysocki also has an advantage, coming from Ft. Mill, South Carolina and just 25 miles south of Charlotte. Crump says Wysocki is "right there pushing and running him down," at just five throws behind Johansen, as well as Will Schusterick who is just three throws down. 
"They'll all need to watch out for Cale Leiviska," Crump says, adding, "He's got the momentum and could make the biggest move, going right to the top of the leaderboard." Leiviska, from St. Paul, Minnesota, is currently just six throws behind Johnansen. 
Players are now categorized in the competition as to how well they are doing in the Worlds, with prior tournaments not calculated at all into what's known as the "shuffle." They've been placed in two categories, either "A" or "B", and will move forward in their rounds throughout the rest of the week based on their current rankings.
In the Women's Open division, Sarah Hokom came out on top the first day and remained there by the end of the day Wednesday, currently leading by five throws over both Catrina Allen and Elaine King. Crump says he predicted Hokom to win it all due to her outstanding side arm throws, with these courses ideal for that type of throw. In addition, she moved here three years ago so she's got a lot of knowledge of the Charlotte area courses.
This is Allen's first real year as a pro and she's looking to break out. Although she's had some great moments, three-time Women's World Champion Valarie Jenkins can't be left out. With her veteran experience, Crump noted, "On the wide open courses like Bradford, Val can make up ten throws in one day." He believes "Sarah (Hokom) will stay where she's at, but that Val will come on real hard."
The 2011 Women's World Champion, Paige Pierce, had some very tough luck yesterday. She started out the first round at Idlewild Park just "killing it," but developed a blister on her finger and ripped it off. Since then, it's really been bothering her and she hasn't been the same; currently Paige is down 15 under Hokom. 
In the Master's Division, 12-time World Champion Kenny Climo is in the lead by one throw over Barry Schultz and two over JohnE McCray. The battle is likely to between the top three. Jay "Yeti" Reading is right in there at five behind Climo, but he's experiencing knee problems that are likely to get worse instead of better. Crump says "it will really be a three-man race between Climo, Schultz and McCray." McCray has won the "Fabulous Florida Tour" ten years in a row, but he is also having some health issues, so the return of the battle between Schultz and Climo is the most likely scenario.
Climo has declared that he is going to become the "greatest Masters Champion ever to play the game." If he is crowned the 2012 Masters World Champion, he will be the only player to have a world title in both the Pro/Open division and the Masters division, but that's still not enough for him. Crump says Climo wants "to win eight or nine in a row, and to solidify his position as the greatest to ever play the game."
Written by: K.C. Dermody