2010 USADGC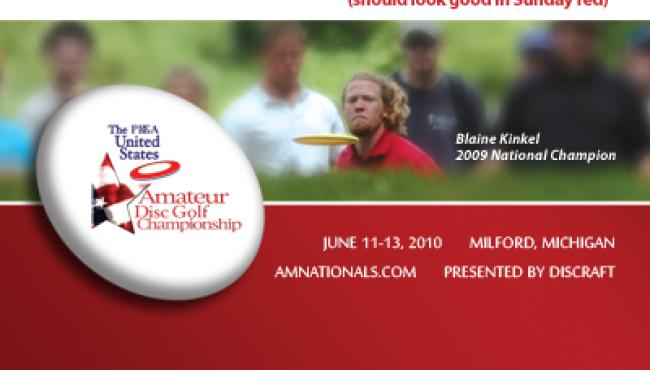 Registration Opens for 2010 PDGA United States Amateur Disc Golf Championship
Milford, MI - Registration for the 2010 USADGC presented by Discraft opened on Monday February 22, according to TD Philip Shelton.
"Qualified players should sign up quickly, since this PDGA Major is capped at 144 players," said Shelton.
USADGC has built its reputation on treating players like rock stars while providing a highly professional atmosphere.  Competitors can expect benefits unlike any other Amateur event, including playing the amazing Kensington Toboggan championship course, free meals throughout competition days, a myriad of side games and prizes, tee times, clinics, a small army of spotters and volunteers, and an always impressive player pack of goodies.
2009 National Champion Blaine Kinkel of Charleston SC took the title with a one throw advantage over second place finisher Brad Frase of Michigan.  "This has been without a doubt the finest tournament I've ever attended," he said after receiving cheers from the crowd for his victory. "This amazing course, the players and staff. We amateur players aren't used to being catered to, and this is really special."
"One of our most popular player pack items is a full-color custom Buzzz that each player gets with his or her name and photo on it," Shelton says.  "It's delivered before the event is over, and is a very unique keepsake for our players thanks to our presenting sponsor Discraft.  I'd also like to send a big shout out to our many volunteers who help to make USADGC so very cool."
At 8824 feet, the par 62 Toboggan championship course is among the top rated courses in the world and is known for its mix of large elevation changes and tight fairways that test every shot in a player's bag.  The course is only open for a few weeks each year exclusively for USADGC, which also helps to negate any 'home course advantage' for local competitors.
The PDGA United States Amateur Disc Golf Championship presented by Discraft is June 11-13 in Milford, MI.  Only qualified players are invited to compete.  A list of qualifying events and additional information is available at www.amnationals.com.
---
2009 Am Nationals Photo Galleries