1,000 Course Milestone Reached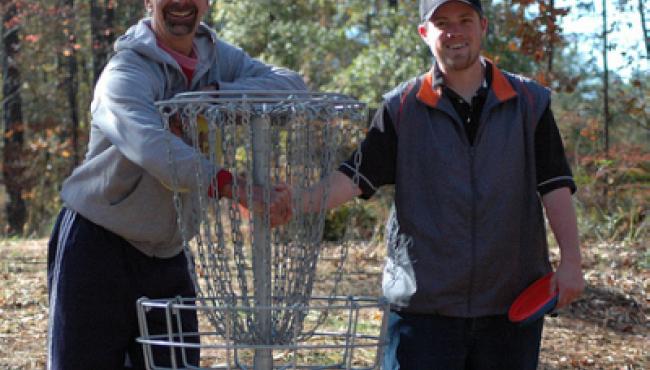 Well the day finally arrived and no one felt the excitement more than Ben Calhoun and Gregg Hosfeld as they readied themselves to complete their 1,000th course together. The weather could not be prettier. Without a cloud in sight, one can only assume the air was forecasting the flight of the discs.
Ben arrived at the International Disc Golf Center several days earlier with a constant smile on his face and faithfulness to Gregg as he refrained from playing the newly installed Jim Warner Memorial Course. The soles of his shoes are a bit thinner; however, as he has been pacing with anticipation for Gregg to arrive.
In preparation for the big day, Jason Allind, the IDGC Course Superintendent, has been working furiously with the assistance of locals Johnny B Botamer and Mike Trello to make sure that the Discraft ChainStar baskets would be installed in time for this historical event. Course work days also brought local volunteers from the Augusta Disc Golf Association to be a part of the dream of two road warriors. Gregg's arrival this morning caused Ben's excitement to spike into reality. This was it! Spectators formed a gallery cementing the importance of the day. Among them was Terry Calhoun, former PDGA Board member and proud father of Ben, and multi PDGA World Champion and Microtel Disc Golfer of the Year, Stan McDaniel, who drove in from Charlotte, NC not wanting to miss this!
Pre round banter was expected and enjoyed by the crowd. How do we do this? Do we flip or throw at the same time? Gregg jokes. They agree to flip. Ben flips with Gregg calling heads. Heads it is and Gregg proceeds to the tee of the 350+ ft Hole #1. Here we go, my obsessed young friend! Gregg smirks looking over his shoulder to Ben as he begins to tee. Smooth flight hyzering down the tree lined fairway. That's why I didn't bet you! Ben quickly responded after witnessing Gregg's perfected throw. OK, I've thrown. Go ahead Ben, as Gregg pretends to lay his banana peel down on the tee pad. Ah, the ole banana peel on the teepad trick. Yep, this was going to be a fun round! Ben tees next, unfortunately hitting a tree halfway down the fairway, but still leaving a decent shot towards the basket. Terry wasn't going to let this moment pass without a toss off the first tee as well as he flew in from Ann Arbor, Michigan to witness the occasion. And now they're off!
The two road warriors continued to play the round cracking jokes and telling stories in between throws, with the only interruption being the sound of a sinking putt. The final hole was reached with great anticipation, but feelings of denial filtered in as their milestone was coming to an end. The tee pad sits atop a hill, overlooking a ravine, to a basket sitting in a spotlight of sunlight just under 1,000ft away. The order of throwing mirrored that of Hole #1 with Gregg teeing off first. Beautiful throw off the tee landing by a stump just above the ravine leaving him an uphill approach shot. Immediately upon throwing Gregg chuckled, Oh, I can't go on! After the laughter subsided Ben throws an incredible shot S-ing straight down the fairway nicking a tree at the end. Terry throws a safe fairway shot. When Gregg approaches his lie he asks, Can I get relief from this stump? It's gonna stump me! There's never a dull moment from these guys. All approaches land under the basket. Ben and Gregg catch glances as they realize they have reached their final putt. They decide the only way to cross the finish line is together. They sink their putts and grin ear to ear. They did it!
Ben's first words off the course were Man, all this traveling and arriving safely at the IDGC to finally get to do it! His smile couldn't be reenacted if you tried. Gregg comes off the course speechless¦yes, speechless. All he could say was Wow! at first. Then he gathered his thoughts saying he was pleased they did this together. It was a fitting way to reach the mark and we couldn't have picked a better place to finish " at the IDGC. They shook hands through the chains of the 18th basket with the gallery's camera flashes going off simultaneously. Gregg signs off by saying Ben, thanks for lighting the fire under me. Ben graciously nods and grins. Final scores? Gregg 65, Ben 67 and Terry 68. This round marked the beginning of a bond that only Ben and Gregg will know the true meaning behind. Every course along the way is now a memory lining their journey to their 1,000th course played.
Photo Gallery: http://www.flickr.com/photos/[email protected]/sets/72157609379346178/
PDGA Radio Coverage: http://pdga.com/radio/11/18/08/pdga-radio-program-111808
DiscGolfeR.US Coverage: http://www.discgolfersr.us/forum/topics/can-you-imagine-playing-1000