Wysocki and Pierce Are At It Again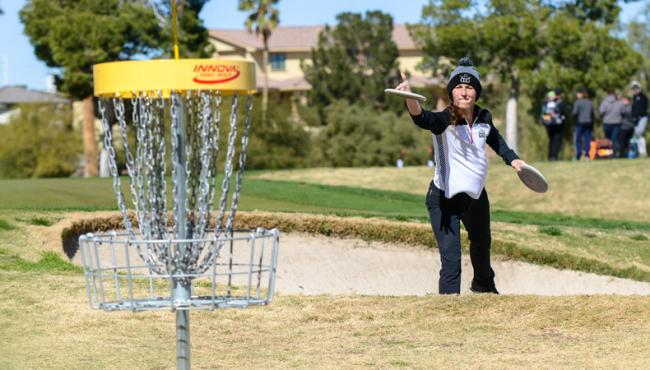 Coming off of their PDGA Major victories at the 2017 Aussie Open just a few weeks ago, both Ricky Wysocki #38008 and Paige Pierce #29190 are already making moves at the first PDGA National Tour event of the year, the 2017 Gentlemen's Club Challenge (GCC). With three full rounds remaining and a multitude of talent right on their heels, it's still far too early to even begin a discussion of whether or not they are on pace for the wins, but they're certainly on the right path, and more than capable of pulling off wire-to-wire victories.  
The calm conditions of today served as a nice reprieve from the seemingly endless, whipping winds that swept across the Wildhorse Golf Club compound during yesterday's practice rounds. Those that hit the courses in the morning hours faced cooler temperatures and a substantially steadier wind than those with afternoon tee times, without question, but considering what the greater Las Vegas area can and often does produce on an anemometer, they should all be grateful.
The competitors took on the first of three layouts that they will eventually play in the days to come, the Disc Golf Values Course. Measuring in at just over 7000 feet, it's not really the kind of ball golf course layout that we've seen many times in the past where players that can out-throw a majority of the field have an immediate advantage. With an average hole length of 390 feet it's precision, accuracy, and avoiding out-of-bounds and/or hazard penalties that put players in a good position at the end of the day.
That being said, there are plenty of players that can crush drives when needed and also play the shorter, more accurate game. Two of those players are of course sitting at the top of the leaderboards, Wysocki and Pierce.
Pierce played well on both ends of the spectrum this morning, finishing with a one over par (57), unofficially rated at 983. Her recipe for success was one that guarantees anyone a 1st place position. If you don't believe us, try it yourself at your next event.
Paige Pierce's Winning Recipe
Card an equal amount of birdies or more birdies than anyone in your division.
Card less bogeys than anyone in your division.
And just like that, you're in the lead.
Jennifer Allen #15354 was on pace to match Pierce's round until a bogey-bogey finish on holes 17 & 18 left her two off the lead. 2015 Women's Amateur World Champion Jessica Hill #64874 will be making her first National Tour lead card appearance in 3rd place slot, one away from Allen. And last but absolutely not least, 5X Women's World Champion Elaine King #3090 will round out the lead card, one away from Hill.
Catrina Allen #44184 and Jessica Weese #50656 matched King's round score to form a three-way tie in the 4th place position but will be teeing off at the top of the chase card, as the tiebreaker for the sort comes down to whoever has the lower PDGA number.
Pierce, Allen, Hill, & King are scheduled to tee off for Round 2 at 8:30am PST and will be taking on the much longer Innova Course.
Ricky Wysocki gets another birdie to go to 5 under par through hole 7. #2017GCC #discgolf pic.twitter.com/Kcdr6dQMYH

— PDGA Live Scoring (@pdgalive) February 23, 2017
Wysocki began the round with a turkey on holes 1-3 and picked up three more to close out the front nine. Much like his fellow competitors, his birdiefest slowed a bit on the back half of the course, picking up just three birdies before calling it a day. He nearly made it through the round bogey-free until hole 17 finally had his number; that number being a four.
Wysocki leads going into Round 2 at eight under par (48) but not with any sort of real cushion between himself and a ridiculous amount of top-notch competitors. Finland's Pasi Koivu #41251 was the longstanding clubhouse leader after turning in an early afternoon, bogey-free score of seven under par (49), and right behind him are four players gridlocked in a battle for 3rd place, just one stroke back. Those five include JohnE McCray #9852, Nikko Locastro #11534, A.J. Risley #25890, and Paul Ulibarri #27171. McCray and Locastro will join Wysocki and Koivu on the lead card tomorrow afternoon, teeing off on the Innova Course at 1:40pm PST.
Stay tuned for post-production round coverage videos from Round 1 via The SpinTV on YouTube and make sure to follow along during round 2 for more National Tour action at the 2017 Gentlemen's Club Challenge [presented by Innova Champion Discs!