What is the Worlds?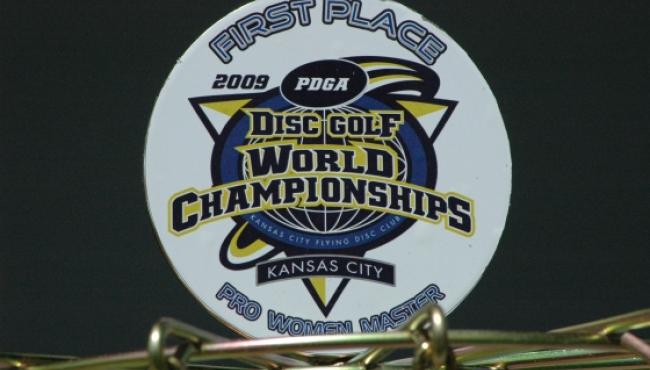 It's About Crowning Champions
We just completed our annual PDGA marathon called Worlds. Like last year, all of the pros, ams and juniors converged on one location – this time in Kansas City and the surrounding area. It was a record with 922 players starting the adventure. We crowned several new pro champions with only Val Jenkins (FPO) and 'Disc Diva,' Kathy Hardyman (FPG) retaining their crowns. In the amateur ranks, no one retained their title except two juniors, Andrew Coggin (MJ3) plus Nick Duran (MJ4). Sweden got their first junior champion in MJ2 with Oscar Stenfelt, the highest rated player ever to enter a junior division at 1000 rating, walking away with the title leading wire to wire. Oh, if you haven't heard, Avery Jenkins won Open in a five hole sudden death playoff against Josh Anthon with Matt Orum just missing the playoff by one.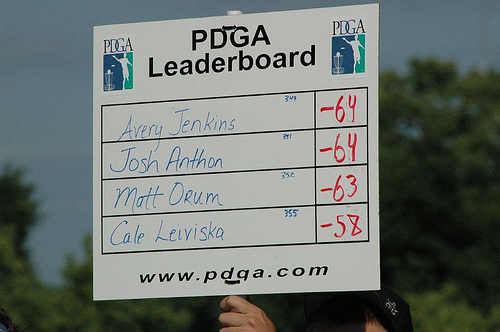 It's About Skills
Not just regular disc skills like Putting and Driving but also Minigolf, Specialty SkillShots (EDGE) and playing with a partner (Doubles). Mixed and Junior Doubles were played Saturday, July 25 as the first official events of Worlds. The other skills events went all day Sunday. David Wiggins Jr/Andrew Coggins held off the higher rated Swedish team of Oscar Stenfelt (pictured)/Victor Grundstrom for the MJ1 victory.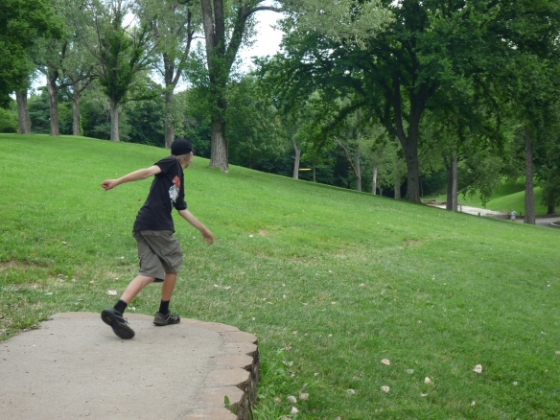 Brock Dowell/Nick Duran won each round by 4 over Austin Welck/Parker Welck to win the MJ3 title. Iris Beyeler/Tony Ferro won the Advanced Mixed Doubles title. Liz Lopez/Eric McCabe came from behind to win Open Mixed Doubles and new Hall of Fame inductees and locals, Crazy John Brooks/Lynne Warren teamed up for the Mixed Pro GM title.
Perhaps unexpectedly, Manabu Kajiyama of Japan beat perennial disc crusher Markus Kallstrom in the Distance competition by 2m, throwing 176m (577 ft). For the other Distance champs and results, check the site: http://www.pdga.com/2009-pdga-world-championships-distance-results
Veteran Grandmaster, David Greenwell, still has the skills foreshadowing his eventual Pro GM World title this year in singles by one throw. He continued his string of Open victories in the EDGE SkillShot with Chris Sprague coming within a whisker of winning by one point if only his 25' putt would have stuck. Almost 200 players did the event with various Hall of Famers helping each hour throughout the day (Juniors pictured scoring their rounds). For all EDGE SkillShot results, check here: http://www.pdga.com/2009-pdga-world-championships-edge-results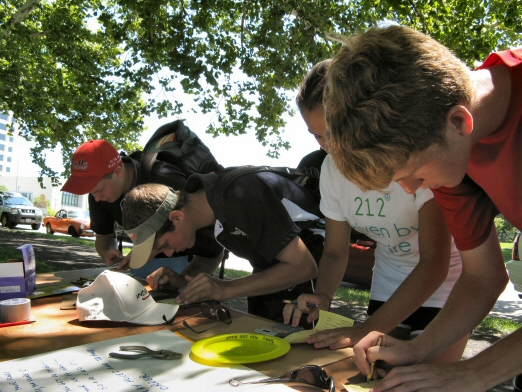 The 10 & under singles champ, Nick Duran, took down junior boys of all ages to win putting. Jay "Yeti" Reading wins yet another World Open putting title. Maureen Higgins served notice she was ready to fight for her eventual Advanced Women singles title as she won the Amateur Women Putting title. For the remaining results and champions: http://www.pdga.com/2009-pdga-world-championships-putting-results
The Minigolf venue was a clever design weaving among both the large and small trees in view of the majestic Liberty Memorial tower. Apparently, the course was about as long as the Rosedale Down Under course played by some divisions with regular discs! Gregg "Miniac" Hosfeld showcased his skills this time for the older set, handily winning the Men over 50 division. The Champ himself, Ken Climo tied with perennial top mini discer, Steve Rico to win the Open division with the hottest rounds of the day at 56. For more results and additional champs: http://www.pdga.com/2009-pdga-world-championships-mini-golf-results
It's About Preparation
Not just the players but the host team as well. While players were busy practicing their courses, with most playing at least five during the week, the core team was completing their final preparations and meeting with the crew of volunteers and PDGA staffers coming in to help. Volunteers were out there busily preparing each course with OB paint, signage and other markings, sometimes just in time before the players practiced the holes. Course TD teams got their equipment and "marching" orders. The scoring team discussed the best practices from previous Worlds for a smooth running week. The efforts paid off with scoring, shuffles and tee times available in a timely manner all week.
The host team's preparation is publicly revealed at the Player Meeting on Monday evening with final announcements, promoting sponsors and introducing the host team to the players. Worlds is officially launched and hopefully good preparations will make any required adjustments during the week easy to handle. Congrats to the KC team for pulling off a wonderful worlds.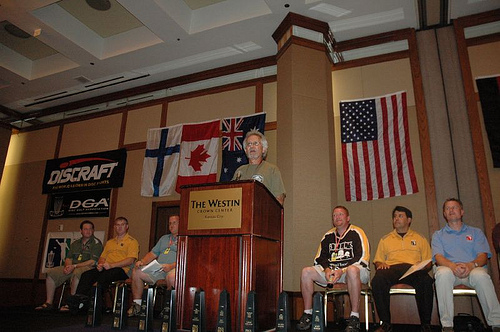 Above: Rick Rothstein presides over Player meeting with TDs John Chapman to the left and Jack Lowe to the right of the podium.
Below: Tim Selinske, recently working thru challenging medical issues has managed to tee off at every Pro Worlds from the beginning along with David Greenwell seated beside him.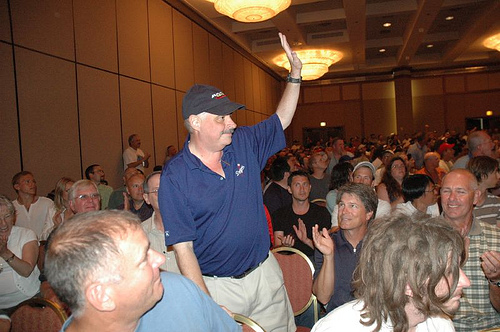 It's About Courses
Eleven courses on ten sites were in action most of the week. KC was known for its fine courses in past events and they delivered for Worlds with a few new ones. While these courses supposedly favored the big arms, Avery might tell you playing Cliff Drive twice with half technical holes was about enough. And possibly the crowd favorite, Waterworks, has no true par 4s for the big dogs with its technicality as much due to elevation changes as a few tunnel shots. Those playing WyCo got a little taste of the USDGC with lots of OB surrounding the 666 ft hole 13. New Pro Master Women's Champ Elaine King shows how to shoot a safe 4 on the treacherous island green of Rosedale #7 with a second shot lay-up and easy upshot to the island green. The owner of the private Thornfield course was so enthralled with the top pros playing his course he'll be working with Bill Paulson and Dennis Vahsholtz the designers to upgrade the course to become an even better Championship venue.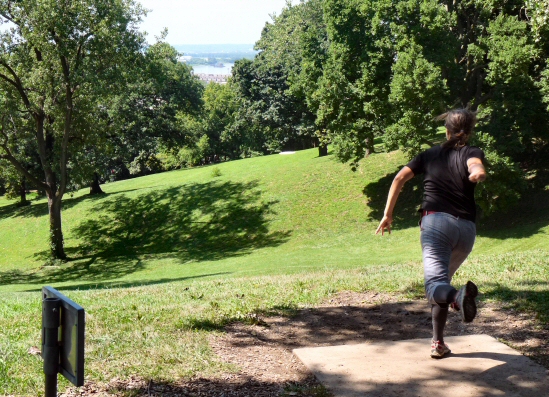 Des Reading driving Waterworks 1, one of the best looking first holes on any course.
Elaine King throwing her upshot to the island on Rosedale 7.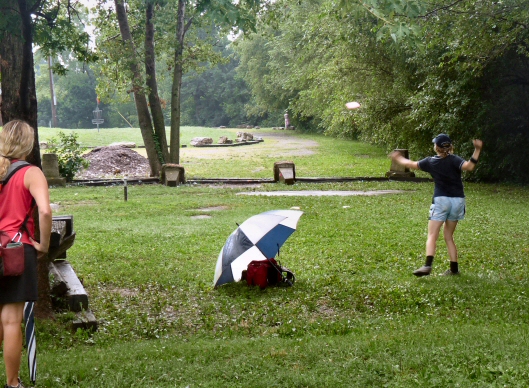 It's About Overcoming Challenges
With our marathon called Worlds, both the players and the staff have to pace themselves and deal with upsets along the way. Here are some of the challenges faced by our players.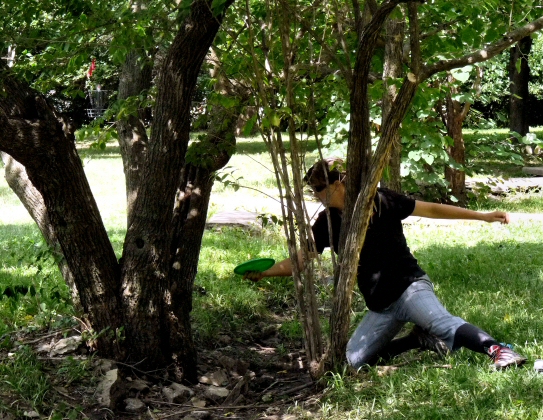 Des Reading above on Waterworks 5  and Avery Jenkins below on Cliff Drive 6.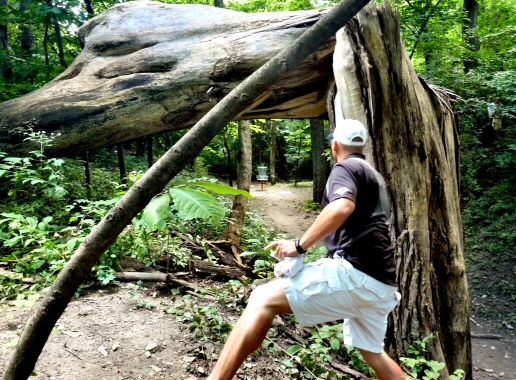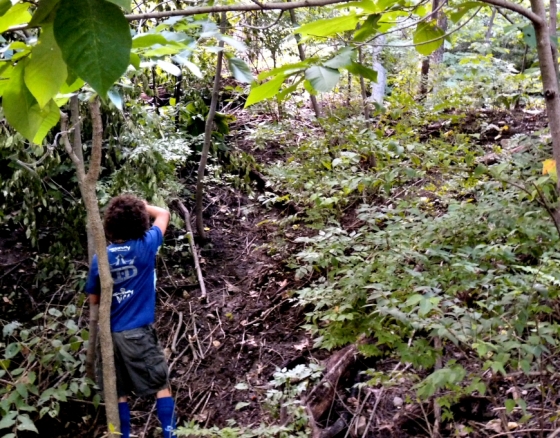 Nikko Locastro trying to escape on Cliff Drive 6 and Nicole Frazer frustrated with the nubs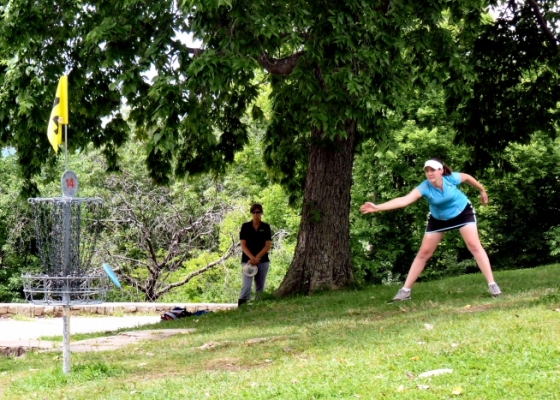 It's About Fun
Tuesday night was the talent show where apparently hilarity ensued. For more on this, check out Addie's blog entry with photos: http://www.pdga.com/membershipsmanager/around-the-worlds-in-eight-days-d... The Par crawl on Thursday was a big hit although many of the staffers were too busy or tired to attend the festivities. Check this out to see what you may have missed: http://kcworlds.com/hospitality/worlds-par-crawl. Across the street from the Pleasant Hill course is a small learning zoo that was open specifically when the Junior pool played there. They had a great time. All other divisions who played there also knew about the zoo during their rounds when the howler monkeys taunted them when playing hole 10. Oo-Oo-Oooooo… Check out Addie's blog for more on the zoo visit: http://www.pdga.com/membershipsmanager/this-place-is-a-zoo Friday night was the PDGA Awards and Player Party in a fenced band concert area. Food in two restaurants and drinks were free flowing, with your initial purchases as an entry fee option. Before the live band entertained, the PDGA awards and Hall of Fame inductions were presented.
It's About Commerce
Cities gain over a million dollars in economic impact from hosting Worlds, no small thing in our economy. The hosts guided our activities in ways that KC welcomed us with open arms. Sponsors graciously worked with Rick Rothstein to create possibly the best player packs ever for ams and also for the pros who usually don't get that as much in theirs. The FlyMart was huge on Wednesday evening with the line of players waiting for their free 20th anniversary Roc seeming to stretch forever. Merchandise ranged from new to ancient with this event being much more fun than bidding on eBay.
It's About Excellence
This is the highest level of competition the sport offers to challenge everyone in the world to play their best and strive for the title. The odds are stacked against players playing beyond their rating, but that's what they usually have to do to win against the best in the World. The stats from the Worlds last year showed only 1 in 30 Open players significantly exceeded their rating over the marathon of seven and a half rounds at Worlds. So, excel you must to grab your gold ring. The new World Champions in each division are shown here:
Pros: http://www.pdga.com/tournament-results?TournID=8104
Ams & Jrs: http://www.pdga.com/tournament-results?TournID=8105
In addition, several players and promoters who excelled last year, were announced at the Awards party on Friday: http://www.pdga.com/2008-pdga-award-winners
Here are some photos of great moments during the week.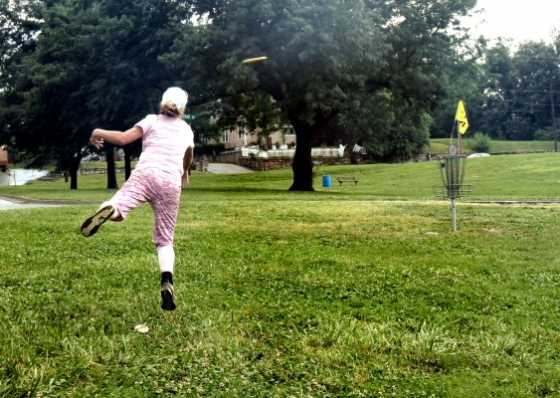 Above: FPG Sandy Gast leaps high to sink a 40 ft putt on Rosedale hole 12.
Below: These Adv Sr Grands sank putts from 35 to 60 feet for a star frame on Pleasant Hill 18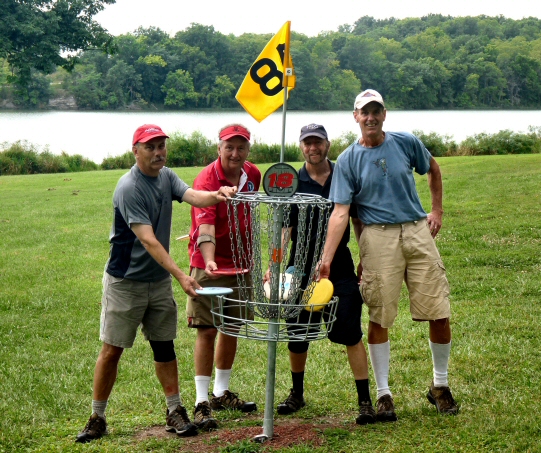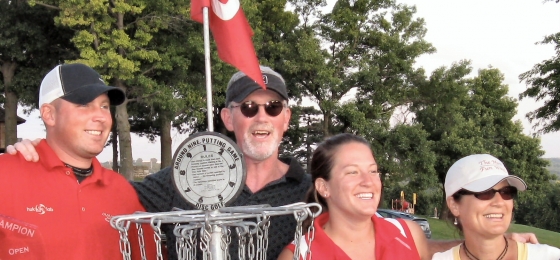 Jenkins family celebrates excellence with wins by Avery and Val with parents Leroy and Sharon
Nageeb Laborde of Louisiana shows his winning form as he captures the Junior 19 & Under World title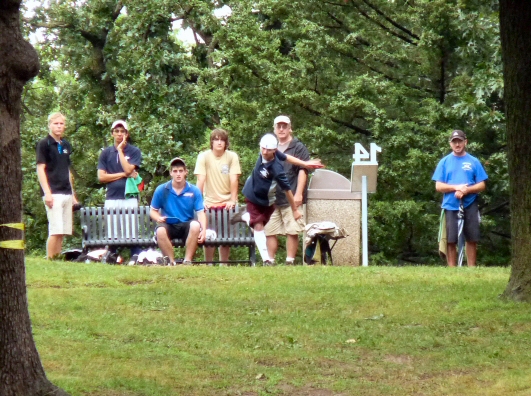 OK, It's Really About The People
No matter what problems might occur at any Worlds, those are way overshadowed with the pure joy of being with like minded people gathering for a huge event to celebrate disc golf competition. I've yet to see a Worlds where the majority of players and staff didn't have a great time no matter how they played or when some negative situations arose whether it was weather, health issues, poor footing, transportation problems, issues with accommodations, basket spits, lack of drinking water on a course, issues with travel mates, miscommunications, weird hole designs or unusual rulings.
These occur for a handful at every Worlds. And yet, the power of this mass of people coming together, seeing old (and older) friends and having a great time playing disc golf is the common theme at every Worlds. It's likely the main driving force for players to try and come back again and again considering that fewer than half cash and some never have over many years.
Congrats to the new World Champions! Here are some of the faces around Worlds. See everyone at the 2010 Am Worlds in mid-Ohio and 2010 Pro Worlds in NW Indiana.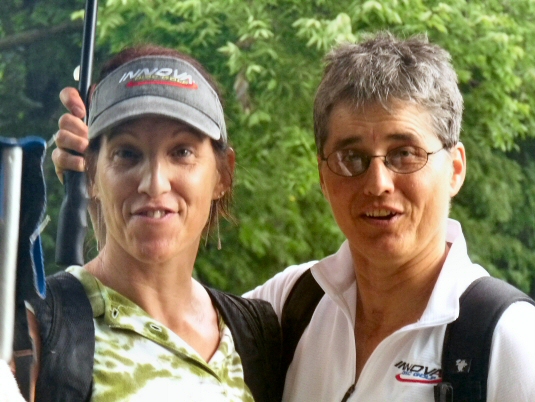 Above: Long time buddies Andi Young and Anni Kreml reconnect in FPM after many years
Below: Scott Ryther of Minnesota played solidly above his rating for a third place finish in Advanced.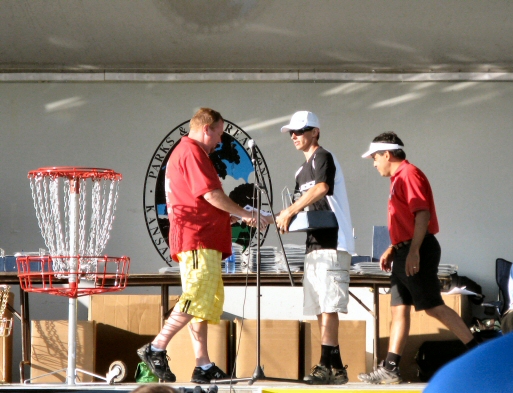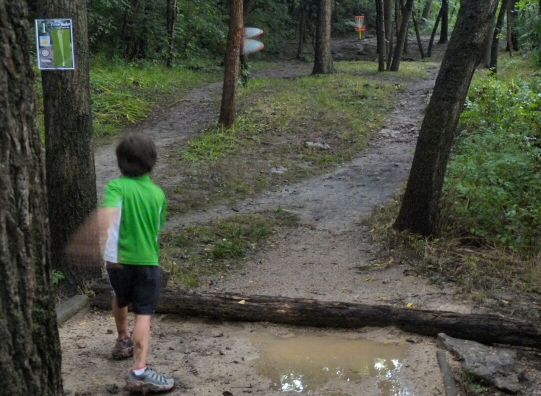 Here's our future with Ezra Hapner age 7 being challenged by the conditions Tuesday in Down Under
The Pro future is embodied in our Advanced leaders midweek (left to right) with new Champion Matt Keats, David Muntean III, Shawn Aaron and Blaine Kinkel.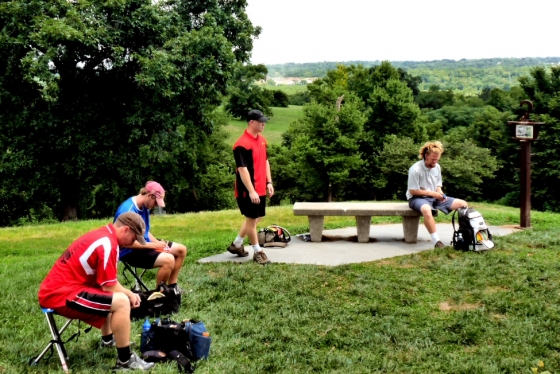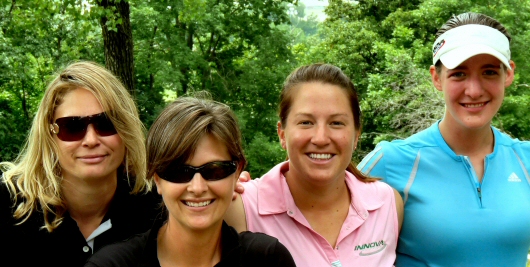 These were your FPO leaders most of the week: Birgitta, Des, Val and Nicole

Bye bye from Blue Valley as the moon showers its light on our new Champions and a successful Worlds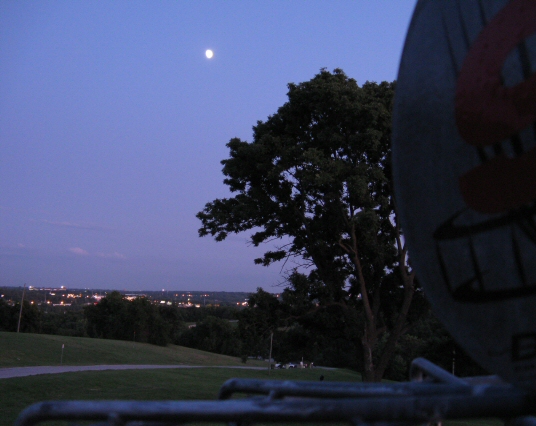 ---
LINKS:
Complete Amateur World Championship Results
Complete Pro World Championship Results