USDGC Preview (2/3)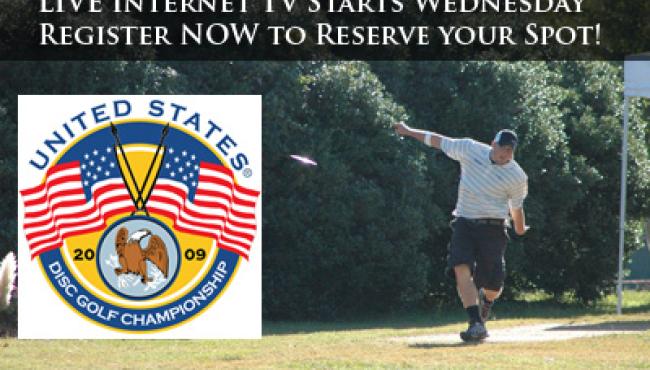 A Preview of LIVE Internet TV Coverage of the USDGC
Don't Miss the LIVE IPTV Broadcast from the USDGC starting Wednesday at 11:15 am EST. Live coverage of the 2009 United States Disc Golf Championship will happen over the four days of competition (October 7-10), with each day's production lasting approximately 6 hours.  Given the popularity of the event, as well as the duration, the broadcast will feature a potent combination of 4-6 camera-coverage throughout the course, live interviews with notables from the entire disc golf industry, a long menu of interactive features through which all viewers can participate, and pre-packaged videos that feature some of the top stories emerging from this year's PDGA National Tour.
---
Register to Watch with a Donation
(or)
---
World Champions Challenged at Winthrop
For the first ten years of the United States Disc Golf Championship, the reigning World Champions have found winning the title elusive on the Winthrop Gold course.  Indeed, only Ken Climo (2000, 2002) and Barry Schultz (2003) have been able to win both a PDGA World title and a USDGC in the same year.  That is not to say that PDGA World Champions have not done well in Rock Hill.  The only other two USDGC winners, Nate Doss and David Feldberg, both have won World Championships.  Yet, neither was able to couple their World's and Winthrop wins in the same year. 
Part of the challenge of a World Champion winning at Winthrop is just the nature of the event: the USDGC is played over four rounds, compared to as many as nine rounds at a Worlds; the USDGC is also played on the same course, unlike the multiple-course format of the Worlds; and the demands of winning the prolonged competition of a World Championship can have a lasting effect, even if players are gathering weeks later for the early October disc golf classic.  Additionally, World Champions may have slightly lost their edge, as the lingering satisfaction of being crowned World Champion can and should be enjoyed. 
What we will be watching in Rock Hill during the 2009 United States Disc Golf Championship is the performance of first-time men's open World Champion Avery Jenkins, who needed an extra five holes of sudden death to claim his title in Kansas City.  The question is whether the mental demands of his herculean effort, not the physical ones, will hamper him in Rock Hill.  Not to be overlooked either will be the performance of Josh Anthon, who came within one throw of winning this year's World Championship.  Anthon's hunger for disc golf supremacy may only be surpassed by his skills and confidence on the course.  A USDGC title in 2009 is clearly something he is capable of pulling off. 
The International Field
We see this a great deal nowadays in sports: the nation that was once prominent in a particular competitive arena, perhaps because they founded that sport, is now severely challenged by players or teams from other nations who have been developing their competitive edge for a few generations now.  Basketball comes to mind immediately, but even traditional powerhouses in soccer, skiing, and cycling are being usurped by global upstarts. 
Disc sports too are finding a worldwide wave of talent entering its ranks.  Disc golf specifically is enjoying the emergence of incredible talent from the Scandinavians, Japanese, and Western Europeans, many of whom will be in Rock Hill for the 2009 United States Disc Golf Championship.  And while only one disc golfer outside North America has captured a World's Open division crown (Birgitta Lagerholm from Sweden in 2004), and no players from outside the United States have won in Rock Hill, the strong development of disc golf from abroad suggests that the time for an international champion at the USDGC is getting nearer. 
What we will be watching in Rock Hill is whether the likes of Jesper Lundmark (Sweden), Jussi Meresmaa (Finland), and Manabu Kajiyama (Japan) can leverage their growing head-to-head competitive experience against America's best players into a 2009 USDGC title.  If so, that would surly send tremors throughout the disc sports world.