USDGC and GMO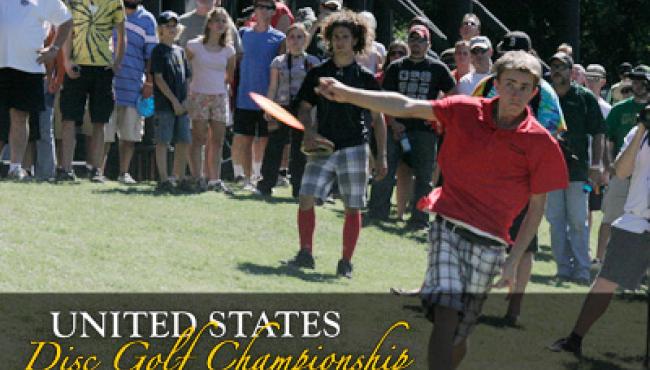 Disc Golf Guy Broadcasts More Qualifiers in Wisc.

The United States Disc Golf Championship is something you just have to experience to understand, says Greater Milwaukee Open tournament director Terry Miller. And, after the A-tier tournament in Milwaukee, Wisc., 10 more disc golfers, many of whom have never set foot on Winthrop Gold, will get a chance to see it all.

Leading the way with eight strokes below his projected for the May 21-22 tournament was intermediate Brandon Burbach, 23, of Sussex, Wisc. The 866-rated Burbach, who wasn't familiar with The Championship until this year, is all about it now.

Also making the cut were: intermediate players Adam Smith (-7), Daniel Michler (-6), Karl Grehn (-5), Dustin Richards (-5), pro Robert Olson (-5), pro master Don Loper (-5), pro Kevin Meyer (-4), intermediate Matt Tauscher (-4), pro Will "Hole 5 Guy" Mueller (-4), and pro Kurt Raffensperger at (-4).

In total, 199 attended the A-tier event that acted as the USDGC's Region 7 qualifier, which includes Wisconsin, Illinois, Indiana, Ohio, Michigan, and Kentucky. Disc Golf United's Performance Leaderboard, adapted specifically for 2011 USDGC qualifying, is conducted separately from the tournament standings.

Look to the insert below to see how 2011 USDGC qualifying works.


Qualifying Method Explained:

The 10 disc golfers with the best "Performance" from each regional qualifying tournament receive invites to the 2011 USDGC this October.

During regional qualifiers, each player with a PDGA rating of 850 or higher who plays the same course layout as the open division is eligible for USDGC qualifying. Eligible players receive projected scores for each round through a combination of their player rating and the course's layout. After each round, players are ranked regardless of division according to how their projected score and actual score compare.

For a full listing of qualifier events and Performance Leaderboard results, visit the Regional Qualifying Results page.


Although Burbach and his friends had set their sights on qualifying, it was still a surprise to see his name on top of the DGU Leaderboard.

"It was definitely a shock," said Burbach, who had been so busy practicing in between rounds that he'd forgotten to check his status until a friend gave him the head's up before the last round.

Terry Miller, also known for his video blogging alter-ego, Disc Golf Guy, fought hard to earn the USDGC qualifier status and worked to drum up as much excitement about The Championship bids as possible.

From almost every aspect of the tournament, Miller said, the USDGC spots where highlighted. And, he made sure to update the players on their qualifying status throughout the tournament. There was even a custom stamped disc included in the player's pack which played off the USDGC's One Division. One Champion motto. Emphasizing the inclusive nature of the Greater Milwaukee Open, the disc read: "All Divisions. 10 tickets to Winthrop."

Including every division - even recreational - was a challenge for Miller, who ended up changing the tournament's format to make it happen.

"That was huge. And I received a little heat for that.," said Miller, who has been knee deep in everything disc golf for 18 years.

In order to produce as many potential qualifiers as possible, the course settings were dialed back to mild for nearly half the holes played, said Miller. In turn, Miller heard about not being challenged enough by the pros.

Still, the tournament was being played on three of the four courses featured in the 2007 Am Worlds – a tournament that Miller also directed. In the end, Miller said he was satisfied about being able furnish a championship proven course line-up for USDGC qualifying.

Though there was a solid contingent of USDGC hopefuls and excitement following each of Miller's qualifying updates, Miller wished there was more interest.

He suspected that not enough players have been exposed to the Championship.

"So the majority of the crowd doesn't know just how cool it is," said Miller, who was hosting his first USDGC qualifier.

For its history, The USDGC has been largely reserved for the game's elite. Those players, however, only add up to a small fraction of the disc golf playing public.

959-rated pro, Will "Hole 5 Guy" Mueller, of Madison, Wisc., was not sure if he would attend this year's Championship. Although a sponsor agreed to foot his entry fee, he said it's hard to make a decision after adding up travel expenses when there are no cash prizes available this year.

If he does attend, Mueller, who has never played in the USDGC, said he would be looking forward to playing on Winthrop's big stage, but it bothered him like other highly ranked pros that players with lower ratings appear to have the advantage.

USDGC officials, however, want to make clear that they will do everything they can to make performance scoring as fair as possible.

Even without the surge of interest, Miller is optimistic about how future USDGC's powered by the DGU Performance Leaderboard will be received once more players experience the USDGC and pass the word on.

Burbach, who will be attending The Championship for the first time, could be one of those. After all, he was told by Miller, who has attended several USDGC's, that once you experience the Winthrop Gold Course, you wish every round thereafter was just like it.

"I'm super excited to go," said Burbach, who was already strategizing for his rounds in October.

The Greater Milwaukee Open was also special because it marked the last Wisconsin tournament Barry Schultz played in as a resident of the state. Miller said he literally packed up and left right after the tournament to his new home, Rock Hill, S.C.

Schultz ended up beating Cale Leiviska by one stroke to win the men's open division title.

Next up, is Region 5's qualifier, Zoo Town Open, June 11-12th in Missoula, MT . Tune in to USDGC.com for the details.