USADGC Round 2 - Movin' On Up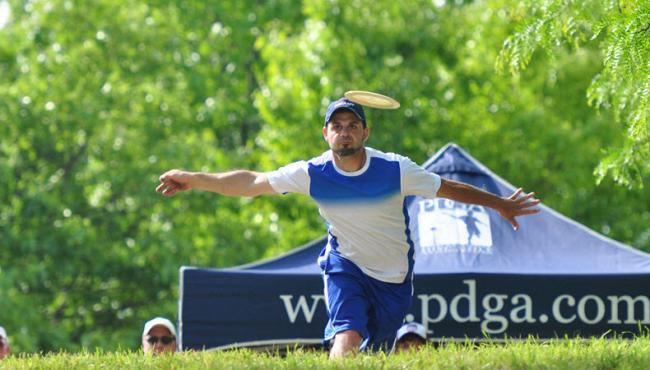 When the second round of the United States Amateur Disc Golf Championship presented by Discraft started this afternoon, we knew that the four people on the lead card probably wouldn't be the same four to start the final round on Sunday. Why? For starters, if you checked the results from round one you would have seen seen at least 20 competitors within striking distance of the leaders. And the fact that the course being played is the Toboggan Championship course only reinforced the issue. With the amount of talent on display at this event, there was simply no way to prevent the ever-present outcomes of "moving day" at this disc golf tournament.
The day started off with George Beno #49225, Keiith Tasker #48562, and Jordan Castro #49431 locked into a 3-way tie for first place after they all shot 7 under par (55) for round one, unofficially rated at 1018. They were joined by Lyle Downing #42481 who finished round one just one stroke behind them. By the time the front nine was complete, it was clear there were going to be some new names on the lead card on Sunday. 
The chase card was stacked with players just a stroke or two off the lead. Ryan Conto #43919, who tied Downing for round one, was joined by Colten Montogomery #35876, Brandon Timper #36134, and Tony Maccarino #32685, all of which finished round one just a stroke behind Conto. Anything can happen on the Toboggan, and anything did in fact happen. Maccarino went on a tear, finishing the round at 8 under par (54) and setting the new hot round for the weekend thus far. Maccarino now sits in the lead of the 2014 USADGC by two strokes.
Maccarino wasn't the only one tearing up the Toboggan course. The 16 year old local phenom, Andrew Kaluk #35027, finished the day with the same score of 54, both of which were unofficially rated at 1025. Kaluk's round was good enough to boost him from 16th place to the lead card. Montgomery moved up from the chase to the lead card, leaving Beno as the only player that will start on the same card tomorrow that he started on today. Beno played excellent golf all day, including this uphill jump putt on hole 15 to save birdie. 
The final round of the United States Amateur Disc Golf Championship starts tomorrow morning at 7:30AM EDT. The lead card will tee off at 2:45PM, and we'll be there live scoring and live tweeting it all, as usual. For high-resolution photos of all the action from round one and two, check out the PDGA Flickr page. And of course, follow all the acton on PDGALive.com as the battle for the Am Nationals title comes to what should be an exciting finish.