The Plot Thickens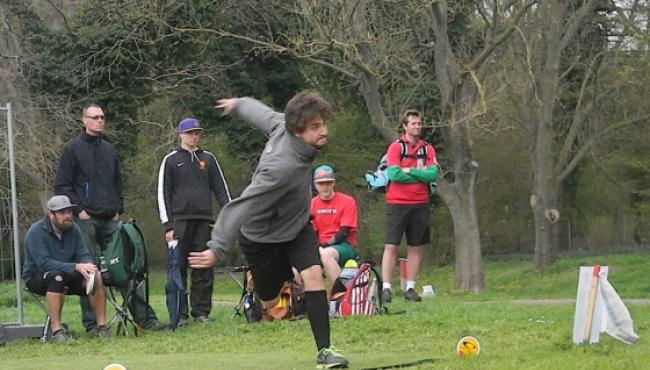 Oklahoma southpaw Devan Owens shot a Valbyparken course record 13 down 54, unofficially rated at 1071, to vault into a 3 stroke lead heading into Sunday's final round at the Latitude 64 Copenhagen Open – the Major. Moving to the front during the 9 hole stretch from #5 to #13 when he counted 8 birds, Devan sealed the deal when he birdied 17 and 18 to finish. We wish Devan held og lykke (good luck) tomorrow as he shoots for his 1st PDGA Major event victory and the biggest win of his career.
Lurking 3 back and tied for 2nd are the 2012 World Champ Paul McBeth and the 2012 USDGC and Stockholm Open Major Champ Will Schusterick. It's looking like one of these 3 players will be crowned King of Denmark as Nikko Locastro is 6 off the pace in 4th and Dave Feldberg is 7 behind in 5th. They will need to shoot a course record tomorrow to stand any chance of taking home the title.
The Open leaderboard continues to be colored red white and blue as the USA Tourists hold down 8 of the top 9 spots with only Finland's Mathias Söderström, who is playing 50 points above his 980 rating, cracking the top 2 Sunday foursomes.
In the other divisions, Paige Pierce struggled today, shooting +5 72, which reduced her lead in FPO over Val Jenkins from 5 throws to 2. Sweden's Peter Bygde and Germany's Jan Bäss are tied at the top of Masters, but their 4 down totals would only be good enough for 35th place in Open. One of today's best rounds was shot by the Junior division runaway leader Marvin Tetzel. His 7 under 60 stretched his advantage to 18 throws with 18 holes to play.
Another highlight was Friday night's showing of the movie The Invisible String on the history of frisbee® arts and sports. Produced by Jan Bäss and Greg Marter this is a superbly shot documentary containing lots of rare footage from the days of yore and an absolute must see.
Be sure to tune in tomorrow for more coverage from Denmark as the top contenders battle for the Copenhagen Open crowns and kroner.