Stahlin Wins USADGC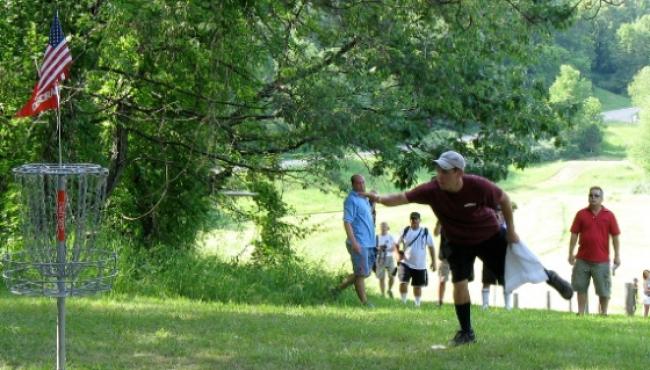 It was tense under the tent at 7:30 on Friday morning, June 13, as Tournament Director Todd White and others watched two different websites' radar images of stormy weather swooping down on the Toboggan Course during the first day of the 2008 USADGC. White's judgment call was "Delay the start by one hour," and that worked fine.
The day finished warm and sunny, and Daemon Stahlin ended the weekend on Sunday by coming from the sixth card of the final round to a sudden death playoff with Mark Roberts. Roberts, who moved into the lead from the third card with a 56 in that final round, and Stahlin stayed neck and neck through holes 1, 17, 18, 1, and then 17 (down and up those toboggan slopes) at par.
Hole 18 is a 315' (plays like 410') severely uphill right-hand curve that tees off just behind a large pair of guardian trees that must be thrown through to have a shot at a birdie, going wide left around them and also getting up that hill is just not possible. Roberts, teeing off first as he had throughout the playoff, hit the guardian trees. Stahlin smoothly threw his drive up pin high and about 100' left.
Coping with a tough lie for his second shot, Roberts failed to get his drive far enough up the hill and then also left his third shot short and in some schule. Stahlin laid up to a 5-foot-out position and then made his putt to take first place and the Amateur National Championship for 2008.
The players packs, food, games, and other amenities of this event have to be experienced to be believed. Suffice it to share competitor Bruce Brakel's post that he and his daughter Kiralyn, who caddied for him, ended up with 21 nice discs for the weekend and he didn't even "cash." As for the brutal Toboggan Course, the words of second place finisher Mark Roberts just after he completed his putt on hole 18 for a 5 will suffice: "I could not have made it down and then up that hill one more time!"