Setting the Stage for a Dramatic Final at Am World Doubles
Setting the Stage for a Dramatic Final at Am World Doubles
Sunday, May 14, 2017 - 12:24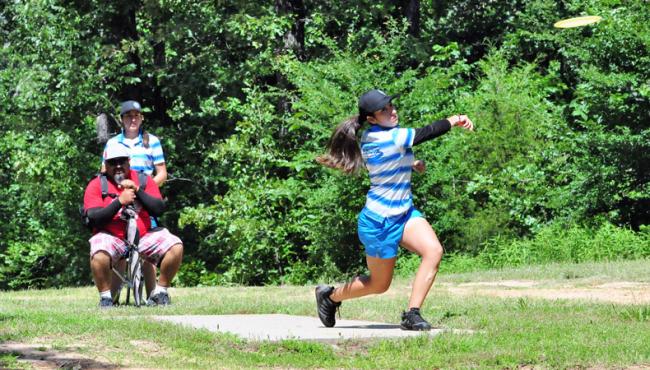 The second day of the PDGA Amateur World Doubles Championships began much differently than the first. A crisp, cool breeze greeted the players and Staff as they arrived at the Selah and Trey Deuce Ranches this morning, and a welcome change it was. This event has been plagued by bad weather in previous iterations, so to say we were delighted to be graced with some sunshine and moderate temps is an understatement. As the sun rose, the winds died down, creating purely perfect conditions for scoring on this moving day of the World Doubles Championship. Many teams did exactly that; make moves.
We'll start with possibly the most drastic charge that we have seen at this event, and it came from the Advanced Women's division. As you may know by now, the San Antonio-based Mandujano sisters are really good at disc golf. After yesterday's rounds, Alexis (16 years old) and Valerie (18) sat above the rest of the field at an astonishing 11 under par, but that was child's play compared to what they did to the courses at Selah Ranch on Saturday. In the morning round, the ladies were poised to contest the difficult Lakeside track and to make matters more intimidating, the 6-6-6 format included a particularly difficult section of the course on which to play worst shot doubles.
For those who aren't familiar, worst shot doubles means that your opponent's choose which lie your team must play from (presumably the lesser desirable of the two), and you continue to the hole in the same fashion until both players have eventually holed out. If you think it is difficult to make a birdie, you're right. Well, the sisters made two birdies in those six holes; one on the first, and one on the sixth. Oh, and no bogeys, either. After the most difficult format was done, they went nuts, making birdie on 8 out of nine holes on the back nine.
In the second round, it was more of the same, but this time they had the advantage of playing standard best shot doubles on the Selah Creekside course. 1 Par, 1 eagle and 16 birdies later, they came in with a scorching 18 under par and now lead the event by 34 throws. Would you believe that neither of the ladies had been to Selah or Trey Deuce prior to this weekend? Only one practice round to prepare, and they shredded these very difficult tracks. Most impressive.
Now on to the Advanced Men's Division. The team of Ricky Ovaitt and Adam Case were in a familiar position after day 1. They sat at the top, tied with McKinney, Texas based James Gauthier and Johnnie Wade. Last year, Ricky and Adam led the event at the end of Day 1, only to eventually be overcome by the fierce competition nipping at their heels. Déjà vu for them unfortunately in 2017, as their last few holes of the day, saw them giving away strokes to Gauthier and Wade.
After battling for 30 holes, and never further apart than a few strokes, Ovaitt and Case ran into some trouble on the long, winding par 5 15th hole, while their counterparts were making a birdie. Not just one birdie, however; a string of them from 14 through 17. Those birdies now have James and Johnnie tied at the top with a different pair; Bates Hopkins and Luke Humphries, who moved up from the second card. Ovaitt and Case are only two behind, also tied for third with the pair of Dan Miller and Andrew Mahowald. The stage is set for a showcase during the Final Nine holes tomorrow morning.
The top competitors in each division will be playing a 3-3-3 format tomorrow; 3 holes of worst shot, 3 of best disc (singles) and three holes of best shot doubles. Be sure to tune into the PDGA live scoring page as the Champions are eventually crowned in this 27th rendition of the Amateur World Doubles Championships!
Comments
James Gauthier and Johnnie Wade are from McKinney Texas, not Minnesota.
Our apologies! It has been edited. Thanks!
Dan miller and drew mahowald were tied for first at the end of the first day not the McKinnnie peeps