Schusterick, Weese Leading Beaver State Fling After Two Rounds
Schusterick, Weese Leading Beaver State Fling After Two Rounds
Saturday, June 13, 2015 - 00:45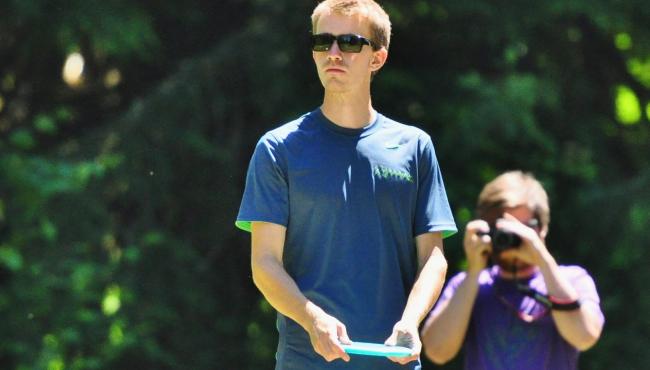 Written by Brandon Goldner #31218
ESTACADA, OR - Will Schusterick #29064 (105, -17) and Jessica Weese #50656 (126, +4) are leading Open Men and Open Women, respectively, after two rounds of action in the 2015 Beaver State Fling at Milo McIver State Park in Estacada, Oregon.
Schusterick is followed closely by Gregg Barsby #15857 (106), Paul McBeth #27523 and Nate Sexton #18824 (107), and Nikko Locastro #11534 (109), while Weese is being chased by Val Jenkins #17495 (130) and Sarah Hokom #34563 (131).
Both the Open and Open Women's divisions are pretty tightly packed, but the 80-player Open field is particularly compressed: the top 17 men are separated by just 6 strokes, and anything could happen in the tournament's final two days .
"Overall I think I played fairly well," said Schusterick. "Shooting under 54 on both courses is hard to be mad at... next round I'm looking to do 2 to 3 strokes better."
Four clean drives on hole 13 for the lead card. Schusterick almost aces, Fry is also close. #2015BSF pic.twitter.com/NcAwQD6pM5

— PDGA Live Scoring (@pdgalive) June 12, 2015
And while Schusterick was in good spirits following his Day 1 performance, three-time world champion Paul McBeth (trailing Schusterick by two strokes) was visibly frustrated.
"I came out with good starts, but just couldn't finish the rounds," said McBeth. "Just tired, physically."
When asked what wasn't working, he admitted to feeling the grind of a long touring season before pivoting: "I was throwing my drivers really well, my mids, my putters… my fairway drivers, I didn't know where they were going. That's what cost me, just the short fairway driver holes."
On the womens' side, Weese and Jenkins were tied before Weese took advantage of a 1-under second-round front nine. Jenkins struggled with a +7 on her own second round front nine before righting the ship with a nearly bogey-free back nine.
The competition would have been even fiercer had top-rated Open Women star Paige Pierce #29190 been available, but she was absent from her card, instead walking with another group. Pierce offered that she had sprained her left ankle walking backwards through a field and stepping on a hole in the ground, and was unable to play. Don't worry: she confirmed the injury did not happen on the disc golf course.
After two rounds, there's a three-way tie for first in Open Masters between Michael Leslie #33072 , Dan Carpenter #33998, and Patrick Brown #25713 at 115, while Leanne Fulton #27048 is pacing the Masters Women group with a 138.
The action resumes tomorrow for a single round of play beginning at 11:10am. We will continue to bring you live scoring on pdgalive.com, with pictures and videos via @pdgalive on Twitter. The full results are now posted on the 2015 BSF Results page. High resolution pictures from the day are available on the PDGA Flickr page. Stay tuned!