Schusterick still leading, Weese and Jenkins tied after 3rd round of 2015 Beaver State Fling
Schusterick still leading, Weese and Jenkins tied after 3rd round of 2015 Beaver State Fling
Sunday, June 14, 2015 - 03:46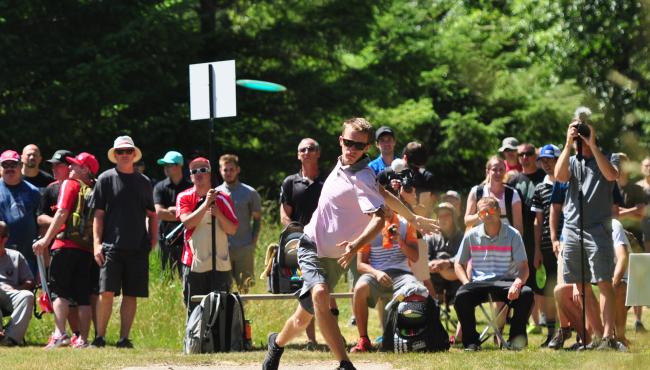 Written by Brandon Goldner #31218
ESTACADA, OR. – Will Schusterick #29064 (160, -23) shot a -6 on the day, fending off Ricky Wysocki #38008 and Nate Sexton #18824 (161), and Steve Rico #4666 and Nikko Locastro #11534 (163) to hold the lead in Open Men, and Valarie Jenkins #17495 (190) caught up to Jessica Weese #50656 after three rounds of action in the 2015 Beaver State Fling. The fourth and final round will be played tomorrow.
While Schusterick still leads, he was challenged not only by the top two cards, but by Rico's -10 on the day, putting him among the leaders when action resumes tomorrow and tying Chandler Fry #25541 for best round of the tournament thus far. When informed of how high he'd jumped up the leaderboards, Rico was visibly taken aback: he won the Beaver State Fling in 2008  and it's clear this tournament means a lot to him.
Also jumping ahead was Paul Ulibarri #27171 with a -9, leapfrogging several groups to join the chase card tomorrow, but Wysocki's -8 on the day was good enough to tie Sexton for 2nd.
"I stayed steady, I didn't have any blowout holes out there," said Wysocki. "It's all about getting myself into position for tomorrow."
When asked about today's spectators, who flocked with the arrival of the weekend and as the tournament reaches the finish line, neither Sexton nor Wysocki thought they would be affected: in fact, Sexton mentioned that it might help.
"Honestly, having that many people and everyone holding still, watching you, it makes you really zone in," said Sexton. "I think it helps."
Sexton also had the shot of the day when he eagled the par 4 hole 8 West. An island green with trees in the fairway and an out-of-bounds road threatening errant shots, Sexton opted for a roller that got away a little bit, only to clear the OB and settle on the island. He then canned the eagle putt into a headwind.
"I accidentally rolled it on the island in Worlds and made the putt, and I accidentally rolled it on the island today and made the putt," said Sexton. "My plan is to go short of the island, but if it leaks off, sometimes it gets [to the green]."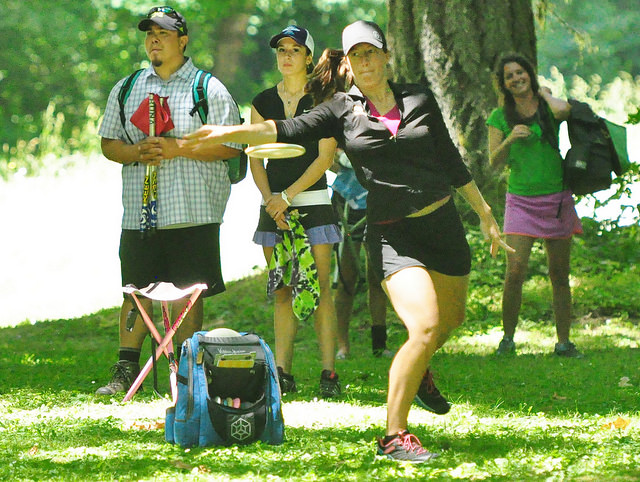 In Open Women, Jenkins only carded two bogies en route a -1 on the day, her best round of the tournament, and gained four strikes on Weese to force a tie at the top.
Jenkins mentioned that her round on the East course went a bit better than yesterday.
"I got some plane sickness yesterday… I actually did one stroke better than I did yesterday on the East course, but there wasn't much to clean up," said Jenkins. "On these courses, it's all about getting par."
Weese and Jenkins are being chased by Catrina Allen #44184 (193) and Sarah Hokom #34563 (195). In Masters Men, Scott Stokely #3140 and Patrick Brown #25713 (171) are deadlocked for first with a 4-stroke lead over Dan Carpenter #33998, and in Masters Women Molly Barnes #27303 (215) has a one-stoke cushion over Leanne Fulton #27048.
The 4th and final round will be held tomorrow, with tee times starting at 11:10am PST. The lead card of both the Men's and Women's Open division will begin at 12:40. Be sure to keep up with all the scores as we bring you live scoring via pdgalive.com, as well as videos, pictures and play-by-play @pdgalive on Twitter. You can view high-res photos on Flickr, and videos from Central Coast Disc Golf and Prodigy will be available soon. This tournament is shaping up to be a race to the finish line, so don't miss anything as we close out the weekend. See you tomorrow!