Schusterick on Top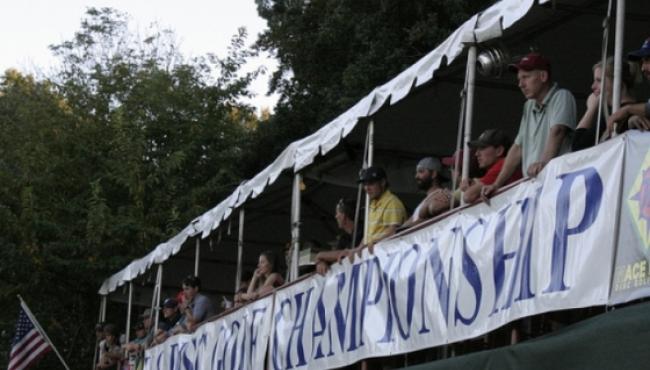 Will Schusterick on top at USDGC ... by Todd Harrell
Will Schusterick broke free of defending USDGC champion Nikko Locastro on 'moving day' Friday after he rocked the Winthrop Gold Course with an astounding 56 (-12).
However, the always dangerous Locastro is only two back of Schusterick's (-24) for The Championship. With both men capable of the spectacular, it should make for some must see disc golf.
Friday's effort was pretty darn close to playing that mistake-free round he knew was within him, said Schusterick. The beautiful weather and tame winds couldn't have hurt either.
Being on the lead card for the last round is something Schusterick has looked forward to for as long as he's been a disc golfer. He said it's hard to describe the feeling of being on the cusp of something really special.
"I don't even know how to explain it. It's winning the biggest tournament ever. I just need to stay down to earth," said Schusterick, who came in 38th at the Worlds and 6th at the Japan Open this year, and teamed up with Kris Orrick in 2008 to win the US Doubles.
Locasatro, who was hungrily looking for his first major this time last year, will most assuredly be gunning for Schusterick on final Saturday. After all, Locastro is familiar with the comeback position. Last year he was down three strokes to Dave Feldberg before he took the lead and later The Championship.
"It will be a fun match tomorrow," Locastro said.
He hopes to stay close to the lead for the majority of the round before making a move.
"Anything can happen out here on the ropes," Locastro said.
Young guns Schusterick and Locastro pretty much share the top by themselves. The next closest golfer, Finland's Jussi Meresmaa, is nine strokes behind Nikko for the tournament. But as Josh Anthon proved last year with his record breaking (-15), you can never count out the guys a card or two below the lead.
Others within striking distance include North Carolina's own Michael Johansen at (-12) for the tournament, Steve Brinster and Dave Feldberg at (-11), and Matt Orum and Barry Schultz totaling (-10).
Schusterick had no OB on Friday – a huge feat considering that the stroke & distance penalty instituted for all 18 holes this year looms at every turn.
"Not going OB. That's basically what you dream about on this course," Schusterick said.
This year, many players had a hard time adjusting to it, which was especially evident after Wednesday's first round. But as Schusterick and Locastro have proved each day, low scores can be had on what's maybe the toughest Winthrop Gold Course ever.
Unlike the start of round two when Schusterick double bogeyed the 629-foot hole 2, today the Tennessee resident easily took a birdie there after a bomb of a turnover drive set him in as good of position as a roller.
A pivotal moment came during holes 5 through 7, when Schusterick, down by two after hole 4, birdied each one, while Locastro went through a momentary birdie drought. As the card went into hole 8, Schusterick found himself in the lead by one and he never relinquished it.
Schusterick only missed three birdies on the first 13 holes.
"I threw the shots I wanted to throw," Schusterick said.
Nearing the end, Schusterick looked as smooth as ever when he sailed a backhand mid range to within 25-feet of hole 16′s basket. The successful putt was just as smooth.
It almost came unraveled at hole 17, though, when Schusterick's up shot from the lay-up space near the tee came as close as you can get to OB without triggering a red flag. The crowd following the lead card made a collective gasp after seeing the disc disappear from view.
After having such a solid round where things were rolling his way, Schusterick said he just knew deep down that the disc would stay in bounds. He continued his heady play into hole 18 when he flicked a driver off the tee which started to roll a bit after landing.
"Gimmie the green. Gimmie the green," Schusterick shouted at the spotter before the all clear was given.
Both Schusterick and Locastro went on to birdie the final hole.
Schusterick said his current game plan is working.
"I don't want to change anything else," he said, adding that includes his caddy Jenna McDaniel.
Locastro's 59 (-9) was still stellar. He reached the 50′s, which was his goal coming into the day and he's still within reach of his coveted repeat title. One of his best shots of the day came from the rough on hole 4 when he used a turnover flick approach to shoot through a tough window after his roller drive went wide. The approach found the edge of the green and Locastro ended up converting his birdie while Schusterick settled for par.
His only significant miscue came on hole 13 when an OB drive eventually led him to his only bogey of the day.
Though Locastro nailed a big one for birdie on hole 8, a handful of putts did not go his way including one on hole 14 when his 40-foot jump putt for birdie just would not stay in the basket after hitting a lot of chain and pole.
"It was one of those things. In and out. It happens to everybody," Locastro said.
After three rounds, Locastro said he still likes his chances. He said if he can stay in bounds and hit more putts tomorrow, he'll be in good shape for a run at the title.
"I'm right there. I don't feel like I've shot myself out of it by any means," Locastro said.
The hottest round today and for the tournament was Schusterick's 56, but those shooting nearly as hot were Johansen with a 57 (-11) and Bradley Williams and Orum with a 58 (-10).
3-time winner Barry Schultz had his moments today, but the magic from years past was not there on Friday after a (-1). McBeth too, had flashes of yesterday's great play like his birdie on hole 14, which was the only one of the card. But he too couldn't keep it going. He ended up with a (+3) for the day.
Meresmaa, one of the top European golfers, is turning a lot of heads with his outstanding play this week that has him on the lead card Saturday. Meresmaa, it appears, can still pull together a great week of disc golf overseas even after directing The Presidents Cup, which has consumed most of his time the last several months.
Even though it will be Final Saturday, Schusterick said he's still gonna have fun. It will be hard not to with the group of friends he has following him throughout the round, he said.
"It's easy to take my mind off a hole," he said.
With a duel brewing between him and Locastro, some friends close by will definitely help.
The cut for Final Saturday will be at 120th place plus ties.