Schultz and King win U.S. Masters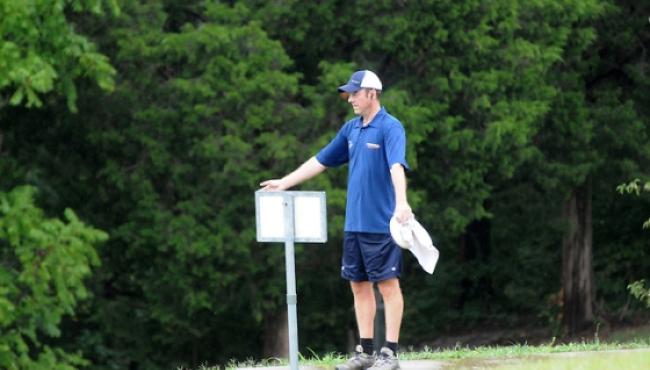 After escaping remnants of Hurricane Isaac most of the weekend, the players in the Tim Selinske U.S. Masters Disc Golf Championship had to play out their last few holes in the rain. Condsidering that the forecast called for downpours all weekend, everyone was extremely pleased to only have to endure an hour or so of drizzle.
Elaine King solidified her win and added one more throw to her lead to make it an even ten and take home the custom-engraved, pink Louisville Slugger Bat. That's right. The trophies were genuine Louisville sluggers emblazoned with Tim Selinkske's autograph and the tournament title and were met with tremendous applause when they were awarded.
Barry Schultz continued his brilliant play by shooting a 1074-rated round of 46 and won the Pro Masters division by 5 throws. Schultz seemed really comfortable all weekend and after his acceptance speech we all knew why. He stated that he wanted to try to honor Tim by embracing the signature calmness and happiness that Selinske was known for.
JohnE McCray held off Jay Reading for second place, and Patrick Brown bounced back from Saturday's round to jump back into fourth. Ken Climo rounded out the top 5.
Gregg Hosfeld stayed even with Johnny Sias for the third round, keeping his four throw margin and taking home the Grandmasters bat.
Alan Beaver tried his best to catch Dr. Rick Voakes, but could only get one throw of his six throw lead back. Voakes' five throw first round lead proved to be the difference and he took home the Senior Grandmasters title.
Pete May shot his best round of the tournament with a 946-rated 60. That bumped his weekend rating average to 21 points above his 914 rating. He may have been a division of one, but he earned his Legends win, beating 3 of the 5 Senior Grandmasters.
In Advanced Masters, David Gebhardt just had to get through his round without any catastrophes. He did and earned his bat with a five throw margin over Gary Suarez. Dana Lanahan and Patrick Robinson tied for third, coming in nine throws off the lead.
The Advanced Masters Women was one of the closer races of the weekend and couldn't be decided through three rounds. Each of the two women had earned the lead during the first two days, but after third round it was all locked up and Dawn Osborn and Jennifer Brooks had to go to a playoff. Osborn won on the first playoff hole at Iroquois Park DGC.
In Advanced Grand Masters, Mark Hauser coasted through his final round and outlasted both David Hevia and George Bodiroga for the win. Mark, David and George made their long trips from the West Coast well worth it sweeping the top two spots in their division.
Phil Bryan let all but one his four-throw lead go, but was able to hold off Mark Whipple and the rest of the Advanced Senior Grandmasters field for his win.
Mark Robinson got to take home the Advanced Legends title and bat and went home happy after a wonderful tournament.
Tim would be proud to know that his name was attached to such a wonderful event. Tournament Director, David Greenwell, and all of his team from the Louisville Disc Golf Club did an amazing job hosting. A great time was had by all, and everyone made their way off the course with a smile, despite all of the bad weather.
Two of the folks from Burlington, NC, the tournament site of next year's U.S. Masters, were on the scene this weekend and saw first hand the act they have to follow and are excitingly looking forward to taking on the task.
Check out photographs of the tournament, including the picture above, taken by Brian Bohannon at www.brianbohannon.com.