Ryan, McCoy Grab the Early Leads at US Masters
Ryan, McCoy Grab the Early Leads at US Masters
Saturday, May 5, 2018 - 10:56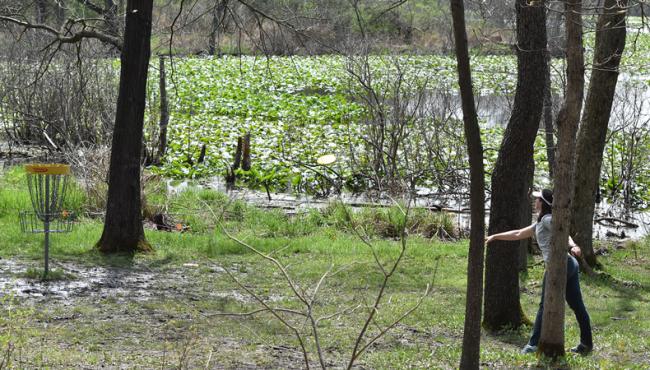 Despite the consistent 20-25 MPH winds of the morning, the opening round of the 2018 Tim Selinske US Masters Championships proved to be as calm and clear as anyone could ask for on spring day in northern Indiana. All four courses of the Lemon Lake Flight Center were jam-packed, with the Pro Masters 40+ and Pro Masters Women 40+ taking on the shared land of the Gold and Silver courses, respectively.
The Gold and Silver layouts are the toughest of the five available on the property, playing mostly through the woods and measuring in at 8500 feet and 6500 feet, respectively. Keeping the disc on the fairway is vital, as getting out of the rough is almost never makes for an easy par save.
Santa Cruz's Robert Ryan has been playing amazing disc golf to open the 2018 tour season, including two A-Tier wins in the Pro Masters 40+ division already, one of which being the Memorial Championship in Scottsdale, Arizona against a field of 38 of the top Masters players in the world.
Ryan's opening round here at Lemon Lake was a sure sign that he intends to stay on the lead card throughout the week. His bogey-free 54 (-10) was enough to not only put him on the lead card but to put him one ahead of two different Pro Masters World Champions, Barry Schultz and JohnE McCray. A slew of super talented competitors sit within a few strokes.
While the men played the Gold tees, Georgia's Courtney McCoy was lighting up the Silver layout, including a run of four birdies in a five-hole section in the middle of the course. Her score of 58 (-2) left her finishing as the only woman under par, with Lesli Todd four strokes back at 62 and Cory Hill two more behind.
Saturday will be a true test of competitive endurance, as two shotgun-start rounds will be played by all competitors in all the divisions. For the Masters and Masters Women, the Blue course will be played first, followed by the White course, which should shake things up quite a bit for the final round back at Gold/Silver on Sunday morning.