Player of the Decade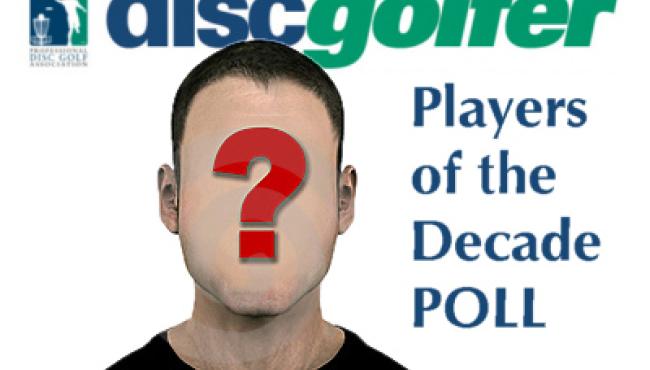 "Who was the Player of the Decade?" That question was posed to the PDGA Staff by DiscGolfer Magazine's Managing Editor Rick Rothstein towards the end of 2009. This question started a series of conversations on how would one go about making such a determination.
In order to better answer our question a large amount of statistics were compiled including total cash won, event participation, and titles won at our largest and most prestigious events. After these statistics were compiled the answer became even less clear and like an episode of LOST those answers lead to even more questions.
Is total cash won more important than winning percentage or average cash per event?
Are Major Championship wins more important than a player's rating?
How do we compare the "Road Warriors" versus a player with a more restricted tour schedule?
Faced with the fact that this wouldn't be an easy task DiscGolfer decided to ask a panel of disc golf experts their opinion. That process also did not produce a clear winner so they decided to open the conversation to a larger audience, you the members. If you feel that you need more data to make an informed choice please see the charts below or visit the Player of the Decade page at www.pdga.com/player-of-the-decade.
The PDGA will not be naming "Players of the Decade" or giving any awards based upon the results of this poll. The sole purpose of the DiscGolfer article (spring 2010 issue, page 35 which is shown below) and this complementary online poll is to spur debate and stimulate conversation amongst our members as to who YOU think is the Player of the Decade based upon what you feel are the most important factors. We also encourage everyone to make their arguments or simply follow the debate on our discussion board.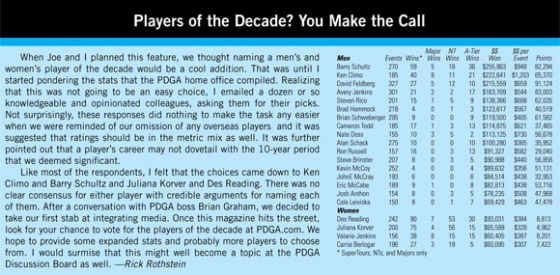 If you want to see the poll results they will be in the right hand column of both the front page and Player of the Decade page for the next eight weeks. You can also go directly to the polls via the following links:
---
POLLS 
www.pdga.com/poll/male-player-of-the-decade
www.pdga.com/poll/female-player-of-the-decade
---