Pierce Runs Away with Second Consecutive Memorial Title
Pierce Runs Away with Second Consecutive Memorial Title
Saturday, March 3, 2018 - 15:35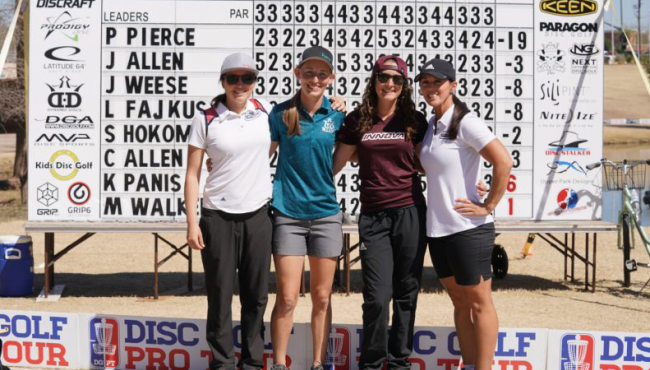 Paige Pierce's dominance of the FPO division continued on Saturday. The now back-to-back Memorial champion sealed her runaway victory with a 5-under par 55 at Vista Del Camino to finish 19-under for the event and with an 11-stroke victory. Lisa Fajkus had a late-round push to shoot a 3-under-par 57 and tie Jessica Weese for second place, while Catrina Allen bounced back with a 2-under par 58 performance to tie with a struggling Jennifer Allen for the fourth spot.
Going into the day with a seven-stroke lead, Pierce put her foot on the gas pedal early, birdieing three of the first four holes to keep herself in the driver's seat. From there Pierce cruised to victory, scoring 10 birdies in the final round. The victory marks Pierce's second consecutive Memorial title and fifth in the last seven years. The win also marks her fifth straight Disc Golf Pro Tour win dating back to last August's Idlewild Open.
While Pierce was taking her victory lap, Fajkus and Weese were battling for the runner-up slot. Weese entered the day with a two-stroke advantage over Fajkus and was able to hold onto it until the 13th. The 405-foot par 3 proved disastrous for Weese as she three-putted her way to a double bogey to push the second-place battle even. The ladies matched each other on the next three holes before Weese was able to capitalize with a 38-foot birdie putt on hole 17. With a one-stroke advantage going into the last hole, Weese put her drive past the basket but within circle 1. Fajkus, on the other hand, shanked her tee shot short, leaving herself with a look from the edge of circle 2 to put pressure on Weese. Fajkus canned the long putt and Weese was unable to convert, leaving the pair tied for second place at an event total of 8-under.
Further down the leaderboard, Sarah Hokom fell one spot into sixth place, while Madison Walker climbed one slot and into seventh.
The Disc Golf Pro Tour will now move to Texas for the Waco Annual Charity Open presented by Dynamic Discs on March 15.