Young Fires Hot Round; King, Weese, Panis Advance to Semifinals
Young Fires Hot Round; King, Weese, Panis Advance to Semifinals
2021 DGPT Championship - FPO Quarterfinal Recap
Friday, October 15, 2021 - 23:51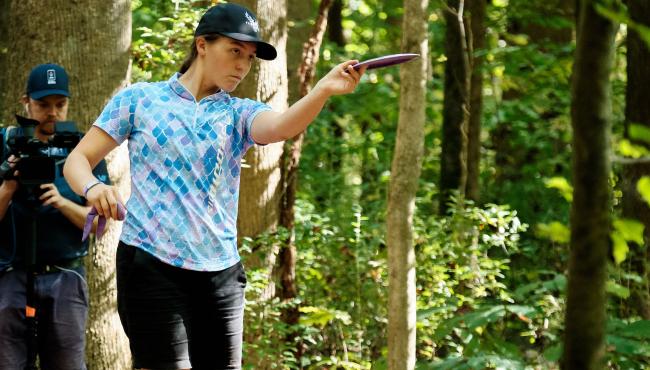 Heather Young capped a great round with a great putt.
With that, the No. 9 seed is moving on to the semifinal round of the 2021 Disc Golf Pro Tour Championship presented by Guaranteed Rate.
Young got off to a blistering start – going six down through the front nine – on her way to the hot round on Friday at the Hornet's Nest.
After two late bogies, Young bounced back with a birdie on 18 to cap a 5-under round.
"I'm feeling good," Young told Jamie Thomas of the Disc Golf Network. "I started so well on the front nine and I told myself to just play well the rest of the round. Then I started looking and scores and said to myself that I needed to keep getting birdies.
"But I did what I needed on 18 to stay in it so I'm excited."
It was a fairly chalk quarterfinal in Charlotte based on the seeding. Hailey King, Jessica Weese and Kona Star Panis – the 5-6-7 seeds – join Young in Saturday's semifinal round.
King and Weese finished at 4-under and Panis took the fourth spot via the tiebreaker over Juliana Korver at 3-under par.
"It was a battle out there," Weese said. "I got to play with a great card, and everyone brought their A-game. I just tried to stay in my own lane all day, tried not to think about other scores and focus on one shot at a time. I had a couple of hiccups in the beginning but knew that it is a difficult course. I knew not to let it get me down."
Young finished 88% in C1X, according to UDisc, and added a 49-foot birdie putt on 12 to get to seven down. She found trouble on 15 – the 'Gauntlet' – and again on 16, a tough right to left hole for the left-handed Tennessee native.
Both King and Weese overcame early trouble with birdie runs. King carded four-straight birdies, Weese tallied three in a row and both peppered in a few more on the tricky back nine. King birdied 5-of-7 through one stretch with three Circle 2 putts. For Weese, it was a strong day scrambling that led to stellar C1X putting.
Panis had three-straight birdies after a bogey on three and added another turkey on the back nine before finding trouble on 17. But her tournament seed, based on her performance this season, lifted her to the semifinal round.
Paige Pierce, Catrina Allen, Missy Gannon and Sarah Hokom join the field on Saturday. The top four seeds will tee off at 10:04 a.m.
From there, the top four scores advance to the final round where they'll play for a record-breaking $30,000 first-place prize.
Live coverage begins at 10 a.m. ET on the Disc Golf Network.