Wysocki, Allen Grab Jonesboro Titles
Wysocki, Allen Grab Jonesboro Titles
DGPT - Jonesboro Open Final Recap
Monday, April 19, 2021 - 13:33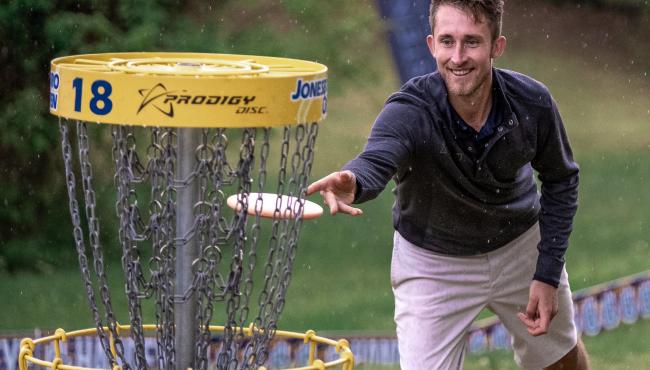 The ball is in Ricky Wysocki's court and that's exactly where he wants it to be.
Wysocki capped a strong start to the 2021 PDGA Elite Series season with a pedal-to-the-metal romp through the Disc Side of Heaven track to take down the DGPT – Play It Again Sports Jonesboro Open powered by Prodigy on Sunday.
"I'm here to stay and here to show everyone that I can play at this level consistently week-in and week-out," Wysocki told the Disc Golf Network's Terry Miller. "If I do that, then the ball is in my court. If I play my game and play to my level that I know I can, which I have the past couple of weeks, then I'm going to win tournaments and I'm going to win a lot of them.
"That's all the confidence I need to play well. I've got some momentum going. It's game on now."
Complete coverage of the 2021 Jonesboro Open »
Momentum was the name of the game entering Sunday's final round in Jonesboro. Wysocki, who took down the 26th Annual Texas State Disc Golf Championship in March, held a slim one-stroke lead over Calvin Heimburg entering the finale. The threat didn't stop there as Paul McBeth and Eagle McMahon rounded out a lead card with all four players squarely in the hunt.
But once he grabbed the momentum, Ricky simply rolled.
With McMahon surging and McBeth falling off pace, it was a two-player battle with Wysocki holding that one-stroke margin through the front nine. All four players got off to a slow start—by their standards.
"I missed a couple of putts, a little tentative to start but I snapped out of it," Wysocki said. "I was really happy with how I snapped out of it and got on a birdie streak. That really set the stage for the round and I was happy with how I kept the momentum going and my mental stamina. I was happy with how I attacked the course."
Jonesboro Open donates $45K to St. Jude's Children's Research Hospital »
Wysocki noted throughout the weekend that were holes and positions throughout the course where he was going to lay up and play safe. In other spots, it was attack mode.
Wysocki went up by two over Heimburg with a birdie on the 10th and that cushion grew to three with a bogey from Heimburg on the 11th. It was back to two strokes on 13 before Wysocki absolutely parked the downhill 520-foot 14th.
It was all gas, no brakes from there for Wysocki until he hoisted the crystal crown on the 18th.
Wysocki finished with a 35-under mark, going bogey-free through 54 holes on the weekend with three double-digit under-par rounds. His 11-under finale matched Kevin Jones (4th) as the hot round on Sunday.
Heimburg, the defending Jonesboro champion, finished second at 31-under.
McMahon, who made a big push throughout, was 12 under par through 17 holes before a double bogey on the 18th. His 10-under round solidified a podium finish.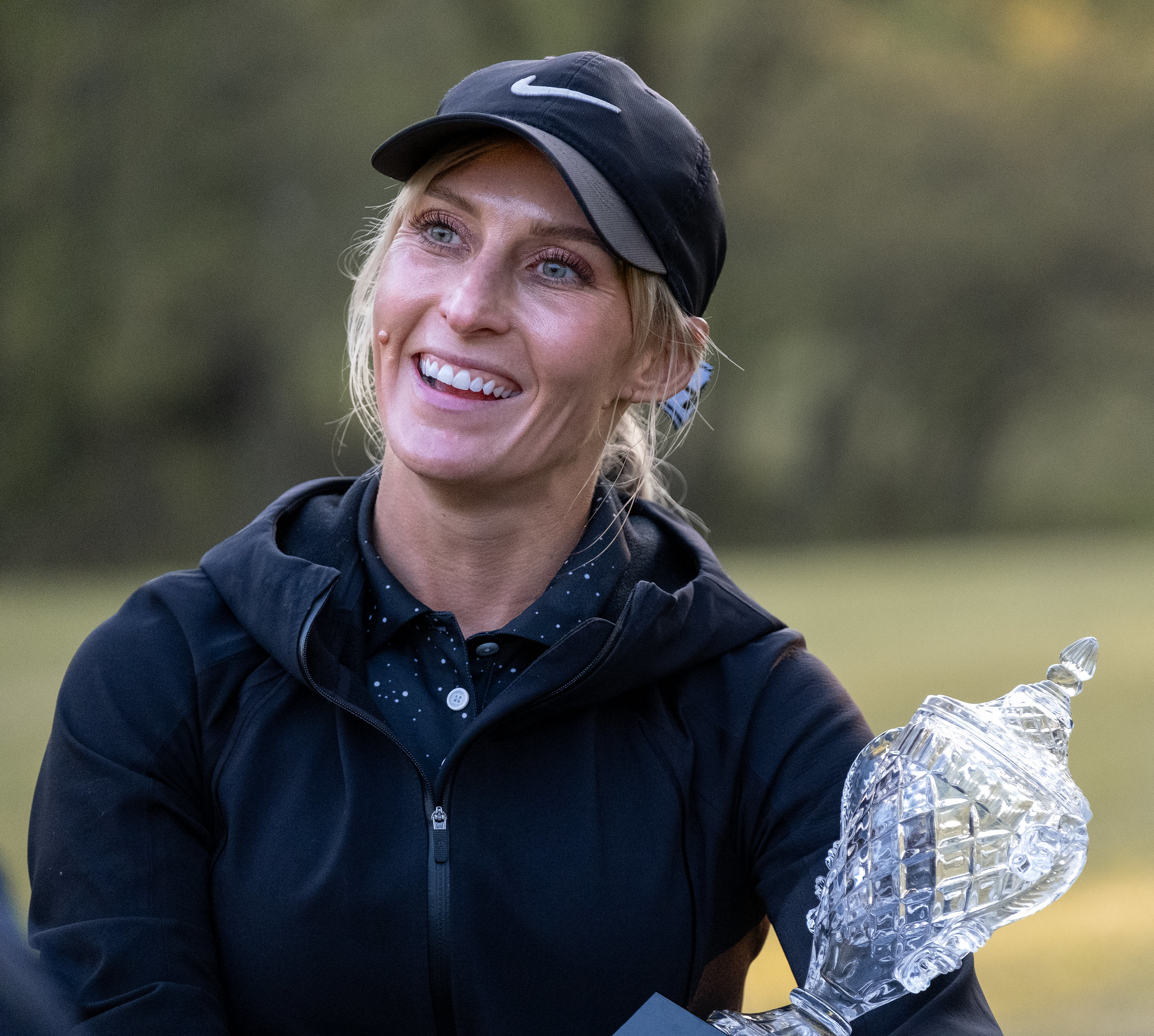 Allen Takes Victory Lap
After polishing off a dominant victory for her first Jonesboro Open title, Catrina Allen noted that she'll look back on her second round in Arkansas for a while.
It was that second round, a sterling, 1041-rated, bogey-free, 12-under par, that set the stage for her victory lap on Sunday.
Allen, with a 10-stroke lead heading into the final 18 holes, weathered the elements for a 3-under round on Sunday. It was good enough for an eight-stroke win, her third victory of the season and first Elite Series victory since the 2020 Ledgestone Insurance Open.
It was master class in every area for Allen, who led the FPO field in Circle 1 and Circle 2 in regulation, fairway hits and strokes gained tee-to-green, according to UDisc. The dominance included the putting green as well with a 30% mark in C2 putting and strokes gained putting.
"I haven't won this one yet and it feels good," Allen told Miller on the 18th green. "The round (Saturday) will be one that I think about a lot. I worked my tail off this offseason, maybe harder than I ever have. I know that I have some struggles that I'm fighting through. I told myself every weekend to stick to the hard work, stick to not changing everything and not getting down. I would love to win by this many every weekend but I'm going to take it one weekend at a time and stick to my plan."
Paige Pierce fired off the hot round of 7-under to jump into second place at 15-under. Sarah Hokom grabbed her second podium finish on the Elite Series this season at third place with a 13-under weekend.
Macie Walker, in the third Elite Series event of her career, finished fourth.
Elite Series action resumes as the PDGA National Tour returns to Emporia, Kansas for the Dynamic Discs Open on April 28-May 1.