Weese, McMahon Lead After One in Stockton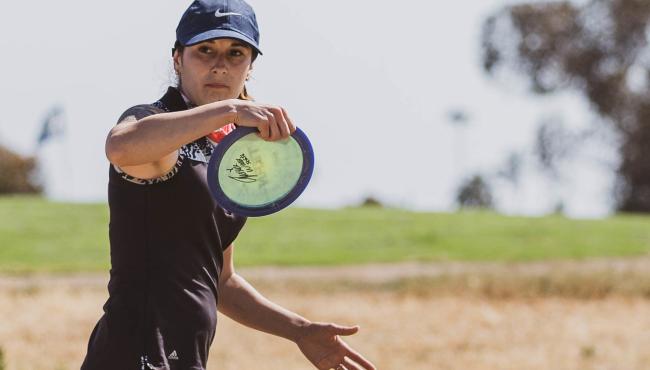 (Story via Disc Golf Pro Tour)
The opening day of the OTB Open in Stockton, CA is in the books and the competitors saw nothing but conditions as beautiful as the course itself. Wind added technicality and a bit of heat relief to the already challenging Swenson Park disc golf course. 
Swenson Park holds the largest course par and total footage for an Elite Series event so far this year, so it is only natural that Eagle McMahon is the leader after day one.
The key to his game was consistency and precision.
Eagle putted 100% inside C1X, made 83% of C2's in regulation, and didn't give himself a single chance to scramble. His bogey-free, unprecedented -13 has set a standard for rounds to come. Adam Hammes and Joel Freeman are the only other players in the top ten to shoot bogey-free golf.
Joining Eagle on the lead card Saturday will be Ricky Wysocki, Nate Sexton, and Paul McBeth; all of whom carded one bogey. While the others took theirs late in the round, Ricky took his on the first hole before birdieing twelve of his next seventeen holes, finishing -11. McBeth and Sexton finished -10 and -9, respectively, shooting the steady golf we have come to expect of them.
Notably, this is Simon Lizotte's first event of 2021. The German superstar finished 2020 with his worst professional performance to date, finishing 69th at USDGC before taking time off with an injury. He declared before the OTB Open that he would be treating the tournament as rehab in an effort to prevent any exacerbation of the injury.
In the FPO division, Jessica Weese finished the day at 5-under with one bogey, a very solid round deserving of first place and one shot lead over Paige Pierce. She is a predominantly sidearm player, though she has developed a top-class backhand as well. Her variety of shots is certain to paint the course in a color which we have not yet viewed it in. 
Pierce is 4-under, one shot ahead of Catrina Allen and Challenge at Goal Hill winner, Lisa Fajkus, who opened with 3-under rounds.
Austin Hannum carded the only eagle of the day on hole 3.