Weese Leads Ledgestone by Four Heading Into Final Round
Weese Leads Ledgestone by Four Heading Into Final Round
Risley holds off Frescura, leads by three
Sunday, August 12, 2018 - 00:08
Story by Jon Berg, DGPT.com
It's round 3 and moving day for the FPO Division at the Ledgestone Open presented by Discraft.  In the first two days, we have been treated to some exciting battles as players jockeyed for position trying to set themselves up at the top of the leaderboard.  In fact, during yesterday's round, each player on the top card got a chance to own a piece of the lead at specific points during the day.  Ultimately, it was the steady play and persistence from Paige Bjerkaas which allowed her to finish on top at -6 and 2-strokes clear of Jessica Weese.  Rounding out the lead card for round 3, we have Catrina Allen and Missy Gannon sitting 3 and 4-strokes back of Paige's lead, respectively.
Gannon's play continues to impress the field and spectators, as she has been playing well above her current 894 rating and appears very comfortable trading shots with the sport's elite FPO players.  However, she will have to dig deep today, if she wants a chance at remaining on the lead card for the final round, as she has Rebecca Cox sitting 1-stroke back and Paige Pierce 2-strokes back on the chase card.  Rounding out the chase card, we have Cynthia Ricciotti, straight from her victory at the 2018 Junior Worlds Championship, tied with Pierce at even par, and Sarah Hokom at +1.  Hannah McBeth is also playing some solid golf and was poised to make a move sitting atop the 3rd card, tied with Hokom going into today's round.
Continue Reading on DGPT.com »
Nothing Tastes Like Frescura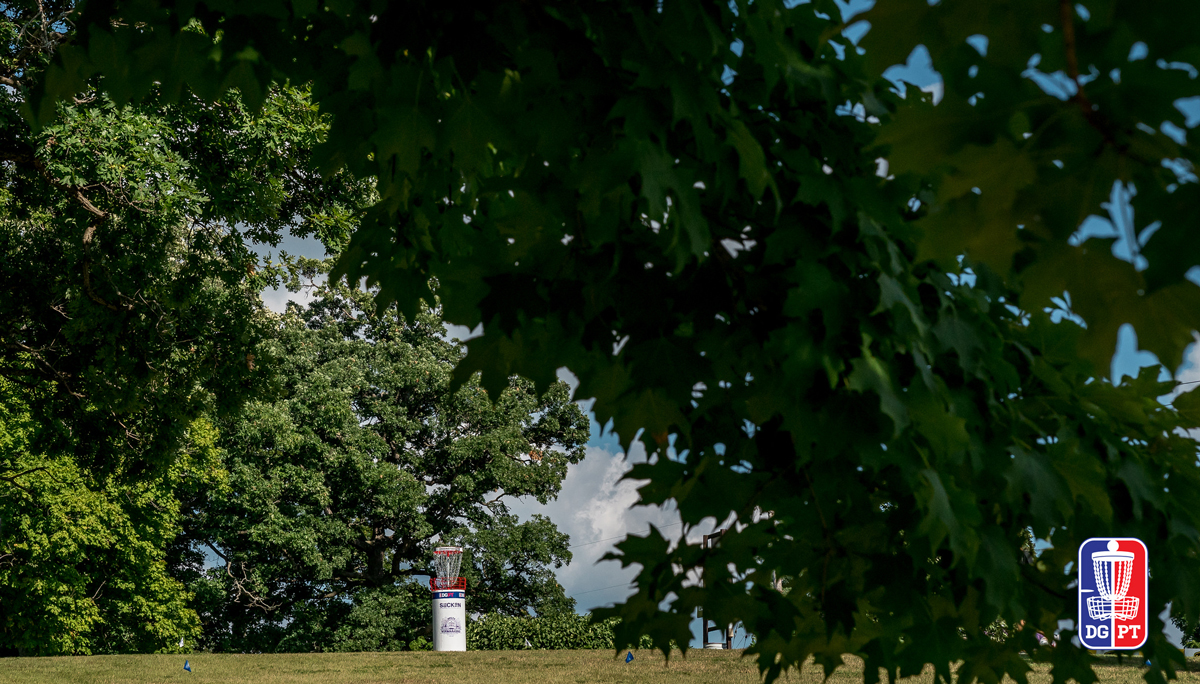 Story by Seth Findley, DGPT.com. Photo: Alyssa Van Lanen / DGPT
Moving day is in the books here at the Ledgestone Insurance Open presented by Discraft. There was a lot of movement on the board today as players moved into position for the final day of competition. 
Reid Frescura started the day -9 and ended the day -18. He tied for the hot round for the day and moved into a tie for second place going into the final day. He landed 11 birdies on the day and had a rough hole thirteen, other than that he played clean golf missing only two circle one putts and one circle two putt. He will be looking to make a name for himself on the lead card tomorrow.
Other players shooting hot rounds today were Kevin Jones and Bobby Musick. Kevin worked to make up for his sub-par round yesterday and that he did. Kevin missed the scramble on holes five, nine, and ten, ultimately carding two bogeys and a double bogey on the three. On hole 16 Kevin had a crush drive that went OB across 13's fairway and into the water. He was far enough down the fairway to be able to get up and down for the par. Kevin had thirteen birdies for the day and will be looking to make a move from the chase card tomorrow.